Envelope Work claims that you can earn over $170,000 a year stuffing envelopes from home in your spare time. But are these bold claims really true? After all it seems like it is too good to be true doesn't it? Will Envelope Work scam you are is this the real deal?
While it straight to the point here and tell you that YES, this place is a scam. You will not make any money with this place that anything that will happen is you will get scammed. I felt the need to write this review on it to help provide truthful information in order to keep people from falling victim to this.
Envelope Work Scam Review
On the Envelope Work website they make this job opportunity sound incredible, which is very luring. It states that there is "unlimited" income potential and that you can stuff as many envelopes as you want. On average a "home mailer" will stuff 100 to 500 envelopes per week.
And of course this can all be done in your spare time with just a small amount of time dedicated to each day.
What they lead you to believe is that there are many mail order companies out there that are looking for "home mailers" to work for them from home because it saves them money in the long run. If they were to actually hire employees to work in their offices they would have to pay for office space, electricity, office supplies, etc. But of course if they get people to work from home they do not have to pay for anything like this.
Sounds realistic enough right? I mean it is true that companies are making better use of independent contractors to perform certain tasks since the Internet allows them to do this.
However… What the heck are these home mailers doing? They tell you that you will be stuffing envelopes but what does this entail?
How It Works (What They Tell You)
What they tell you is that you will received pre-addressed and pre-stamped envelopes that will be mailed to you. You will then stuff the envelopes with brochures for companies and send them back out in the mail.
Wow… What a great explanation. They tell you just about nothing and it doesn't even make sense. I get that companies could save money by paying independent contractors, a.k.a. "home mailers", to do the work but now look at the additional expense they are taking on. Now they have to mail envelopes to you and then you have to mail them back out, rather than just mailing them one time to customers. It's not making much sense.
Red Flags… Really Starting To Seem Like a Scam
One major red flag that I came across was that they claim to pay you before you even mail the envelopes. How does this make sense in any way? Since when do businesses pay employees, or workers, before they actually do the job? This is an absolutely horrible business model and it just doesn't make any darn sense.

Ok… So Here Is How They Scam You
How they scam use by requiring you to pay a one time processing fee. This fee supposedly covers expenses of getting you started, or I guess the on boarding process. They also tell you that the fee is intended to weed out those who are not serious. The logic behind this is that only people who are serious about this job will be willing to pay a fee to get started.
This is something I've heard many times before with all the scams I have reviewed. No legitimate company is going to require you to pay a fee to get hired. Or at least none that I know of.

The Scammy Sign Up Process
Even though I knew it was a scam I decided to go along with the sign-up process to see what happens. Apparently you need some kit that is going to provide you materials so that you can stuff envelopes from home. This kit said it was free so I entered my shipping information (fake shipping information) and proceeded to the next step.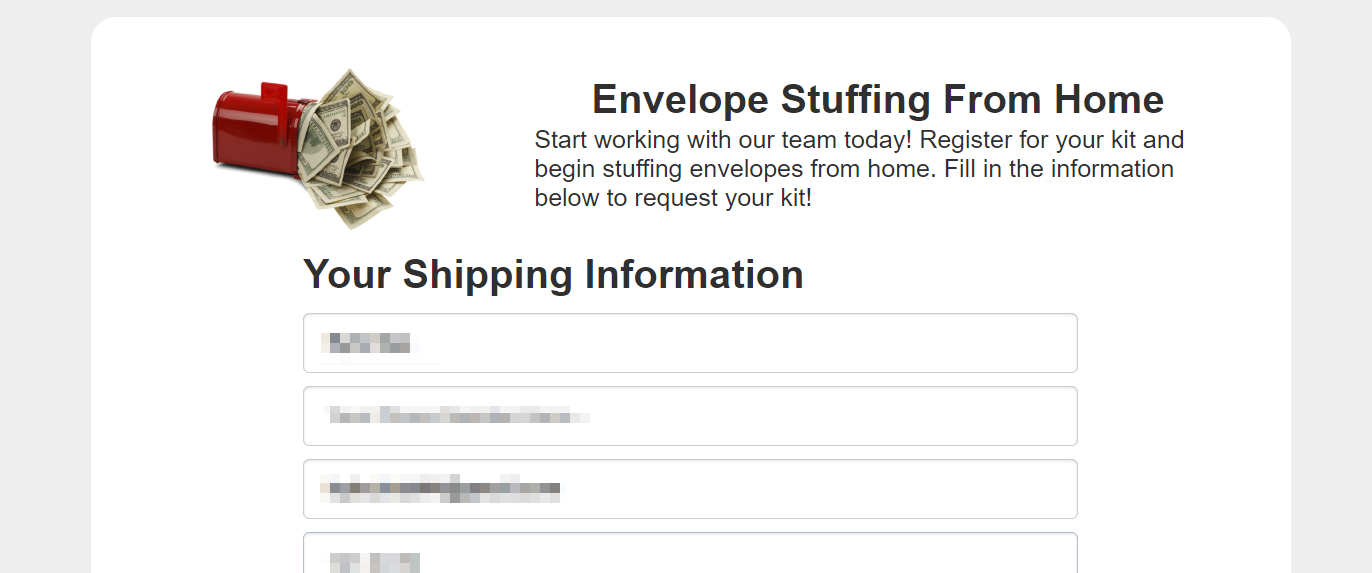 On the second step is said that I needed to confirm my memberships that I could get this kit. So I did so by clicking the button they provided that you can see below…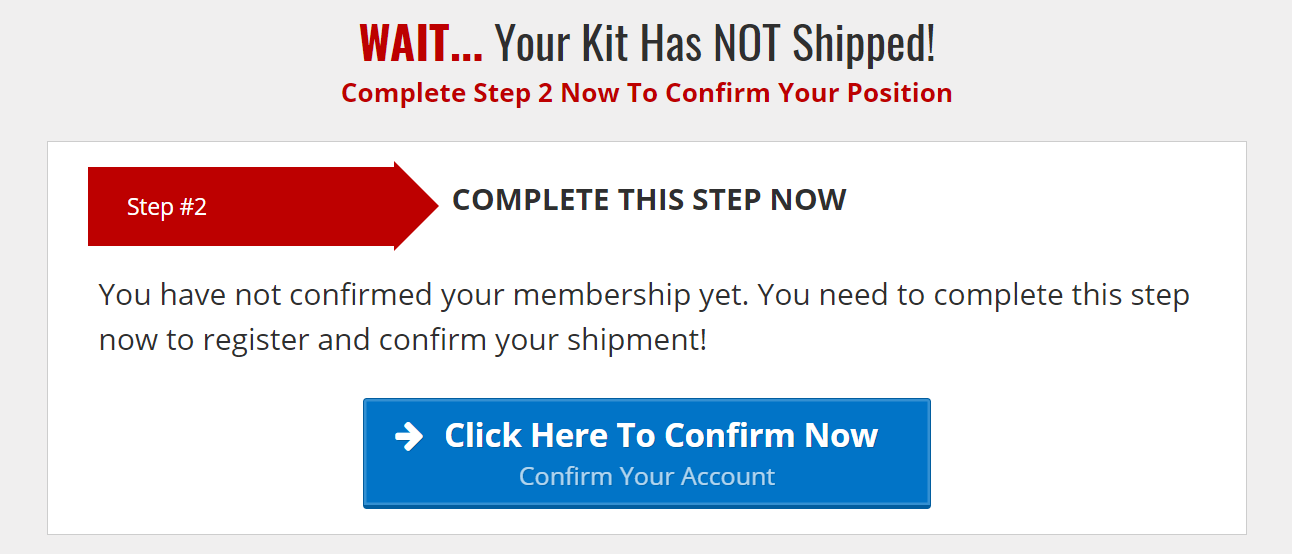 And now here's the strange part. Instead of being directed to a page that said "thank you for your order", "your order has been received", or something along those lines… I was instead directed to a program called Secret Society of Millionaires. The funny thing is that I am very familiar with this program because I have reviewed it on my site here not all that long ago. This program is basically a very misleading sales final to get people to buy into another program where you have to pay large sums of money and then make money by recruiting others into the program.
Why would they direct me to some completely unrelated program like this? Who knows… It's just another sign of a scam operation. The screenshot of the page I was directed to for this program you can see here…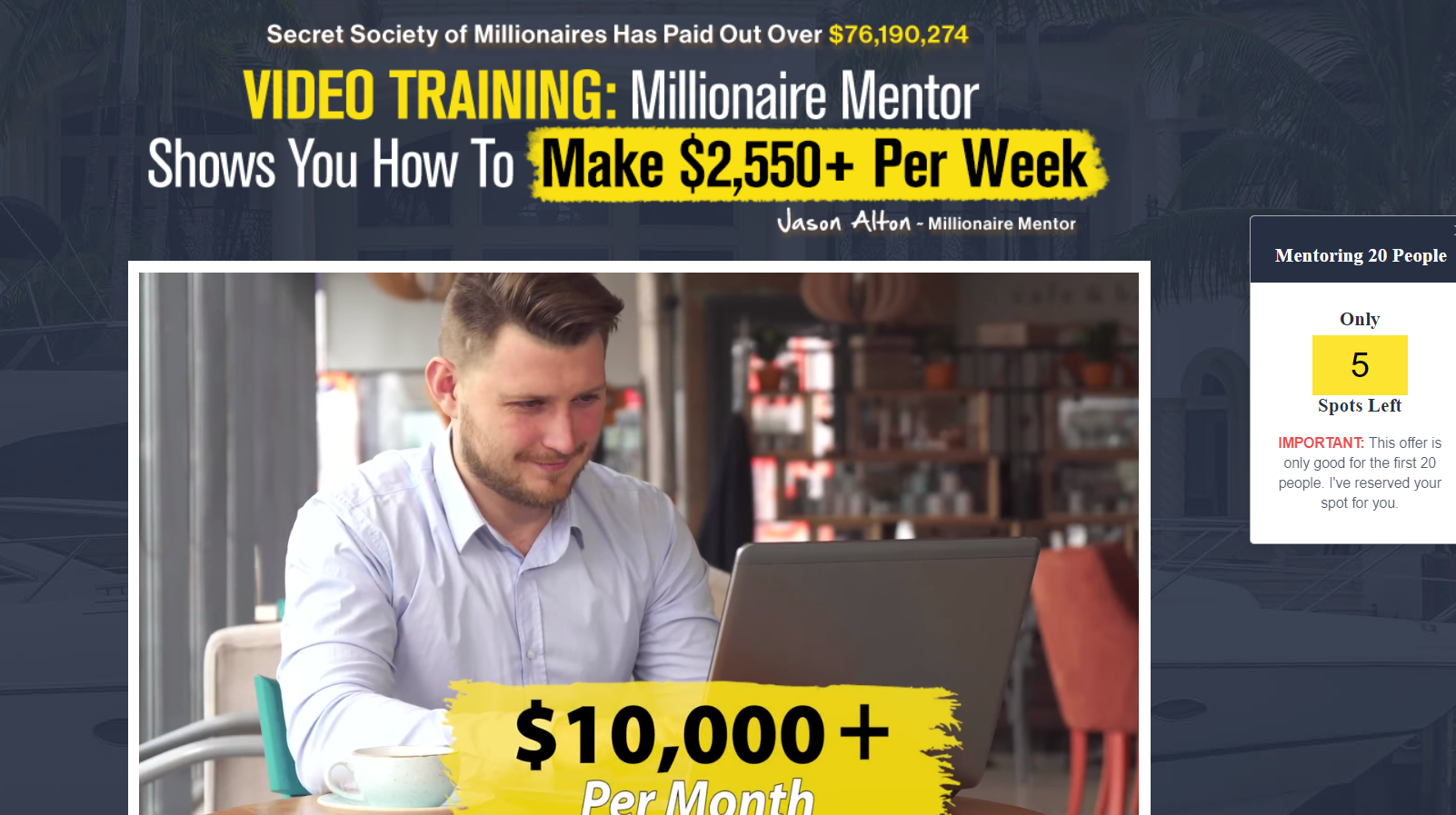 So anyways, I exited out of that page but it wasn't over yet. They were still yet another step that I was presented with where they said I have been selected to earn up to $1000 today. Of course I wanted to earn $1000 today so I had to click on the button to get started to check it out.
Of course I knew it was a scam but I just want to go along with it to see what would happen.

What's funny is that I was then directed to another scam called the EZ Money Team where I was presented with a sales video that you can see here…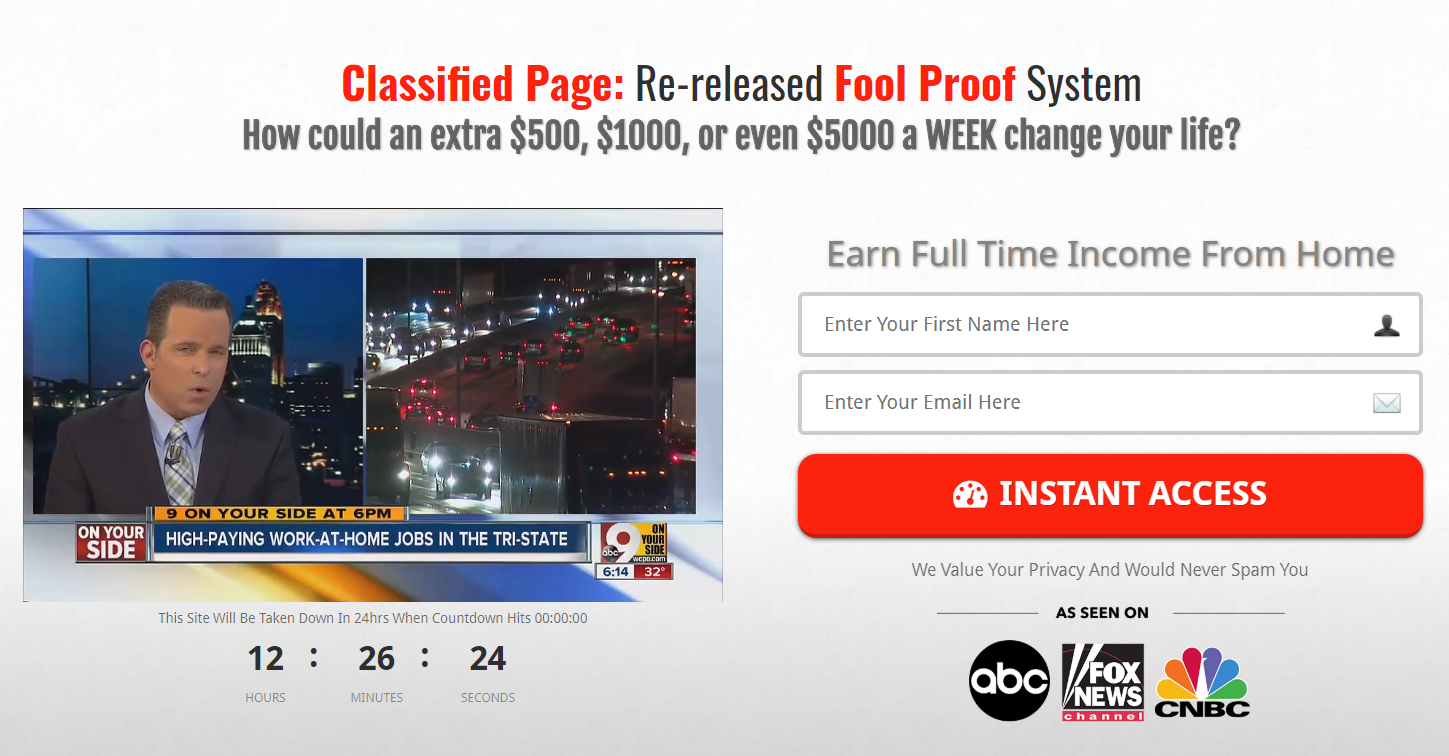 And it still doesn't end here. After exiting out of that scam I was then presented with another step. This time they wanted me to register my account so following along I did so.
This time they took me to yet another scam called My Home Job Search. This place is made to look like an online job search site, kind of like Monster Jobs, and many others out there except it is a scam. It will refer people to scam opportunities like those mentioned above.
Conclusion on Envelope Work – Avoid
There are a lot of envelope stuffing scams out there so you have to be careful. If something sounds too good to be true then either avoid it or proceed with extreme caution. If you really could make over $170,000 per year stuffing envelopes in your spare time then everyone would be doing it. But of course you can't and this is all a scam.
This is a very disorganized scam going in many different directions. Not only do they try to scam people by requiring them to pay a one time processing fee to get started with this envelope stuffing job, but they then direct you to a multitude of other scams after that.
But anyway… Avoid this place at all costs. Unless of course you are looking to get scammed, which I'm guessing you are not.