There is this new system called Fast Profits (aka Fast Profits Online) being promoted all over that can supposedly make you thousands of dollars per day… But unfortunately it is all one big fat lie.
When we all like to come across some incredible system that requires very little work and that could make us tons of money on autopilot? That would be incredible… I sure as heck would and if I did come across something like this, I would be sharing it with all my family and friends.
Unfortunately, we live in a world where there are a heck of a lot of scams… Especially when it comes to the online world. And Fast Profits is just one of many.
I expose scams on my blog here on I missed a daily basis so coming across something like this is nothing new to me. It's not much different from other scams like The Profit Shortcut and The China Secret that I reviewed recently.
But anyways… Let's get on to the review…
Fast Profits Online Review
The Fast Profits system is supposedly the creation of some guy named "Michael Carson". He explained that he used to run a consulting business that would help small businesses get started online, but eventually quit and developed some "weird but simple trick" into a system that could be applied to any online business to make thousands of dollars per day.
But as you are already aware… Most of what he tells you is a bunch of crap.
As soon as you land on the website you are greeted with a video presentation that starts off by saying that the video is "highly private and sensitive". This is the first mistake that the scammers behind the system made, because I know that just about every system out there that makes statements like this turns out to be a scam.
But anyways… You are told that people are earning $1700 per day, every day, with this system and that some of his students are earning up to three times this amount.
How are they doing it? Well… He keeps talking about some "weird" trick even refers to at one point as an "incredible trick" that has already helped 237 people make more than $20,000 each in the past three weeks.
And… The best part is that he claims he is super lazy and only works one hour a day maximum… Meaning that you can make a lot more than him if you work more.
How You Are Supposedly Going To Be Making All This Money
He is pretty vague when he explains how this system is supposedly going to make money, and really doesn't provide much detail at all, but there were some hints that were throughout the video presentation that I picked up on.
We know that it has something to do with e-commerce, which he claims is the next big thing and that you can make more money in this business than anything else.
He then goes on to say that you don't need any products to sell in order to make money with this system… But what the heck does that mean?
Isn't e-commerce all about selling products online?
Well… What he is talking about here is called "drop shipping", which I actually have a couple years of experience doing.
Drop shipping is basically when you set up your own e-commerce store but don't hold any inventory, instead when you make a sale you have the product shipped directly from the manufacturer. It is a great business model that can be very lucrative, but unfortunately this Fast Profits Online BS isn't going to get you to where you want to be.
Sounds a Little Too Good to Be True… Doesn't It?
As the old saying goes… If it sounds too good to be true then it probably is. This is a saying you should always keep in the back of your mind, especially when it comes to the "make money online" programs/systems that are out there.
Just think about it… Some "weird trick", some system that he created after having some "crazy idea to try a little hack"… What the heck is talk like this supposed to mean?
I don't know about you… But being able to make $1700 per day like clockwork all from some "weird trick" that never gets fully explained sounds way too good to be true. And… Unfortunately most of it is a lie…
It Is All One Big Lie!
So at one point in the video presentation he shows a bunch of testimonials from people who are supposedly using this system to make a crap ton of money.
I'm talking about people like this (the girl below) who claims this system has been a miracle and has changed her life…
That would be great if her life did change for the better, but unfortunately what she is saying is not true. It is all a lie and she got paid to say it. How do I know?
Well… Because she is actually a paid actress from the freelance digital marketplace called Fiverr…
And she isn't the only one. All of those other video testimonials are fake as well.
In fact… Just about everything is fake.
At one point shows a screenshot of his bank account that has $2.8 million in it, but the problem is that this can easily be faked as well. It is incredibly easy nowadays to Photoshop the bank account to make it appear to have some astronomical balance…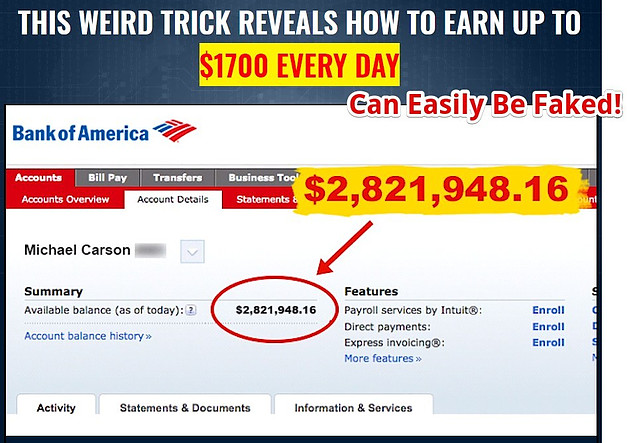 And quite honestly I doubt that this "Michael Carson" guy even exists. This certainly isn't out of the question because many online scams I have reviewed in the past have been promoted under fake names.
Of course the real people running the scams don't want their names known, so they make up some fictitious character and promoted under the fake identity.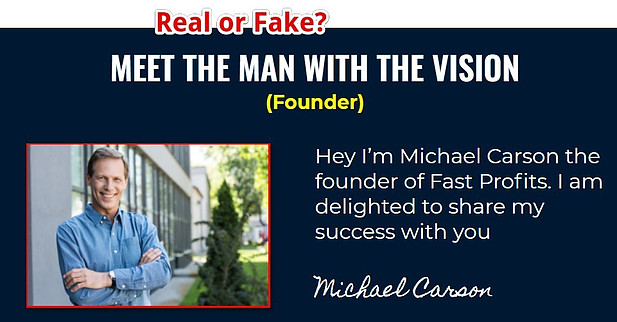 I mean… I don't have any proof that this guy doesn't exist… But I also don't have any proof that he does exist.
And I'm not so sure I would trust this place
I Wouldn't Trust This Place at All
I decided to run a website check on ScamAdviser.com for the site, which is fastprofits.online, you and found that the website is actually based in Panama but the relocation is being hidden…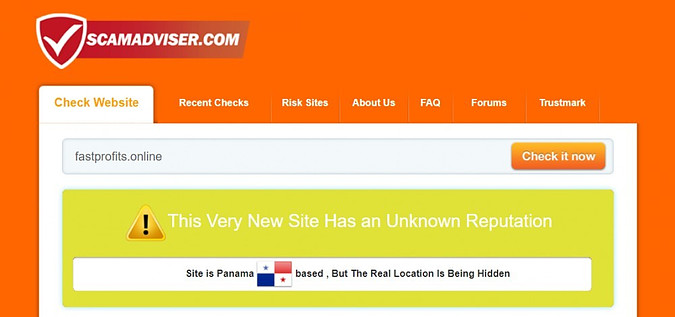 Sounds a bit strange, doesn't not?
You decide.
Conclusion = Scam
While I don't have any concrete evidence that this entire system is a scam, I am pretty confident in my review here. As I said, I have reviewed countless online scams and this one really fits the bill.
It might not be a complete scam however. My guess is that you probably will get some crappy low quality training on building your own e-commerce business, but it will be nothing like you are led to believe. It will probably just end up being a big waste of time and money in the end.
If you want my personal recommendation on things I would highly suggest taking a look at how I went from $0 to over $6,000 a month online… All legitimately.
Anyways… I hope you enjoyed my review and found it helpful. Please leave any questions or comments down below and I'll get back to you as soon as I can 🙂