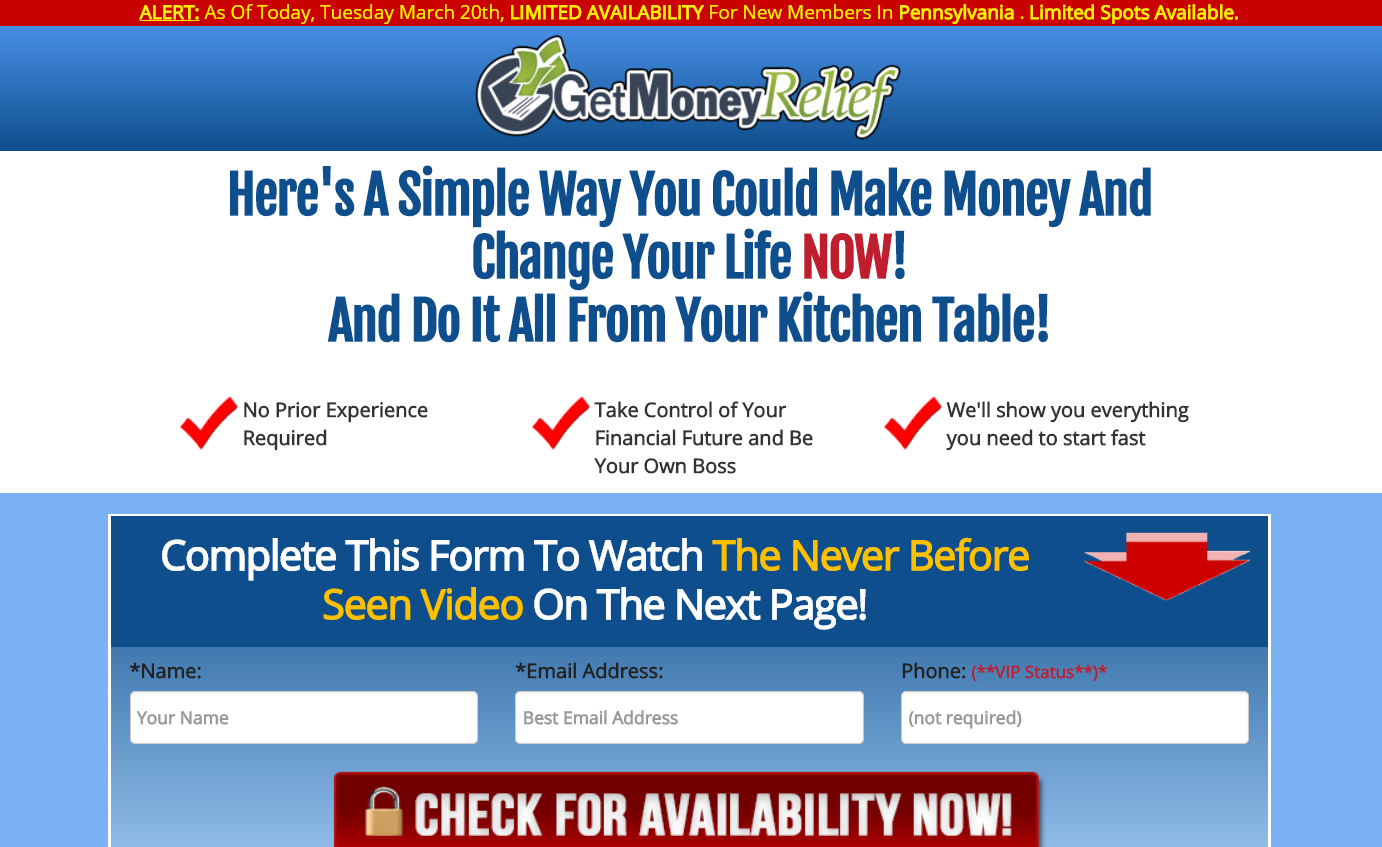 Get Money Relief claims that if you make less than $150,000 per year then you might be eligible for a new economic relief program that pays out consistently. But is this really true? Or is Get Money Relief a scam like the many other programs out there that sound too good to be true.
In this review I'm going to be going over what Get Money Relief really is, which is nothing like they tell you it is. The video presentation given is incredibly misleading and anyone that buys into this after watching it is going to be extremely disappointed.
Get Money Relief Review
Get Money Relief claims to be a "personal stimulus package" for people making less than $150,000 per year. Supposedly this program was created by exploiting some loophole in president Trump's latest economic recovery plan.
William Johnson, the spokesman in the video presentation, claims this is a "top secret" program that not many know about.
Apparently a guy named Mike, who is a friend of William Johnson's, stumpled upon the loophole in Trump's economic recovery plan and now it is possible for ordinary people to get their own personalized stimulus packages.
However, much of what "William Johnson" tells you is a lie and/or very misleading. This guy is luring in people with all this talk about patriotism and making America great again but he doesn't care about either. The only thing this guy cares about is taking your money and I'll go over why this is the reality of it.
What Is Really Going On Here
The truth is that there is no stimulus package or loophole in the economic recovery plan that is being exploited. What William is trying to get you to buy into here is a digital marketing program called MOBE, or My Online Business Empire.
MOBE is a digital marketing program that provides tools and training for making money online. While the resources it provides can be applied to any online business, it pushes members to go out and promote MOBE to other people and make money this way.
This is what William is doing. He is promoting MOBE and will make money if you buy into it for $97. And if you join this is likely what you will be doing. It is one of those programs that people buy into to make money online and then they end up making money online by getting other people to buy into it.
It is not out of the ordinary to find sites like this Get Money Relief site that promotes MOBE in a very misleading way. I review MOBE promotion sites like this all the time… My Hidden Pages & Optimize Success Portal just to name a few.
The people running these sites are MOBE members that are just trying to make money every way possible… and in this case it includes sucking people in with lies and deceit.
Update: I just realized that there is an identical scam called Cash Relief Now that I reviewed a little while back that you can see here. Its the same darn thing with a different name…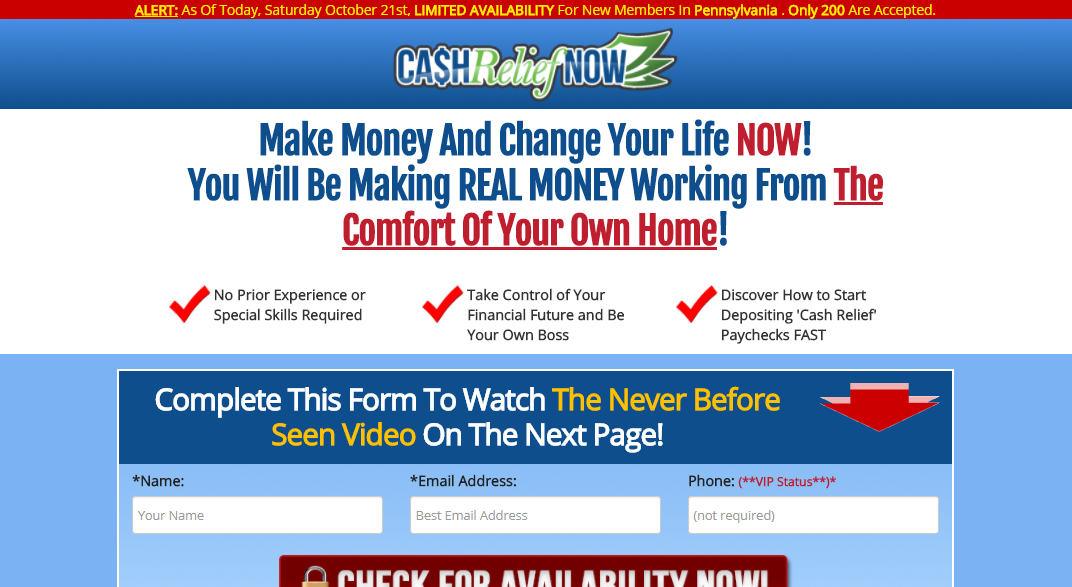 The Hidden Cost of This
MOBE is what you call a "high ticket" program, meaning you can make big commissions promoting it but it also costs an arm and a leg.
The $97 price that you buy into is just for an introductory 21 step course. This will give you basic tools and training but you won't be able to make much with it. To make good money you will have to buy into the core products which get extremely costly with the highest priced one being $29,997…

MOBE uses a licensing rights business model (as do Legendary Marketer and Jeff's 6 Figure Business System) which means that you first have to buy their products before you can sell them. So its basically a big cycle of money…. You buy in and are upsold on the more expensive products which make the person money who recruited you in, then you go out and recruit other people in and the cycle continues.
Not As Easy As It Seems
While you can make money with MOBE it is not as simple as it sounds. Most people try to make it sound like some completely automated system that you just plug into and are all of a sudden cranking in cash. But the reality is that it is not. The people that are making it sound like this are doing so just to try to recruit you in so that they can make some money.
If you promote MOBE you do get a lot of "done for you" things such as landing pages, capture pages, etc., but it still takes a lot of work on your part. You are still the one that has to go out and do the marketing online, which isn't as easy as it seems.
So yes you can make money selling these extremely overpriced digital marketing products that MOBE has but just know that it probably isn't nearly as simple as you are led to believe.
Conclusion on Get Money Relief & MOBE
Get Money Relief is a scam. It is nothing more than a very misleading funnel site to try to get people to join MOBE that was created by a member of MOBE trying to make money off of you. There is no such thing as a personalized stimulus package that this program can give you or anything like that.
MOBE on the other hand you could argue that it is not a scam but in my opinion the entire program is based on an unethical system of up-selling members and getting them to recruit in other members so that the same thing can happen all over again. You can join if you want to but its not something I personally recommend.
If you are looking to make money online and want a recommendation that is much more affordable and more ethical then I would suggest taking a look at Wealthy Affiliate. I've been a member since 2015 and make very good money with it. I'm not going to get into it here buy you can read my Wealthy Affiliate review here for more information.
If you have any comments or questions please just leave them below and I'll get back to you soon 🙂