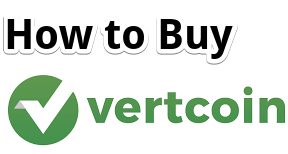 Vertcoin is one of the newer more promising cryptocurrencies out there that is set to take some of the market share away from the king, which is Bitcoin. There is a lot of optimism surrounding this crypto and for good reason, which is why I'm going over how to buy Vertcoin in the first place. I don't really want to get too much into why I think Vertcoin is a good investment choice because that is not the purpose of this post, but I'll give few of the reasons why I'm investing.
First off, Vertcoin offers decentralized mining. They make it way easier to mine the coins so that people with regular old computers can get a piece of the pie, rather with Bitcoin where you have to have to invest a heck of a lot of money to use ASIC technology. On top of this, I like how Vertcoin's goal is nothing crazy. The developers behind this coin (which are also very good by the way) are not setting out to conquer the world. Vertcoin is a cryptocurrency and nothing more.
Anyway, those are some of the basic reasons I'm investing because I think this coin will be adopted by many in the future. But now let me get to how I buy some gold old Vertcoin and how you can too.
Step 1: Buy Bitcoin
What we are going to be doing here is buying bitcoin first, then exchanging it for Vertcoin. There is no place that I know of where you can just buy VTC initially, but anyway this isn't hard at all to do anyhow.
If you already have bitcoin you are good to go but if you don't you are going to want to open up a Coinbase account. Coinbase is probably the most trusted out there where you can easily buy bitcoin with credit/debit cards. They are based right here in the US, ran by professionals in the industry, and have a good insurance policy.
Once you have created your account the next step will be to hook up your method of payment. You can either choose to pay with a credit/debit card, link your bank account, or even do a wire transfer. The fees are slightly higher if you pay with a credit/debit card but the good thing about paying with one is that your bitcoin is available instantly in your account.
To link your account you will need to go to Settings  >> Linked Accounts >> Link a New Account… as you can see below…

After you link an account you will have to verify that account which is pretty straightforward. After doing all of htat you are then ready to buy some Bitcoin.
To buy Bitcoin you will go to the Buy/Sell menu link and click on Bitcoin. Then click on the payment method that you made and enter how much bitcoin you are looking to buy or how much USD you want to spend. Its as simple as that…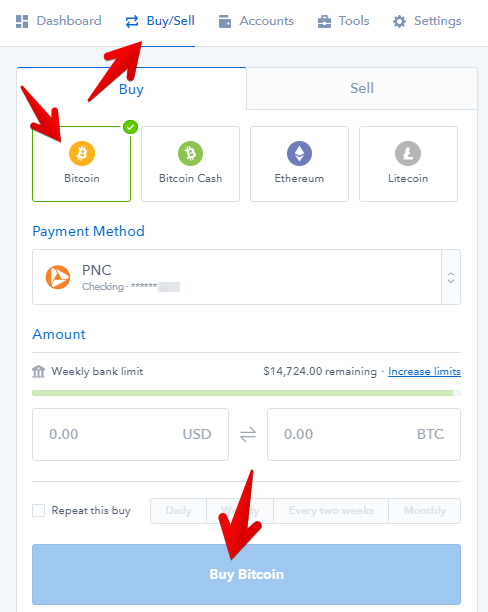 Step 2: Transfer Bitcoin to an Exchange
Ok, now you have your bitcoin and need to exchange it for Vertcoin. So you need to transfer it to an exchange that lists Vertcoin. The reason you can't just buy Vertcoin initially from these exchanges is because they don't give you the option to.
Anyway… I use the Bittrex exchange because, again, they are one of the more trustworthy exchanges out there and I have been using them for a while. So you will first have to create an account at Bittrex.com.
After creating your account you will need to go into Wallets in the upper menu. Then search for BTC, which is the symbol for Bitcoin. Then click on the + symbol beside this which will give you your public wallet address so that you can deposit the Bitcoin at Bittrex.

When you click on + symbol a little box will pop up with your bitcoin address. Copy that address and then you will have to head back on over to Coinbase.
When you are at Coinbase click on Accounts and then on Send underneath your BTC wallet. As you can see I don't have any Bitcoin in my account at this time but you will be able to click on it.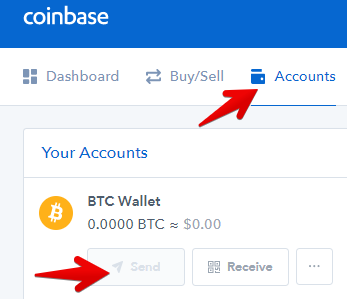 After clicking on send a box will pop up where you can enter the recipient address, which is the address you just copied from Bittrex. So paste that in there, then enter the amount you want to send and that's it. Be sure to double check the address you paste in because if you send it to the wrong address there is no way to get your bitcoin back.
Step 3: Exchange Bitcoin for Vertcoin
So at this point you have your Bitcoin over in your Bittrex account and are ready to exchange it for Vertcoin. To do this you will first have to click on the Bitcoin markets tab in the top menu, then search for VTC, then click on the VTC link…

This will take you to the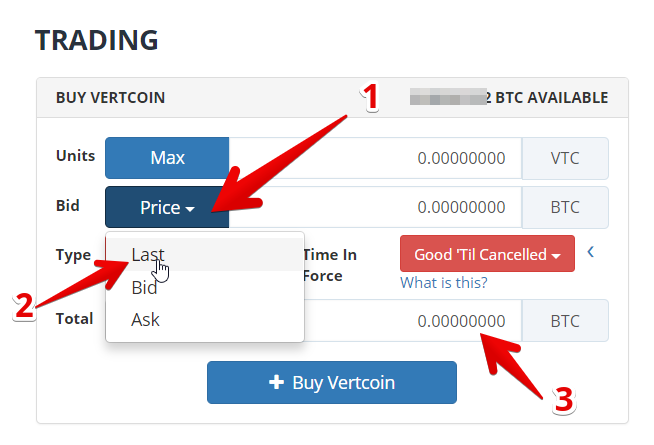 How to Store Your Vertcoin
Its always the best idea to store your Vertcoin in a wallet off of an exchange, especially if you have a lot invested in it and are planning on holding it for a long time. You can keep it at Bittrex in your wallet they provide, I'm not saying that its a bad idea… but exchanges do get hacked every once in a while so its better to play it safe in the long run.
*I have never had any problems at Bittrex by the way.
You can go to Vertcoin.org to download wallet that the developers provide or another good option is the Electrum Vertcoin wallet, which seems to be a favorite for many vertcoin holders.
Summary of Everything
Just to summarize: First you need some bitcoin which I suggest buying through Coinbase. And by the way if you use my referral link to join right here: www.coinbase.com/join, you can get $10 worth of bitcoin in your account for free. Then you need to send your bitcoin to an exchange which you will then trade for Vertcoin.
If you have any questions about all of this be sure to ask me below. I'll get back to you soon 🙂