If you are looking to "be your own boss" then you might have come across this site called Be The Boss Network. I'm guessing you are suspicious of the legitimacy of this site, probably due to all he work from home scams that plague the internet.
If you are wondering is Be The Boss Network a scam, the answer is no. But there are definitely some things that you need to be aware of when it comes to joining this network and the programs that it promotes.
Be The Boss Network Overview
Be The Boss Network is nothing more than a job finder. Basically its just a big directory of MLM business opportunities that it helps match you up with.
It is free to sign up for and during the sign up process you will give your phone number, email, name, along with your personal goals and interests so that it can match you up with jobs that will be to your liking.
On the flip-side, BTB Network can also be useful for new mlm business owners who are looking to expand. If you own a mlm business you can get it listed in their directory and this will increase your chances of being found, hopefully increasing your workforce.
What Type of Jobs BTB Network Provides
BTB is all about mlm's. For those who may not know, mlm stands for multi-level marketing. This means that there are multiple levels within the business and that you can earn money from those beneath you on lower levels.
MLM's use what you call a direct sales business model. They don't sell products in stores. Instead they use a independent distributors to market and sell their products. These independent distributors can be anyone…. you, me, your cousin… anyone can join.
As an independent distributor you get to work from home and you can work as little or as much as you want to. You pretty much are your own boss in a sense, although there are rules you have to follow.
How You Make Money
There are 2 main ways that you can earn money with mlm's. It doesn't matter what mlm you are looking at, they all have the same basic compensation plan. You can either make money from product sales to the general public, or you can make money by recruiting in other distributors and earning commissions from what they do.
Recruitment of other distributors is key if you want to make a lot of money. Top earners in mlm's like these all have one thing in common, they have massive downlines, have climbed their way to the top, and earn nearly all of their money from the efforts of those beneath them.
The 2 common mlm structures that you will see are binary and uni-level. Both are focused around recruitment and honestly I don't feel like explaining them too much. All you need to know is that they are all about recruitment of other distributors.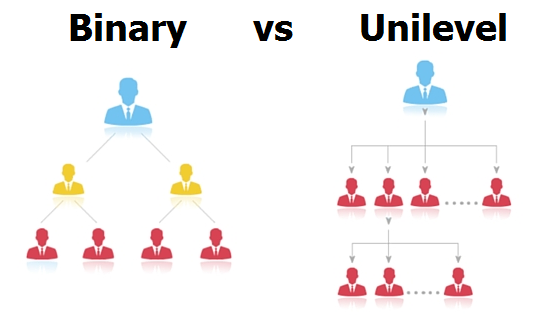 The Problem With These Business Opportunities
The problem with mlm's is that very few people make good money. The recruitment style structures that they have make it nearly impossible to make good money unless you recruit, recruit, and recruit like crazy. Of course most distributors will be low on the structure so most people fail to make good money. That is why businesses like these have extremely high turnover rates.
There is a lot of money making potential without a doubt, but the reality is that only so many people can make it to the top and earn good money. Because in order to earn good money there has to be a lot more people at the bottom which the top will be earning off of.
These pyramid style compensation structures will never be good for the average person. I just reviewed several mlm business opportunities recently (Nucerity International, Organo Gold, Enagic, etc.)
Final Thoughts on Be The Boss Network – Scam?
This place is in no way a scam. All it does is matches you with mlm's that you might have interest in. One thing you should know however is that you will also get emails about mlm's that they think you might like. So be prepared.
While mlm's are legitimate business opportunities, most people are destined to fail and that is my main problem. You have to be really good at recruiting and have that salesperson type of personality to really make big things happen. Personally I have nothing like that in my personality so I sure won't be using BTB at all.
But anyways, use this site at your own risk. Just know that most mlm's make their business opportunities appear very luring and better than they actually are.
Questions, comments, concerns? Leave them below in the comment section and I'll get back to you soon 🙂