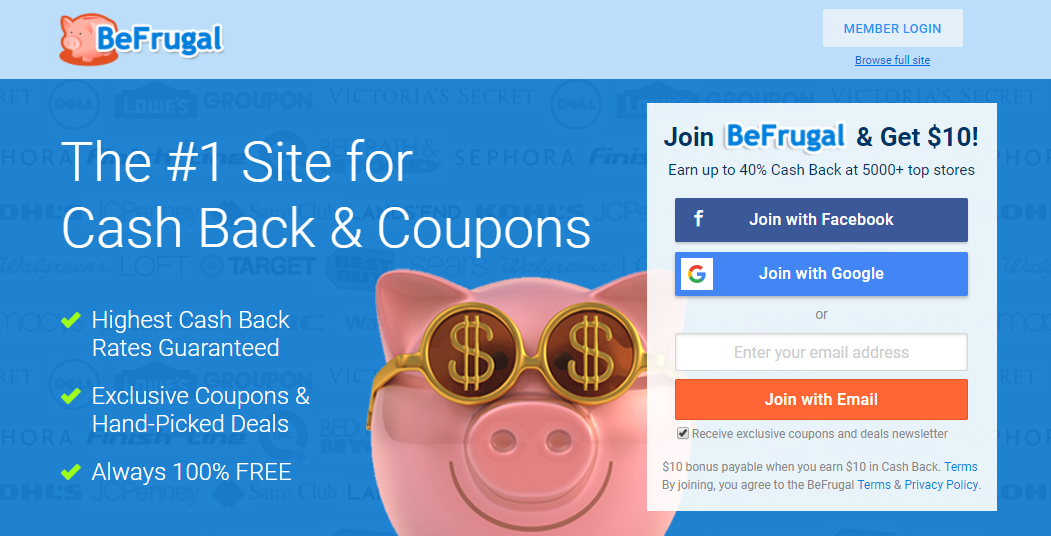 BeFrugal.com is a cashback/coupon site where you can save some decent money shopping as you normally would. But is it worth your time? Is BeFrugal.com legit even? Or is this a scam type site that is going to make you think you are earning cashback but then never allow you to ever actually get your hands on it?
I'll just straight to the point and tell you that yes, BeFrugal.com is legit. They are one of the better cashback sites out there and in this review I'll be going over how it all works, what they offer, how good they are compared to other cashback/coupon sites, complaints and more.
BeFrugal.com Review
BeFrugal.com is one of the bigger cashback and coupon sites that exist. They have been around for a decent amount of time which is one of the reasons for this but another reason is because they are good. They are partnered with over 5,000 retailers and have loads of deals. On top of this their deals are on the higher side when it comes to savings.
I have reviewed many different cashback/coupon programs including Ibotta, Drop Rewards, Fetch Rewards, Coupons.com, TopCashBack, etc and BeFrugal is definitely on the better side.
However, like anything there are complmaints which I will be going over later.
How It All Works
Cashback
They have plenty of cashback deals. With over 5,000 retailers there isn't a place you shouldn't be able to find here. They even have cashback offerings for places like Amazon, which for some reason you don't see too often on cashback sites.
When you want to shop cashback you can browse stores based on what category they fall into, you can search for specific stores, or you can just browse through the massive list of thousands of stores.
When you find a place you want to shop you can just click on it and it will take you to a page that shows all the available coupons down the center and a bit Shop Now button for cashback shopping over on the right…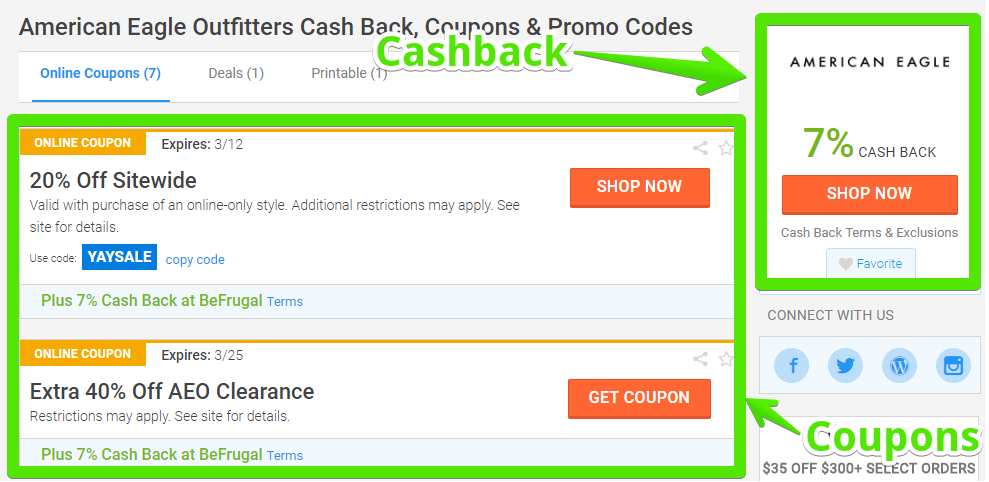 When you click to shop now with cashback you will be directed to their online store and you can do your normal shopping. There is no need to go back and do anything at BeFrugal. Your account will automatically be credited with the cashback.
Coupons
There are both online coupons and printable coupons that you can use in stores/restaurants offered which is nice.
Based on what I've seen the coupons are pretty good. If you are fast food eater then you can definitely save some money here. Most of the restaurants with deals are fast food places although you will see some others, like for example right now as I'm writing this they are also offering a deal at Olive Garden…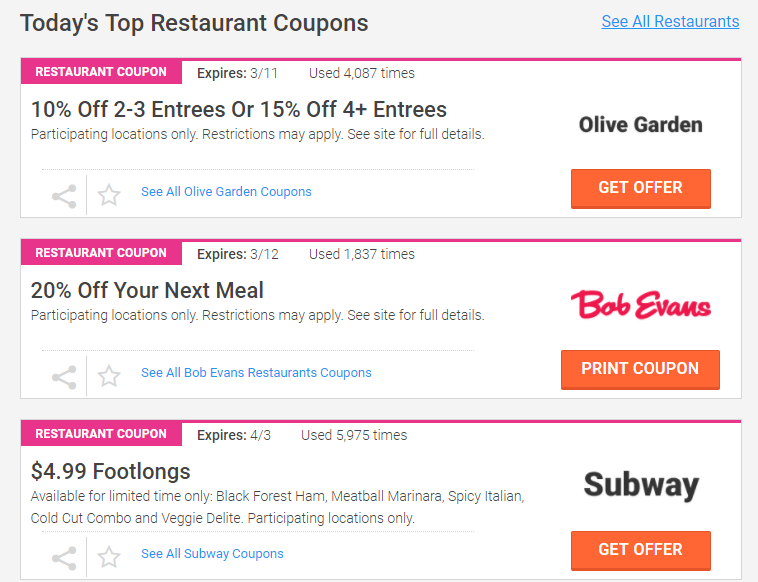 This place is definitely one of the better online coupon/cash back sites I've been on when it comes to printable coupons. They have tons of deals at any given time and this is something you don't see too much. Usually sites like this offer more online coupons and lack in the printable coupon area.
As you can see, there are 4,183 printable grocery coupons alone, 225 of these coupons fall into the "Babies and Kids" section…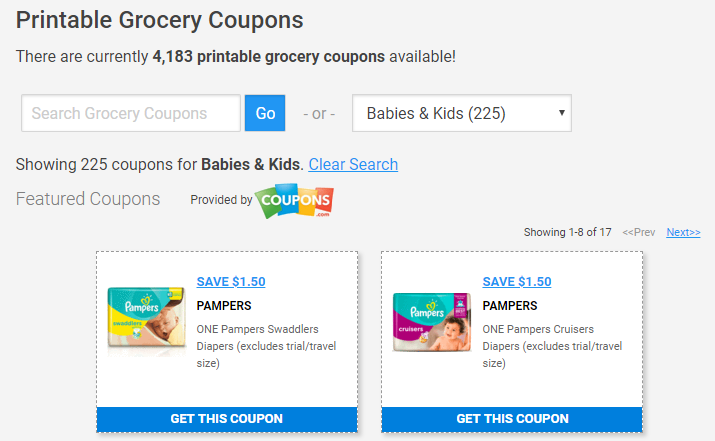 For online coupons you just click to shop now, you are directed to the online store, and you do your shopping as normal, just as you do with cashback.
Stack and Save
You are able to stack all the cashback and coupon deals together. So its not like you have to choose one or the other. However, this only works for online shopping. You can't get cashback when using printable in-store coupons.
How Good Are BeFrugal's Deals Really?
It can be hard to compare the different coupon deals to other savings sites like this because coupons vary so much. However, I will say that BeFrugal is without at doubt at least one of the best when it comes to coupons. There are a lot of offers with both the online and in-store coupons.
Now cashback on the other hand is easier to compare. And from what I see BeFrugal's cashback offerings are very good. I compare to other cashback sites by looking at the amount of cashback offered at the bigger stores. It might change but right now they are offering 5% cashback at Walmart. If you are familiar with other cashback sites then you know this is a darn good deal.
Generally for most cashback sites I would say a 1-3% cashback offer is pretty typical for the major retail stores like Walmart, Target, Best Buy, etc. Here its more like 2-5%.
They tell you that they actually do have the highest cashback around and have a "Guaranteed Highest Cash Back Rate" policy in place which states that if you find a better cashback deal they will match it and give you an additional 25%.
I'm not sure how true this actually is because I've never presented another cashback deal to them that was better, but by looking at what they offer its going to be difficult to find one.
Getting Paid
So whenever you use coupons of course you save your money on the purchase but with cashback you actually pay the normal price and then get cash back later. This cash is first deposited into your BeFrugal account and then later you can cash it out via a check, PayPal, direct deposit, or choose to get an Amazon gift card.
You can't really ask for more here. Its a lot better than some cashback sites that only offer gift cards.
Complaints
Overall they have very good ratings from users. For example, on SiteJabber, where anyone can go to review a site and usually this means complain, they actually have a 4/5 star rating with over 300 reviews. Anyone familiar with this site knows that is a pretty solid rating because usually this is where people come to tear sites apart.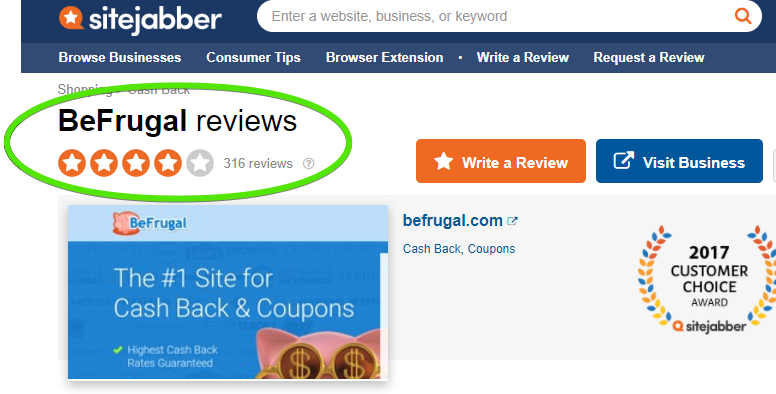 There are other sites out there too that allow user to review like this. Still… overall the view is pretty good. However, there are some complaints.
Some of the more common complaints include…
Slow Cash Back
The speed at which your account is credited with cashback will depend on where you shopped. Some stores will credit you very fast whereas others can take up to a week, and in rare cases longer.
This is one complaint you will find online from people who are impatient. Its really not too big of a deal though.
Missing Cash Back
Now this one is a problem and unfortunately it does happen. There are times when people do not receive the cashback they deserve and complaint about it, which they should.
This is a complaint you will find with any cashback program. Sometimes the "cookies" that track your purchases get messed up and do not track the purchase as they should, which leads to you not getting cash back. This is rare but it does happen. One way you can help to avoid this is by shopping as soon as you are directed to the store from BeFrugal.com. If you wait a long time or close the window and go back it might not work.
Fortunately BeFrugal does work with people on this and if you provide them with proof of your purchase they might be able to credit you manually.
Conclusion on BeFrugal – Good Site for Savings?
BeFrugal is definitely one of the better cashback sites out there and if you are looking to save a bit of money using coupons and getting cashback this is a place I would give a shot to see how you like it.
If you are going to sign up you can use my referral link to get $10 in free cashback in your account. It will also help me out as I will get a $10 bonus as well.
Referral Link: BeFrugal.com/join
If you are looking for an app that you can easily use on your phone for cashback then Ibotta or DOSH would be my choices. These make things convenient because they are right on your phone but they don't offer the number of deals that BeFrugal does.
As always, leave any comments and questions below and I'll get back to you soon 🙂