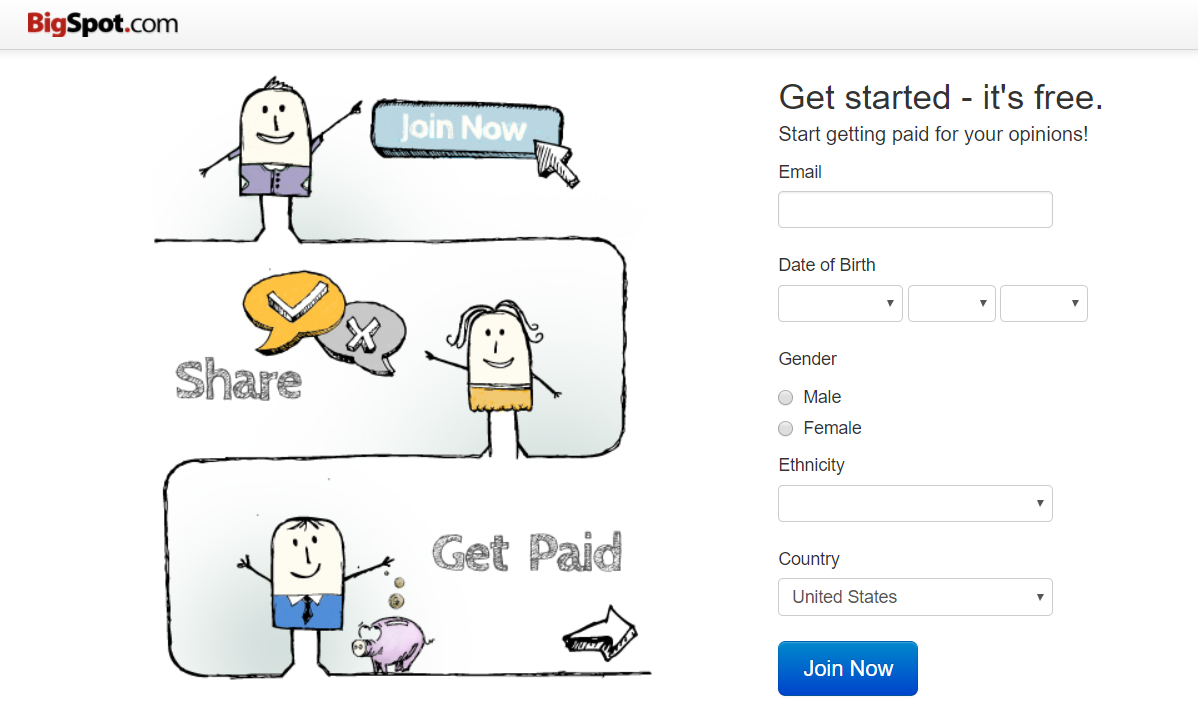 So I'm guessing that you saw an ad online or maybe even on the TV for BigSpot.com. It's advertised as being an easy way to make a little extra cash online. All you have to do is share your opinion… But is there a catch to all this? Is BigSpot.com a scam?
Since you are reading my review here I'm guessing that you're a little suspicious of the claims made. Maybe it just seems too good to be true, maybe you have had bad experiences with paid survey sites in the past, whatever the case the bottom line is that your suspicious and hesitant to join. You need more information on this and in this review I'll be giving exactly that. BigSpot.com is not your normal paid survey site and I'll be going over what I mean by this.
BigSpot.com Review
BigSpot.com is one of the few paid survey websites that I have seen advertised on the television. You would think that when a site like this is advertised on such a large media outlet that it would be legitimate, would you not? But if you were to think this it would turn out to be not all that true.
BigSpot.com is actually a site that I don't recommend. I reviewed paid survey websites all the time and this is one that I would avoid. If the reason is because it's not really even a paid survey website. They do not offer surveys such as Swagbucks.com, PaidViewPoint.com, etc and pay you for them. What they do is different…
How BigSpot.com Works
When you first landed on the homepage you will be prompted to enter your personal information such as your name, email address, date of birth, gender, ethnicity, and the country that you live in. This is all pretty standard when it comes to joining a paid survey site. They want to know who you are and the good paid survey websites out there will go on to ask you more detailed information such as education, income level, hobbies, and a bunch of other things so that they can build an avatar for you. The point of this is so that they can match you up with surveys that better fit you.
However BigSpot.com, like I said, it's very different. After you fill out the basic profile information and sign up you will see this page next…

They will provide other survey companies and try to get you to sign up for them. Now these survey companies that you see may be different from the ones that I have pictured above, but the point is that they are trying to get you to join other sites. If you look around the rest of the BigSpot.com website you will not find anything. This is all there is to the dashboard… Nothing else. Nothing else to see and nothing else to do.
Literally all BigSpot.com does is refers you to other paid survey websites. Now if I were to join any of these paid survey websites that is recommending to me I could actually make money by taking paid surveys through them. All of the sites shown above that were recommended to me, including i-Say, MySurvey, and GlobalTestMarket are sites that actually provide surveys and pay you for taking them. But the BigSpot website itself only refers you to them, as do other survey sites like Survey Sheep for example.
What The Heck Is The Point of This?
You may be wondering what the point of this even is. Why would you join the BigSpot website in the first place if you are just going to get referred to join other paid survey websites. Why not just join the other paid survey websites in the first place?
Well this is what I would recommend doing. I would recommend just joining other paid survey websites in the first place.
But anyway… The reason that BigSpot is referring you to these other survey sites is so that they can make money off of you. When you enter your personal information to join BigSpot they use this information. I mean why would they require you to enter it in the first place if they weren't going to use it? Now they have your email, your name, your date of birth, etc.
The other reason that BigSpot exists is to make money off of referring you to these other sites. Pretty much all paid survey websites have referral programs where you can make money when you refer new members to them. How it usually works is you will make a portion of the money that they make.
Are The Sites They Refer You Too Any Good?
They are all decent. i-Say, MySurvey, Global Test Market, etc. are all your typical paid survey websites. They are legitimate and you can make money with them… It's just that the money you do make will not be very much.
The reality when it comes to paid survey websites is that you will not make much money at all. Generally speaking you can expect to make between $0.25 and two dollars for each survey you take, but this will vary. If you are expecting to make more than this then you are probably going to end up very disappointed. With all the new survey sites online it is very easy for market research companies to collect people's opinions, which means they don't have to pay much to do so, which means you don't make much money.
Conclusion on BigSpot.com – Avoid
BigSpot.com is just not worth your time in my opinion and I don't see why anyone would argue with this. As I showed you, literally all they do is refer you to other paid survey websites. So save the time and save the personal data harvesting by just going directly to a paid survey websites that actually offers surveys and pays you.
I don't really recommend paid survey sites at all just because I think they are a massive waste of time, but if you do want to sign up for one I would suggest either Swagbucks or PaidViewPoint.
Something else you may be interested in since you're looking to make money online is how I make a living working online. You can read my "make money online guide" here for more information on this. In it I go over what exactly I do, how it all works, and what I consider to be the best way for beginners to get started.
Also, if you have any questions or comments please leave them below. I will get back to you as soon as I can 🙂 and if you have your own review of BigSpot.com that you want to leave you could write it down in the comment section as well. It could help other viewers of my blog when looking into joining the site.