If you are looking to buy cryptocurrency then CoinBase is one of the options available to you… and I would definitely call them one of the better options out there. However, the cryptocurrency industry is unregulated and often times not very safe. But is CoinBase safe? That is a serious question that you need answered before using this place. The last thing you want to do is have your money stolen just trying to buy some bitcoins, ethereum, etc.
In this review I will be answer this very question. I have experience using CoinBase and I'll be going over what I have learned and what I think. But before that I'll give you a brief over view of what this place is, how it works and the point of using it.
CoinBase Exchange Review
CoinBase is a cryptocurrency platform that was started in 2012 and is based in San Francisco California. In a way you can think of this place as a cryptocurrency bank. They are one of the few places that you can easily go to and buy different cryptocurrencies with regular old money (such as USD).
Anyone can create an account with them (well people in many countries) and buy and/or sell cryptocurrency. On top of this they also provide a secure wallet for you to store your cryptocurrencies, which is a free service.
They also provide a transactions service for merchants who want to accept cryptocurrencies as a method of payment. I'm not going to get into this though.
How It Works
Most people use CoinBase to buy bitcoins, ethereum, and litcoin, but you can also use it to sell these cryptocurrencies back to them if you wish to.
Buying cryptocurrency on this site is extremely easy and the great thing about it is that its instant. Once you purchase it you will have it immediately available in your wallet.
Purchasing
CoinBase sells at market price. This is good because when you try to buy bitcoins, etc on P2P (peer to peer) exchanges people often rip you off.
In order to buy you will need to use a credit/debit card or hook up your bank account. After your payment method is verified you are ready to go.
There is a 1.49% transaction fee minimum on each transaction. This may seem like a bummer but its actually nothing compared to other places I have looked into.
Your Wallet
Once you buy cryptocurrencies they will be available immediately in your virtual wallet on CoinBase. The wallet is very simple to use and is safe, which I will go over more soon.
You can do whatever you want with your cryptocurrencies once they are in your wallet. If you want to send them to another online wallet you can do that. If you want to pay for something you can do that. If you want to send them to an offline hardware wallet you can do that.
Safety
CoinBase is very safe when it comes to the cryptocurrency industry. They are a site that I trust and use religiously. In fact, I now buy all my bitcoin & ethereum through them.
Account Safety
They have a 2-factor authentication process that you can set up for logging into your account. I do suggest you do this as it will make your account much more secure and less susceptible to being hacked.
Payment Safety
When you hook up your credit/debit card or your bank account you will have to verify ownership of it. This makes transactions more safe.
If you are hooking up your bank account you will be required to login online and answer your security questions. If you are hooking up your credit/debit card it will require you to verify purchases made with that card in the exact amount.
Wallet Safety
CoinBase's wallet is one that you can trust. Not only is it secure to prevent from being hacked, but they also have an insurance policy just in case it were to get hacked.
CoinBase's insurance policy covers any customer funds that are lost due to a security breach. They also only store 2% of customer funds online, the rest is stored in "unhackable" offline storage, which is actually what I suggest you do with your cryptocurrencies if you are thinking about keeping them a while.
My Personal Experience
I have been using CoinBase exclusively for a while not. All I have been doing is slowly buying bitcoin and ethereum mostly as you can see…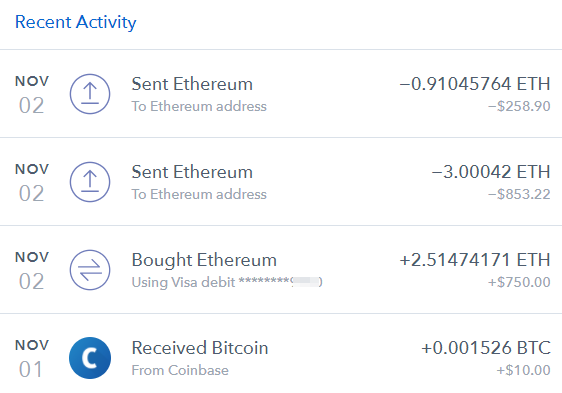 After I buy I usually store it on my Trezor wallet for safe keeping. My plan is to just keep doing what I'm doing until  I get a nice stockpile going.
I have never had any problem with this place and I do really trust it. I used to buy on peer to peer exchanges and this place is 100x better than those.
Complaints
Most complaints that I have found online come from CoinBase having poor customer service. Unfortunately in the new digital age it seems that lack of customer service is the new norm.
When people have account problems or transaction problems it may take a while for support to get back to you. Luckily I have never had to deal with this but it is something worth mentioning.
There are also some complaints claiming that CoinBase is a scam, but I have seen no proof of this. And after all, you will find complaints like this no matter how good the business.
Conclusion on CoinBase – Should You Use It?
I definitely recommend CoinBase for buying cryptocurrency. They are one of the more trusted places out there, they transfer funds instantly, they provide a good online wallet, and I have used them for while now and have had no problem.
[thrive_link color='blue' link='https://kyles-blog.com/coinbase' target='_self' size='medium' align='aligncenter']Go to CoinBase Here[/thrive_link]
They are legitimate and one thing that is nice is that they are based in the United States, which means they have to walk a straighter line than many other places that have less laws governing how they do business.
Questions, comments, concerns? Leave them below and I'll get back to you soon 🙂