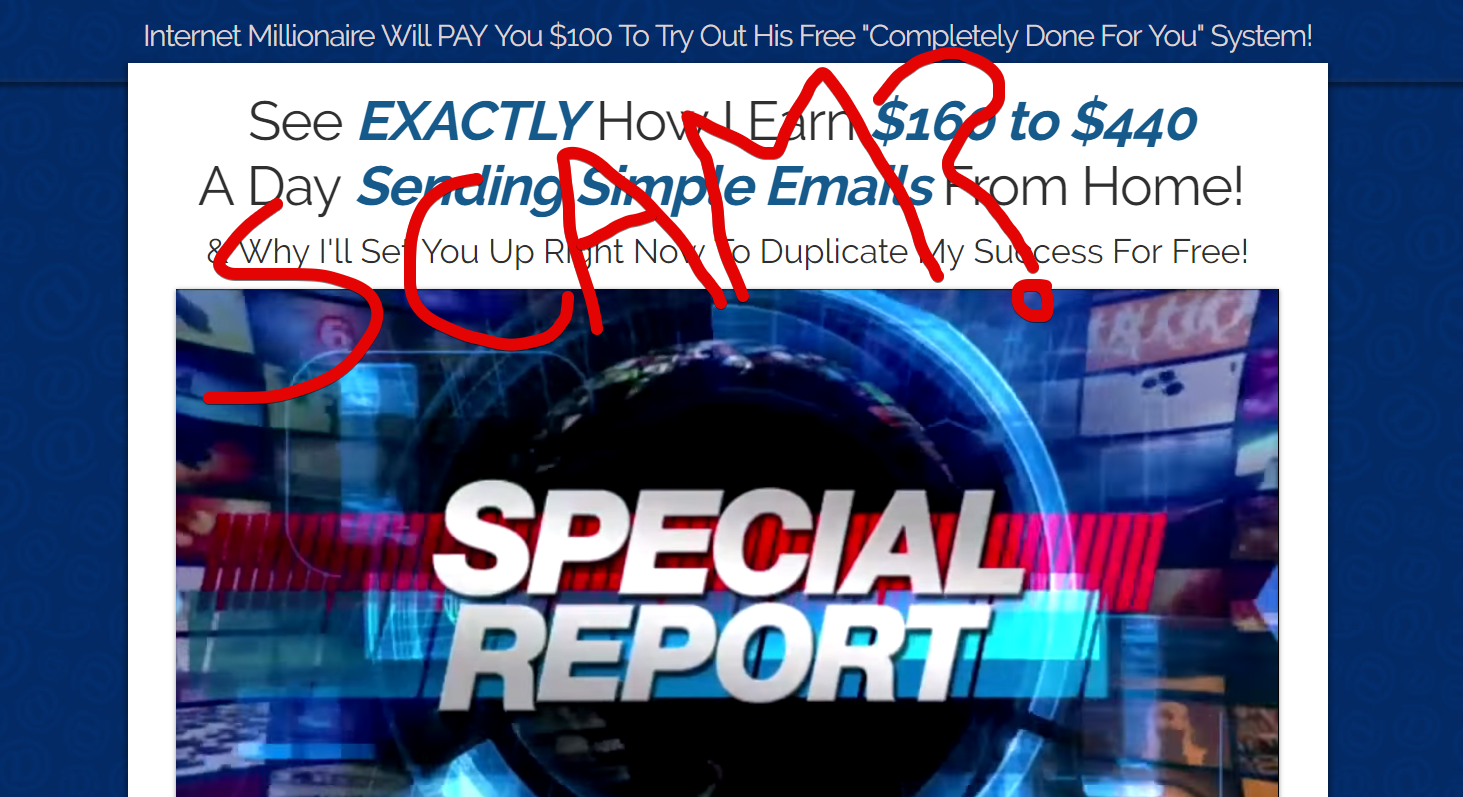 Copy My Email System claims that people can easily make hundreds of dollars per day sending out emails with this system, all of which only takes about 10 minutes to do. But is this too good to be true? Is Copy My Email System a scam that is just going to end up leaving you with less money than when you started? Or is this the real deal?
The truth is that Copy My Email System is NOT the real deal. This system is not what it may seem and preys upon those looking for way to make money online. I hope this review can help those looking into this avoid this illegitimate unethical garbage system.
By the way, all the news broadcast videos that they play in the video presentation for this system have nothing to do with Copy My Email System. They are real news broadcasts about work from home jobs but they are not taking or referring to this system in any of them. The person that created this just put them there to try to make this all seem more credible.
What is Copy My Email System?
Copy My Email System is a system that you can make money with online by simply copying Bobby's (the creator) email system. He claims that he will set you up with your own email system for free and ad subscribers to it as well as give you pre-written emails to send out with offers that you can sell and make money with.
This place is promoted as a "complete turn key business" that only takes about 10 minutes of work per day. But as you will see things are not as they are claimed to be.
How You Make Money
This Copy My Email System is one of those systems that you buy into to make money online and then you make money online by getting others to buy into it.
The pre-made emails that you get when you buy into this are just made to get others to buy in. And then when they do you can make money.
So you may be wondering… well how is it possible to make money if its all free. After all they tell you multiple times in the video that it is completely free so it can be a bit confusing as to what is going on here.
Tons of Upsells
To start out its free but this isn't going to get you anywhere. There are lots of upsells with this system and this is how people will make money off of you and how you will make money off of other people. Just like you are going to be sending people emails trying to get them to sign up, this is probably exactly what happened to you.
There are several different upsells. There are ones where you can buy subscribers and there are ones where you can buy referrals in your downline.
For example one costs $199 and will give you 5,000 subscribers and one costs $297 that will give you 20 emailers in your downline.
Is It an MLM?
I'm not sure exactly how the compensation plan works but it does seem to be a mlm (multi-level marketing) type of opportunity where you make money by recruiting in others and off of the people they recruit in and so on.
The upsells where they try to get you to buy referrals are promoted by telling you how you can make money by the money that they generate. This is how mlm's work. You recruit others in beneath you and then you earn commissions based off of what they do.
Also in the presentation video "Bobby" tells you several times that he only makes money when you make money.
Its Just a Copy of GIM
So when I went to the disclaimer at the bottom of the sales page I found this…
As you can see it says "GIM System" which stands for "Guaranteed Income Machines". This system has also went by a bunch of other names like Guaranteed Email System in the past too. This Copy My Email System is just a re-brand of GIM…. that's it.
You might wonder… well why rebrand the system so much? The answer is because the system has a very bad reputation and after a while there become so many bad reviews online that it doesn't sell well. So what they do is re-brand it under a different name and keep on selling it. People then think that its some awesome new system when in reality it is the same old one that has tons of bad reviews.
*By the way, you can also see in the screenshot above that the copyright dates do not correspond and that they are outdated. This just goes to show how poor this system really is.
Conclusion on Copy My Email System
Copy My Email System is basically an email spamming system. Your job if you buy into this will be to spam tons of people with emails trying to get them to buy into this same system. Everything about it is unethical.
The decision to buy in to this or not is up to you but I certainly will not be.
If you are looking to make money online I would recommend taking a look at Wealthy Affiliate instead. Their program is newbie friendly and much more legitimate. I've been a member since 2015 and make a living online now, which goes to show that it actually works. You can read my review on Wealthy Affiliate here to learn more.
Leave any questions and/or comments below and I'll get back to you soon 🙂