CryptoGain is being promoted all over the internet right now as a great investment opportunity but one thing that I have learned over the years is that you definitely cannot trust everything you hear online. There seem to be a heck of a lot more scams out there than actual legitimate opportunities that you can make money with.
But is this place the real deal? Or is CryptoGain a scam that is just going to leave you with less money and less time than when you started? In this review I'll be going over a few important things that I think everyone should know beforehand.
CryptoGain Review
CryptoGain claims to be an amazing investment opportunity that will give you guaranteed returns when you invest in cryptocurrencies through them. On top of this you can also make money by referring other people to join and invest money.
Honestly it sounds way too good to be true and what this means the majority of the time is that it is not true.
After taking a look at the compensation plan they have in place I'm really starting to get the feeling that CryptoGain is a Ponzi scheme kind of like Invia World & Resonance Capital. You will see what I mean by this…
Compensation Plan
CryptoGain promises fixed returns, which is suspicious in of itself. I understand that the cryptocurrency investment right now is the hottest new thing and is literally the greatest investment opportunity in history (in my opinion), but you still cannot promise fixed returns as this place does.
When you invest money they promise a fixed percentage ROI. This cannot work out and it is literally impossible to be able to promise such.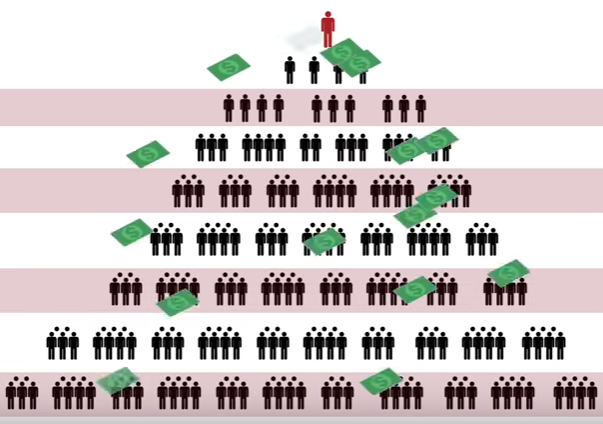 On top of this the referral program they have in place is suspicious to say the least. You can earn commissions from the investments made by new people investing money in this place. They pay up to 100 levels deep which is huge.
The people that you personally recruit in are level 1, the people the they recruit in are level 2, the people that they recruit in are level 3, and so on. The commission percentage decreases with each level.
The fact that they promise a fixed ROI which doesn't make sense and the fact that they have a massive pyramid-like commission structure in place really makes me think that this could possibly be nothing more than a Ponzi scheme.
Another Problem With This Place…
One major problem that I have with CryptoGain is that there is no real information about this place. With any legitimate investment opportunity or business opportunity you would expect to have plenty of background information on the company and the people behind it would you not?… yet this place offers no such information.
There are a few names thrown around, such as Bernie Thompson who is the CryptoGain Facebook page admin, but this profile was created around the same time CryptoGain launched and this seems to be a fabricated person made just for the purpose of promoting this program. But who knows if this guy actually exists or not… there is just not enough info out there.
Also, on the "About Us" page of CryptoGain's website there is absolutely not information on anything. They basically just tell you a bunch of general info about cryptocurrency and nothing about CryptoGain in particular. This is no help to anyone trying to find out if this place is really legit or not.
And if you want to contact the company to find out more about them in an attempt to determine legitimacy you are out of luck. Their contact information is missing and the phone number listed does not work… I tried calling it.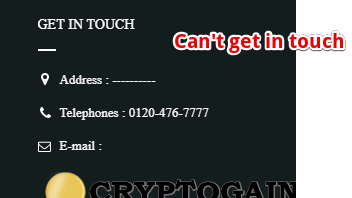 Conclusion on CryptoGain – Scam?
Of course it is always best for you to do your own research and decide for yourself if something is legitimate or not. But if you want my opinion I will say that this place is not something I would trust and I sure as heck will not be investing in it.
There are just too many red flags that I see which lead me to believe its a scam. A fixed ROI…. massive commission structure….. little to no information on the people behind it…. It is just not a place you can trust so I will stay clear of it.
When it comes to making money online there are a lot more scams out there than legit opportunities that I can recommend. However…. gun to my head, what is the best program out there? This is it. I have been a member since 2015 and it took me from nothing at all to making a living online.
Questions or comments? Leave them below and I'll get back to you ?