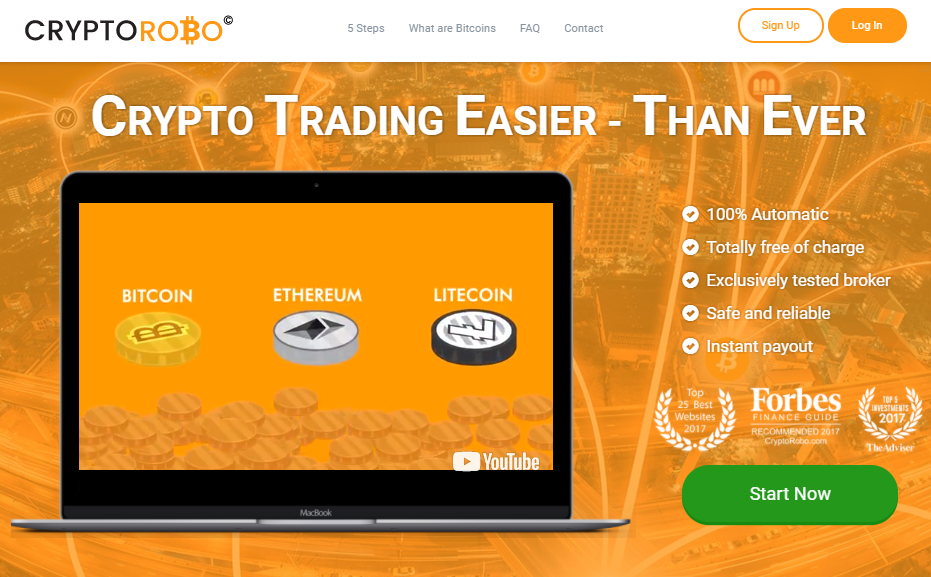 CryptoRobo claims to be a new revolutionary software that can make you easy and completely automated money trading cryptocurrencies like bitcoin. But is what they tell you really true? Can you really trust this place? Or is CryptoRobo a scam software like the many other fake trading softwares out there?
In this review I'll be going over what everyone should know about this place beforehand. I'll be going over some of the claims made, if how it works makes sense, and more.
CryptoRobo Review
Ok, so CryptoRobo is a trading software that is said to do everything for you. It does the trading of cryptocurrencies and you really don't do anything, except for invest initial money upfront to begin the trading.
When this software first came out the sales video was WAY over the top and claimed that anyone who used it would make over $5,000 per day. The spokesperson in the video was a man named "Walter Zubringer" that could not be identified as being a real person.
Basically everything came off as very scammy and if you read other reviews of this software there are tons of complaints from people calling this a scam.
Since then they have toned down their sales pitch. The sales video that I watched (there might be multiple) didn't make any bold claims of being able to generate you $5,000 per day nor was there any mention of a man named Walter. So I don't really know what is going on here but I'm guessing they did this from all the initial scam reviews that came out.
But anyways…. is this a scam? Can it really work? Well…. I'll tell you…
Can This Possibly Work?
The way CryptoRobo claims to work is by trading through the "arbitrage method". This is when you exchange different cryptocurrencies between different exchanges and take advantage of price differences.
I trade cryptocurrencies in my spare time and this is a real method of trading that some people use. So it is possible. Normally there isn't much difference at all in prices of cryptocurrencies between different exchanges however when there are big price movements in the market, like when bitcoin skyrockets, this is when you will see some pretty big differences in price.
I personally don't use this method because it is difficult and often times doesn't work out. It isn't as easy as it sounds to go back and forth from one exchange to the other.
So basically what you need to know here is that this can work out… but it isn't quite as easy as it may seem. The one problem that I have with CryptoRobo's claim to do this easily and completely automated for you is that there is no proof provided. There is no solid proof that it is actually doing this and actually working.
Anyone could come up with some fake software of program and make these claims. Since there is no proof of it this is a problem for me and should be for you too.
Can You Really Trust This Place?
Trust is the main issue that I have here. This software is very new and there seem to be more reasons for me not to trust it than to actually trust it.
Another thing that I came across that is worth mentioning is that they claim that this CryptoRobo software has been featured in Forbes magazine….

However it has not. This is just a lie to try to make it seem more credible than it really is. There are lots of places in the online world that will do this, most of them being scams which makes me more suspicious of this place.
To find out if it were really featured in Forbes all I had to do was go to their website and run a quick search for it which turned up no results…
Conclusion on CryptoRobo – Good Opportunity or Scam?
This is a tough question. I'm not willing to invest my money to try it out because I simply cannot trust what they say. there needs to be more proof for me to go ahead and jump in.
I mean just think about it…. this place started out making massive claims that you will make $5,000 a day on autopilot and the spokesperson was a guy that has no background and is probably made up…. And since then they took all of this down from their sales page. But still at this point there is no proof of it actually working and they lie to you when they say it was featured on Forbes.
How can you trust it? Invest if you want to but I'm not going to… that's all I'm saying. I have reviewed tons of cryptocurrency trading software scams like The Bitcoin Challenge and Crypto VIP Club and there are just too many scams out there like this for me to be able to trust a place like this without any real proof and the lies that were told.
In the online world there are way more scam programs than legitimate ones so it can be difficult filtering out the scams and finding the right opportunities. One program that I will always recommend if you are looking to make money online is this program. I've been a members since 2015 and make a living working online now.
Questions or comments? Leave them below and I'll get back to you soon ?