Earning some money back on your online shopping is a must nowadays in my opinion. Places like Extrabux make this possible and very easy. But is Extrabux worth your time or are there better options out there? Is Extrabux a scam that is going to just end up leaving you discouraged?
Before you sign up for this place or not it is important to know how it works, how much they pay you, and some of the common complaints that are floating around about this cashback program. In this post I wrote I'll be going over all of this.
Extrabux Overview
Extrabux is what you call a cashback program. Anyone can become a member here for free and earn money back on their online purchases that are made through their site. They are currently partnered with over 2,500 different stores so there is no good reason why anyone shouldn't be able to save money using this program to shop online.
You might be wondering how they can pay you money to shop and the process is simple really. You see Extrabux gets paid commissions to refer people to these online stores from the stores themselves. So if you to to Amazon.com through Extrabux and buy something, they get paid a commission from Amazon. They then give you some of this commission back in the form of cashback.
How It Works
After you sign up, which takes about 20 seconds, you can start earning cashback immediately. After you login you can browse for the stores you wish to shop at. You can search for stores by category, letter, or you can search for specific stores by using the search bar.
Below you can see that I searched for stores that begin with "W" and found Walmart, which is a store I am interested in shopping at…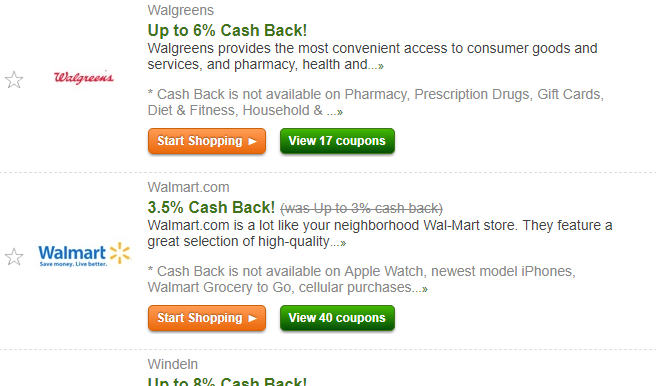 When you find a store you wan to shop at you can click the "Start Shopping" button that appears beside it. This will redirect you to the store where you can do your normal shopping.
Also, many of the stores here have coupons that you can use. As you can see above, Walmart has 40 coupons available at this time. You can use these by entering the codes at checkout.
Summary of the process: You go to Extrabux. You find a store you want to shop at. You click on it and are redirected to the store. You shop there. You earn cashback.
Also there is a browser extension that they have which makes this process even easier. I'll go over this soon.
How Much Can You Save?
The amount that you can earn in the form of cashback is totally dependent on the store. Generally I would say you can expect the bigger stores to pay you anywhere from 1.5 – 4% cashback whereas some of the smaller and lesser known stores will pay over 20% cashback in some situations.
And as for the coupons, these vary greatly. You can save a good bit of money using coupons on this site but you never really know when you will find good ones that you can use.
Getting Your Money
When you shop your cashback will be credited to your account within a week. Once you have accumulated $10 in your account you are eligible to cash out. You can choose to receive your money via PayPal or by check in the mail.
Personally I prefer PayPal just because it is faster and easier, but the choice is yours.
What I Really Like
Extrabux has a browser extension that is available for Google Chrome. This makes things even easier than they already are.
Normally you would have to go to Extrabux.com and click on the store you want to shop at in order to earn cashback. But if you download the browser extension you don't have to do this. You can go straight to the store like you normally would and earn cashback.
Conclusion on Extrabux – Scam?
Extrabux is definitely no scam and I would say it is on the better side when it comes to cashback sites. I have reviewed dozens of these sites looking for the best one and this is pretty good (TopCashBack is another good similar site). They offer decently high cashback amounts and it doesn't get any better than using the extension that they provide. So all in all I like what I see here.
Also, you might want to read my review of Ibotta. This is my favorite in-store cashback app. It is really nice for earning money back on grocery shopping and things like that.
Questions, comments, concerns? Leave them below in the comment section and I'll get back to you ?