The Funnel X Project, aka "Funnel X System", comes off very scammy so its no wonder you are reading my review here. When I first came across this system I though it was surely just another scam.
In this review I'll be going over what Funnel X Project really is. It can be a little confusing how this all works if you are new to stuff like this so I'll be giving a big picture view and my opinion of it all… which isn't good. I am not promoting this system so I'm not going to be trying to make it seem better than it really is.
Funnel X Project (Funnel X System) Review
Funnel X Project is advertised as being a system that can make you $300 per day and profit. Sounds pretty good right? And to top it all off they claim it is normally priced at $997 and you can get it for free.… But there's gotta be a catch to this right? Well, he tells you that it is "100% free no strings attached".
This system was created by a guy named David Dekal who claimed to have went from struggling to make money online back in 2013 to making $18,000 per month by his third month after hiring a personal coach. He then took a break from the online world for a while and has since decided to get back to it all. Now he is promoting this "special funnel" that he claims is making him and other people tons of money all while working very little.
But what the heck is this "secret funnel" that he is talking about and how can you possibly make $300 a day just sending out emails for a couple hours each day?
Well if you entered your name and email you will see see what the system is all about, But if you didn't I will break it down for you here…
How It Works
General Overview – Basically what you are going to be doing is sending out emails and getting other people to join the Funnel X  System, which will make you money as you will see. That is the basic overview of the system.
He tells you that: leads + offers = money
And step 1 to doing this with this system is signing up for MoneyLine.
Step  1: Create a MoneyLine Exchange
This is true and for your first step he tells you to sign up for your MoneyLine account at GlobalMoneyLine.com. This place is basically a very spammy marketing site where people promote their network marketing or work at home opportunities. You will see all sorts of crap on this site… I know because I used to use it.
You can create a free account here and the purpose is to be able to communicate with other people and collect leads, which is the first part of the equation. Basically what you are going to be doing is telling everyone how great this funnel is that you just got and why they need to try it out too.
Step 2: Join MCA
This is the offer part of the equation. You will join MCA and then earn money when other people join.
MCA, or Motor Club of America, is a MLM business that sells vehicle related services, the main one being roadside assistance. But this isn't the main reason that people join. Sure, who wouldn't love knowing that they can get roadside assistance whenever their car breaks down? I'm sure everyone would, but the main reason that people join MCA seems to be to earn money from it.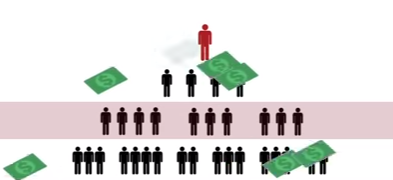 You see with a MLM business like this you can recruit in other members to join and earn money from their efforts and off of their monthly membership payments. So for example, after you join MCA for $39.90 for the first month and a $19.95 per month charge thereafter, you can then go and recruit others to join MCA beneath you. You will earn commissions when they pay their monthly charge and you can also earn commissions from the people that they recruit in.
So by referring people to the Funnel X Project they are then funneled into buying into MCA, just as you were, and you will be able to earn commissions from this.
Step 3: Sign Up For Aweber
Another thing that David tells you to sign up for is a Aweber. This is an auto responder service that you can use to send out automated emails to people. I actually use the service for email marketing, but have nothing to do with this Funnel X Project. It's a very popular service and works great.
Basically what you will be able to do is send out automated emails to the leads that you capture. So you could set up a series of 20 emails or so to be sent out daily to each lead that you collect trying to get them to sign up for some offer.
There cheapest plan is around $19 per month and just like MCA, you will be able to earn commissions from this. You will still do the same thing, send people to the Funnel X Project, where you hope they will join, and if they do they will be going through the same process that you do in which they will join all these other programs, earning you commissions.
Final Step: Create ClickMagick Account
ClickMagick Is and analytics platform where you can track your finals to better optimize your conversions. The cheapest plan for this is $12 per month and just as every other part of this system, you can earn commissions with it when you get someone else to join Funnel X Project and they sign up for it.
In a Nutshell
Okay, so I hope I wasn't too confusing with my explanations of everything and if I was here is how it all works in a nutshell:
The Funnel X System itself is free. However, You are going to have to take out your debit card if you want follow along with the system. If you don't spend money you will not make any money doing this so while the system itself is free, there are a lot of paid components to it.
The only thing that you will be doing is promoting the Funnel X Project. When you promote the system and get other people to join, which will then lead to them joining MoneyLine, MCA, Aweber, etc., you will earn commissions from all these different programs that they join.
How is this possible? Well after you join Funnel X Project and join all the programs that it is promoting in that are part of the system, you will be able to insert your affiliate links into the funnel. So then when you promote the Funnel X Project and someone goes through the funnel, they will be clicking on your affiliate links when they join these other programs.
And that's pretty much all there is to it. Its very similar to the Digital Genius Lab system that I recently reviewed as well as Easy Income System which also promotes MCA.
Can You Make Money With This?
You can absolutely make money with this but you can make money with a lot of things online. The real question is whether or not the time you put into this will pay off.
It isn't a question about making money. All of these different programs that Funnel X Project is funneling people into buying do pay people to get others to join. There is no doubt about this. However… I can pretty much guaranteed you that you are going to find this to be more difficult that it seems. I know this because I have seen plenty of other programs that work in similar ways to this before. The problem is that like you are now, many people are going to be suspicious of them and will avoid joining.
Really its just a big marketing funnel. You are joining MCA and getting others to join just to make money and not really for buying the product itself. People tend to avoid programs/systems that work like this.
Conclusion on Funnel X Project
I definitely would not call Funnel X Project a scam, however I would say its a bit of a "shady" system for making money online. You are luring people in with the hopes and dreams of making $300/day and then you are making money off of them by getting them to buy into the same bunch of programs that you just bought into… all from the same darn funnel system.
I don't know…. join if you want to but this sort of thing just isn't for me. Something else you might be interested in taking a look at is how I make money online. You can read my "make money online guide" here if you want to where I go over what it is that I do, how it all works, and what I consider to be the best way to get started is. And… it has nothing to do with some "secret funnel".
And as always, leave any comments or questions below and I'll get back to you as soon as I can 🙂