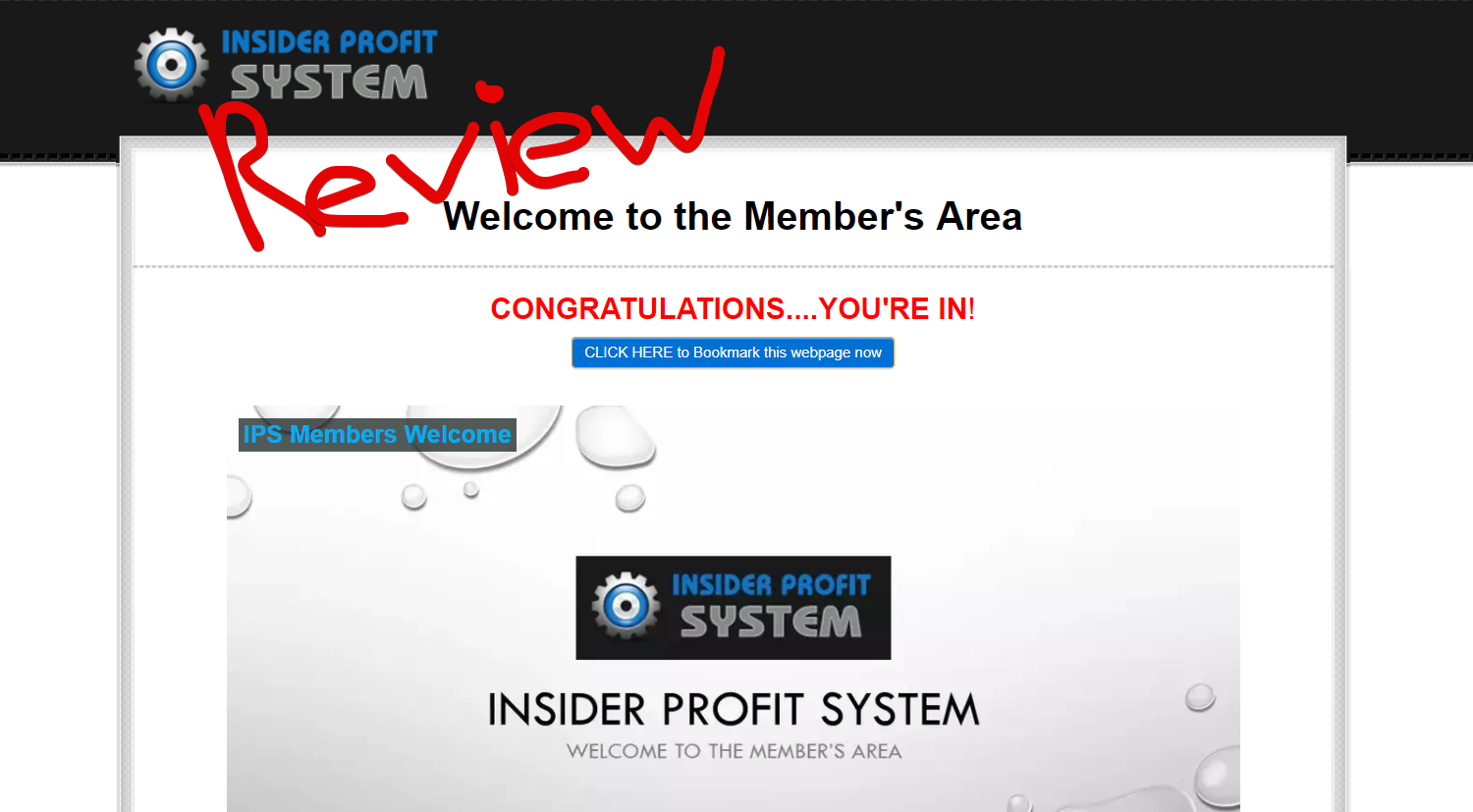 Insider Profit System claims that you can make it over $1000 in a day with just three simple steps. But of course we have all heard claims like this before and it seems like more times than not they are untrue. So is this the real deal or is Insider Profit System a scam that you need to avoid? This is the real question that needs to be answered.
In this review I will be answering exactly that. The truth is that this program is nowhere near as good as it sounds and I will be going over the reality of it. While you can make money with the system it would be incredibly unlikely that you make $1000 or more per day.
Insider Profit System Review
The system was created by a man named Jeff Davis, who is supposedly giving it away for free. And while this is true, the system really isn't free. The part that Jeff is giving you is but you will have to pay to get the system completely up and running, which I will go over.
As a basic overview this is how the system works: you will be advertising in driving traffic to "lead pages" in which you will get people to enter their email addresses so that you can build up an email list. Then you will be promoting products to them through your email list and earning commissions when they buy the products.
This system is based around the business model "affiliate marketing", which is where you promote other people's products and earn commissions each time you help make a sale. I am very familiar with this business model because this is actually how I make a living online. At its very core of the business model is legit. Sites like Amazon, eBay, Walmart, etc. all have affiliate programs or they will pay people to promote their products like this. But there are also lots of affiliate marketing scams out there where people promote scam products that don't work just to earn commissions.
The First Step of The Process
The first step of the entire process will be driving traffic to your offer. You will have your "lead page" that you are trying to collect leads with. You want to drive people to this page so that you can collect their email address which you will then be able to spam them with emails promoting products.
The way that Jeff teaches is paid advertising. What this means is that will need more money to spend just to get things going. And one thing I can tell you about paid advertising is that you can blow through a lot of money really fast if you are not careful. I've done Facebook advertising as well as Bing advertising before and wasted a lot of money with both before even breaking even.
How Do You Build an Email List?
Well Jeff gives you his system which does the part of capturing emails but you will still need an autoresponder so that you can build your email list and send out emails automatically to people on the list. For this Jeff tells you to sign up for a GetResponse account, which is one of the most popular autoresponders out there. What's funny though is that Jeff tells you that you will need to sign up for a new account even if you have an existing one. This makes absolutely no sense and the reason he is telling you to do this is because he wants to make money off of you signing up. Of course Jeff is an affiliate marketer too… After all he is the one that created the system. So he wants you to sign up through him so that he earns a commission when you pay your monthly GetResponse membership fee.
What Types of Products Will You Be Promoting
Jeff refers you to the digital product sites Clickbank and Clickbetter. These sites sell all sorts of digital products, whether it be e-books, how to guides, programs for making money online, etc. . They are pretty well known for having many different make money online programs that are sleazy in scammy, many of which I have reviewed in the past including Auto Lotto Processor, which supposedly gave you the secret to increasing your chances of winning the lottery… Which is impossible by the way. And then there was the Viral Cash Application that I reviewed which was some stupid system that claimed people could get rich off viral traffic, which is true they "could", but the system was a complete bust too.
These Clickbank and Clickbetter sites are marketplaces kind of like eBay but limited to only digital products. Anyone can create their own digital product and have it sold on these different websites. So you will find many different products that you are able to promote and earn commissions off of.
Conclusion on Insider Profit System
I have seen plenty of systems like this out there before. They are free to use but the owner makes money off of you because he pushes you to buy certain products/services which he is promoting and earning commissions doing… Which is how the system works. Just as he is teaching you to promote products and earn commissions with the system, he is doing the same off of you.
Overall the system is very basic and not something I will be buying into. Paid advertising isn't something you want to get into it unless you really know what you're doing and this system doesn't really seem to give very much training in this realm. The training here is literally all stuff you could easily find on YouTube for free.
Join if you want to but this is not the quality type program that is going to have you making thousands of dollars per day like a claims to be. I'm guessing you were suspicious this was the case which is why you decided to read my review in the first place. If there was only one program I could recommend for beginners it would be Wealthy Affiliate. This is an affiliate marketing training program and happens to be where I started out back in 2015 when I first got involved with affiliate marketing… And I'm still a member to this day. You can read my Wealthy Affiliate review here for more information on if you're interested.
If you have any questions or comments please leave them below and I'll get back to you as soon as I can 🙂