The business opportunity that Jamberry Nails offers has the potential for you to make a lot of money… but is this place a scam? After all, there is a lot of recruitment that goes on and it makes you wonder… is Jamberry a pyramid scheme possibly?
I know there are a lot of people out there that are looking into this opportunity but are hesitant to join due to the controversy surrounding it. In this review I'll be clearing the air and telling you what you really need to know, especially when it comes to the mlm "pyramid scheme" part of it.
By the way, I am in no way associated with this company.
Jamberry Overview
Jamberry is a direct sales mlm company that sells nail wraps, nail art, nail care products, and a bunch of other things having to do with nails. I have never personally bought any products from here nor do I plan on it, but from everything I have read and heard it seems that the products are very good. People really like them.
But of course my focus here is on the business opportunity that Jamberry offers. As a direct sales business all of the marketing and sales is done by consultants, which anyone can join as.
A Look at How Consultants Make Money
This place has your pretty standard mlm compensation plan…. personal sales commissions, ranks, override commissions, generation bonuses, and more.
Consultants are able to make up to 40% commissions on personal sales that they make. The amount made depends on your sales volume.. the more you sell the more you make each month. These retail sales are at the core of this business but there is no doubt that the recruitment part of it is a major focus.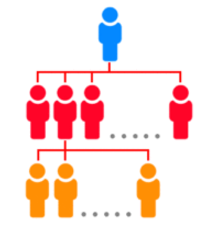 They offer override commissions down to 3 levels deep. This means that you can earn commissions off of consultants that you recruit in (level 1), off of consultants that they recruit in (level 2), and off of consultants that level 2 recruits in (level 3). This is a uni-level structure which means that there can be an unlimited number of consultants at each level.
The diagram on the right shows you what this is like, just it only has 2 levels beneath you, whereas the comp plan that Jamberry uses has 3 levels down.
The only way you can earn commissions from all 3 levels is if you move up the ranks. When you start out you will not be able to take full advantage of the comp plan here.
Moving up the ranks is all about recruitment of new consultants and increasing your own personal sales volume.
Once you move up into the higher ranks you will be able to earn what they call "generation bonuses", which are basically commissions from other teams that are formed in your downline. Its just another way to earn from the recruitment side of the business.
Pyramid Scheme?
There is no doubt about it… this place, as with any mlm, places a lot of emphasis on recruitment. They even make it a requirement to recruit in new consultants if you want to move up the ranks.
But does this make it an illegal pyramid scheme? The answer is no.
Jamberry also puts a lot of emphasis on retail sales, more than many other mlm's that I have looked into. They require consultants to increase their own personal sales to move up the ranks and they also pay higher commissions on sales for selling more volume in a given month…. this gives incentive to make personal sales.
While recruitment is an important aspect of this business, they do not put too much focus on it. And if they did then it could be considered a pyramid scheme, but they stay away from this.
One Thing to Know
With mlm's like this it is difficult to make money. Their pyramid-like structure makes it this way. Those at the bottom struggle to make good money because much of the money they could be earning gets taken away and funneled up to those above them in the form of override commissions and generation bonuses.
With a compensation plan like this you will have to be on the top to make good money. And unfortunately there will always be many more people at the bottom struggling than at the top reaping all the rewards.
The reality that most people fail is the same for just about every mlm out there. I just reviewed Life Force & Wildtree the other day (2 other mlm's) and the same goes for them.
Conclusion on the Jamberry Business Opportunity
Jamberry is not a scam nor is it a pyramid scheme. They are legit and if you like their products and think you can make it in the mlm world then go for it. Just know that it won't be easy.
I stay away from mlm's because of their structures, which pretty much ensures that most people are going to fail. In order to make good money you are going to need to recruit, build your downline and move up the ranks. And of course this is much easier said than done.
Something else that you might want to look into if you are looking for a work-from-home job is how I make money online. I make a living online and I enjoy what I do. Here is the program that got me started and got me to where I currently am, which I am still a member of.
==> My no. 1 recommended program here
Questions, comments, concerns? Leave them below in the comment section and I'll get back to you soon ?