Kuvera is a company that is focused on finding, keeping, and growing wealth for customers. But is this place really as good as it claims to be? Or is Kuvera a scam somehow that you should be avoiding?
This company seems to be getting a lot of attention recently, much of which can be attributed to its cryptocurrency investment opportunity. Because of this and because of the fact that there are so many darn financial scams out there, you get the usual people that are suspicious that the whole thing might be a scam, which is why I am writing this review.
In this review I will be going over some basics about the company, the products that are sold, the business opportunity in which members can get paid to recruit others in, and more.
Kuvera Review
First off, it is important that you are here for information on the right Kuvera, which is also known as Kuvera Global. There is another Kuvera that is based in India and is a mutual fund investment platform, but this is not the one that I'm talking about. I am talking about the one that was formerly known as Wealth Generators.
Wealth Generators change their name to Kuvera probably so that they could attract business on more of a global scale rather than seeming to be targeted more towards English-speaking countries.
The company has several founders including Ryan Smith, Chad Miller, Annet Raynor, and Mario Romano. Ryan Smith is both one of the founders and the CEO. He has a lot of experience in financial markets and previously founded his own brokerage fund. All combined the founders seem to have plenty of experience in this industry within which Kuvera operates.
Chad Gamer is the president and he is the one that likely brought about the MLM business model of the company. He has previous experience in the network marketing industry.
What is network marketing? This is the business model and the reason many people are calling this company a scam. With a network marketing business model like this, distributors or able to go out and recruit other distributors into the business and earn money based on their efforts. There are many different companies out there that use network marketing business models, such as Lyoness & Avisae, where they have distributors running around making the sales for them and recruiting other distributors in.
A Look at The Products
What's strange is that the website really doesn't give much of any information about their products. I am guessing this is because of the direct sales business model that is used. They make it so that you have to be recruited in by one of their distributors instead of being able to go and just to buy in on your own.
But anyways, they provide a variety of different financial products including…
Money management education –  Consists of monthly live webinars, lessons and training videos
Deductr – An app that allows you to track all your financial transactions in one place and really keep a good overview of your wealth so that you stay within your budget. They also claim that this app can save you on your taxes as well as being able to see you an extra $100-$600 per month, which is a statistic I've no idea how they come up with nor do I know how accurate it is.
Ryze – This it is there Forex auto trading bot. From what I have heard it produces around 2 to 3% monthly gains, which are certainly nothing crazy but are nice gains were not having to do anything. All you have to do is deposit money for this.
Crypto Mining – This is what has been getting much of the attention recently. You are able to purchase, or lease I should say, a mining rig and will profit based on the size of the mining rig that you lease. How this works is Kuvera takes care of and operates the mining rig and you simply are paying them to do this. You then profit based on how much the mining rig profits and are paid in Ethereum.
There are other products that Kuvera cells as well but these seem to be some of the most talked about.
Compensation Plan
This is where much of the controversy comes in. As mentioned, Kuvera is a network marketing company. They have a MLM business structure, which stands for multilevel marketing, and what this means is that distributors can recruit other distributors in, earn money off of them, earn money off of the people they recruit in, and so on.
This type of business model is not a pyramid scheme inherently but it does cause a lot of controversy because of its recruitment focused structure.
There are several different parts of this compensation plan as described below:
Product Credit Bonus
The Product Credit Bonus is a bonus that is given out when you refer other people into the business. After you refer three people in your subscription is then free. That's how it works… Refer three and yours is free.
Wealth Club Bonus 
Here you earn bonuses based on QGV, or Qualified Group Volume. When you recruit other distributors into the business they form what is called your "group". When they then go out and recruit others into the business these people are also part of your group. Essentially your group is your downline and with the Wealth Club Bonus you will receive bonuses based on the volume of products sold within your entire group.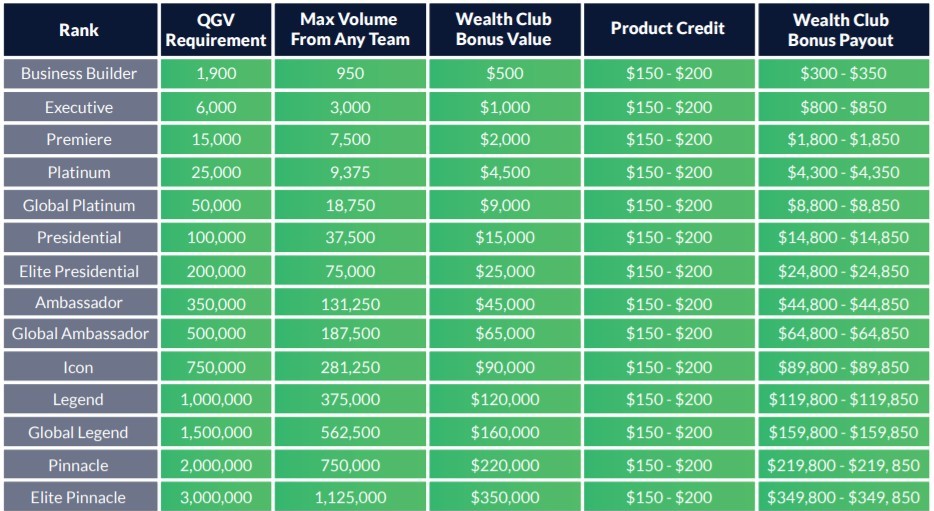 Luxury Bonuses
The Luxury Bonuses is where Kuvera gives out things such as ipads, watches, custom suites, Macbook Airs, Rolexes, Gold, $15k cash, luxury cars, etc. based on how well you are doing.
Both the Wealth Club Bonus and of the Luxury Bonuses are largely dependent on what rank you are within the business, which depends on your PV (personal volume) and GV (group volume). So pretty much the goal is to recruit people in and then get them to recruit people in, because building a bigger group will give you a better chance at increasing your group volume and thus advancing up the ranks, which will allow you to earn bigger bonuses.
The ranks are as follows…
Premier
Platinum
Global Platinum
Presidential
Elite Presidential
Ambassador
Global Ambassador
Icon
Legend
Cost
The cost depends on what you're looking to do. If you are looking to purchase one of their member subscriptions then you will have to pay either $149.99 or $199.99. This will give you access to the education, training, tools etc. But if you are looking to lease a cryptocurrency mining rig then you will have to pay between $499.99 and $4999.99 depending on which package you purchase.
If you are looking to become a distributor in one access to the compensation plan so that you can earn money recruiting others in, then you will have to pay another $50.
Scam?
From what I see Kuvera is not a scam. I do wish they would be more transparent with what is going on because their website really doesn't have much information at all about their products, nor does there compensation plan tell you much about how distributors earn money. They could definitely do a better job here no doubt.
One of the main reasons why I don't think you have to be worried about getting scammed with Kuvera is because they are "a wholly owned subsidiary of Investview" and Investview is publicly traded, which means they have to stay transparent financially in definitely aren't going to risk ruining their business with some sort of pyramid scheme or anything like that.
Recruitment based MLM businesses like this can operate legally. When they cross the line and become a pyramid scheme is when they focus too much on recruitment and not enough on product sales to the general public. I have no proof of Kuvera being a pyramid scheme in any way.
Final Thoughts
Kuvera does seem to be a legitimate company. Should you invest in one of their cryptocurrency mining rigs or become a paying member for their financial education or tools? Well this is a question that you would have to answer yourself and if I were you I would do additional research into the particular product you are interested in, but I would not steer you away from it.
However, one thing I will say is that if you are looking to get involved in the business as a distributor you should take some time to really think it over. In MLM businesses like this it is difficult to make good money because of their pyramid-like structure, where money gets funneled out the pyramid into the pockets of those at the top. This makes it more difficult for those at the bottom to earn good money and as we all know there are many more people at the bottom than there are at the top. This is why MLM businesses are often associated with extremely high turnover rates.
But anyway, I hope you enjoyed this review and I hope it provided at least some value to you. Please leave any comments, questions, or concerns below and I'll get back to you as soon as I can 🙂
Also, before you leave check out my number one recommendation for making money online if interested. I have been doing this since 2015 and make good money doing so.
You may also want to take a look at this list of my top picks for online income as well.