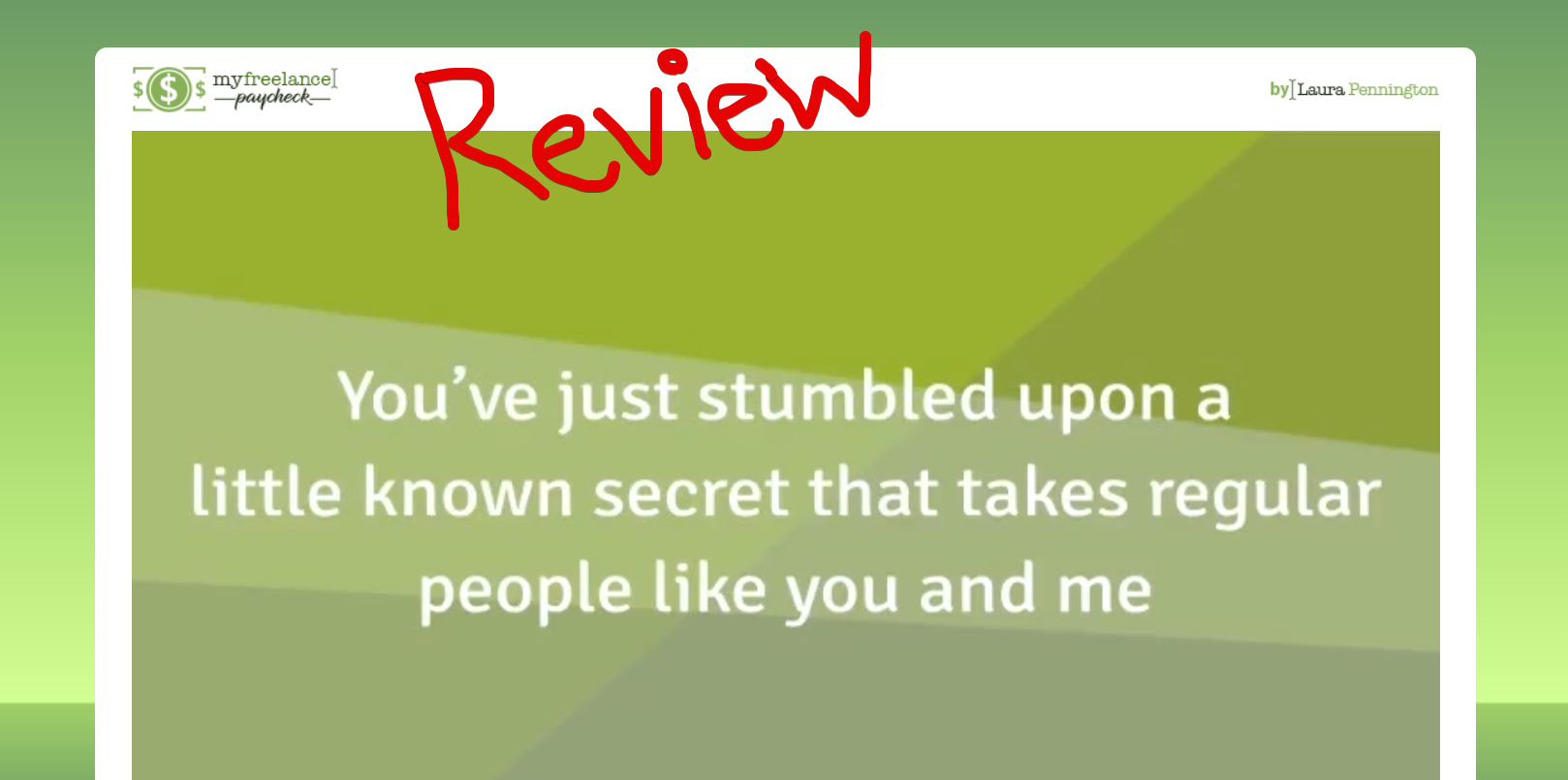 My Freelance Paycheck is a program presented by a woman named Laura Pennington that claims to provide you with a "little-known secret" to earning $1000-$3000 per month. But are these claims real or is this all just hypes to lure people into the program? Is My Freelance Paycheck a scam that is just going to be a waste of your time?
To answer that, no this place is not a scam. However, it is not for everyone. In this review I'll be going over what exactly this program is, what it provides, how much money you can make with it, who I would recommend it for and who I would not recommend it for, and more.
My Freelance Paycheck Review
If you just came across this program there is a good chance you watch the video presentation for it. In the video presentation Laura tells you that people were earning $1000-$3000 per month with this "little-known secret". She tells you that it is completely legal, and has nothing to do with surveys or data entry. It is for regular people just like you according to her.
Then she goes on to tell you that what you will be doing is typing words into your computer. The more you type the more you earn…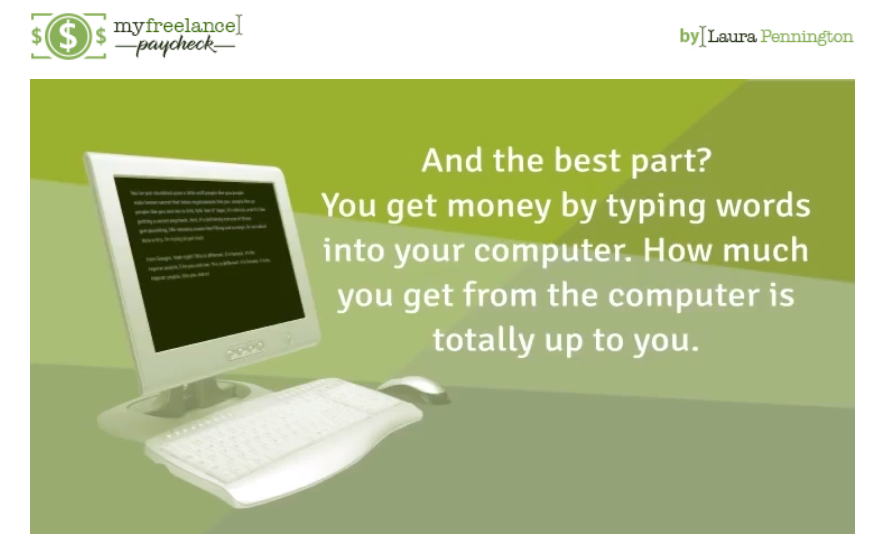 But what the heck is this opportunity that she is teasing? She talks about clients paying people to write into their computers and says that you just "type what clients with money want".
Apparently people need content for their blogs, they need short reports written, white papers written, etc.
So what is she talking about? Well it's called freelance writing and it's really not that much of a secret.
What Is Freelance Writing?
Freelance writing is when you work as in independent writer for clients and get paid to do so. There are many different freelance job sites out there where people will pay you to write for blog posts, product listings, reports, white papers, etc. Much of the different writing jobs, or gigs, that you will find on freelance sites like this consist of writing content for websites.
There are many different freelance platforms out there. Upwork, Fiverr, Textbroker, Truelancer, and many others are freelance platforms. Clients, which could be individuals or business owners, will post different projects that they are looking for someone to complete and then you as a freelancer will be able to apply to complete those projects. Of course there will be competition from other freelancers who are also trying to get the projects and this is what makes it difficult. This is where My Freelance Paycheck comes into play.
My Freelance Paycheck Will Help You Become a Freelance Writer
With this program by Laura Pennington you are provided with training on how you can become a freelance writer and are set on the right path so that you can hopefully become successful and earn good money doing so.
What You Get With My Freelance Paycheck
This program consists of a video training series, an e-book, and an audiobook. The video training is short and compact while the e-book is very long and detailed at 156 pages.
The training is focused on writing valuable content, research, organization and self-management, marketing yourself on these different freelance databases (Upwork, Fiverr, etc), interacting with clients and so on. It provides a bit of training on pretty much every part of the job, from actually being able to go out and get jobs and doing the writing of the job.
Could all of this information in the course be found online for free?
The answer is yes, but you can find pretty much any information online for free nowadays. The point of buying a course like this is to have all the information already gathered for you and laid out in a nice step-by-step manner. It's all about convenience and it is also about being provided the right information. There is also a law of misinformation out there and if you were to do your own research you would have to filter through all the BS to find what works.
How Much Can You Make Doing This Stuff?
There are many people that earn a comfortable living doing freelance writing like what she teaches you. However… Do not expect to make a living, or even close to it, when you're just starting out.
Freelance writing is not a "secret" like you are led to believe it is in the video presentation. This stuff is well-known and there is a lot of competition from other freelance writers out there for jobs. On the different freelance job websites out there the clients will have the ability to select a freelancer after reviewing all of the candidates who applied for the job. So it's not like you will just be going out, choosing jobs, and getting them. The only way you get them is if you get selected above the other people who have applied for them. This is the hard part.
The different freelance job sites out there have reputation systems in place where you will receive reviews from clients and be able to build up your reputation within the community. This is a big deal and when you're just starting out you have no reputation so it will be much more difficult to find a job then people who have been doing this for a while. Of course you have to start somewhere with any job, usually at the bottom, but I'm just making a point to let you know that you cannot expect much when you're starting.
If you do a good job many clients will end up coming back to you for more work later on, so you also be able to build up your clientele base which will have somewhat of a snowball effect the longer you do it.
Even With My Freelance Paycheck You Will Not Make Much To Start
Even if you do by this course you will not make much to start, but hopefully it will have you earning more money faster than if you did not purchase it.
It provides you with training on marketing yourself, building a client base, writing good content and all of that so hopefully it should do exactly this, but of course results will vary depending on how well you can actually apply what is covered in the training in real life.
Final Thoughts on My Freelance Paycheck – Worth Buying?
First off, My Freelance Paycheck is definitely not a scam. I will say that the video presentation is a tad misleading but what advertisements aren't misleading nowadays?
This course only cost $47 and provides you with a good bit of information that will be useful, especially if you are a beginner and completely new to this. If you already have experience with freelance writing or something in this realm then this might not be that great of a choice for you. But if you are a beginner I would say that you should at least consider buying into this.
Another good course for aspiring freelance writers is Elna Cain's course Write Your Way to 1K. Her course is more expensive but it is also more detailed in my opinion much better overall. Much of the time you get what you pay for with programs like this so if you are looking for more basic information and a little bit of guidance then My Freelance Paycheck is a good choice, but if you're looking for a more detailed training course with more hand-holding and guidance then Write Your Way to 1K is the better choice. Both programs are good though for what you pay.