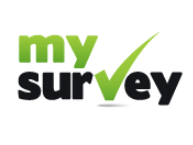 My Survey claims to the the world's number 1 paid survey website but they all seem to say something like that. Is there any truth to this or is My Survey a scam that is just going to be a waste of your time?
In this review I'll be going over a few things that everyone should know before signing up. Spoiler alert: No its not a scam, but as I said, there are a few things you should know.
My Survey Review
My Survey is a paid survey site that anyone can join for free to make a little extra money online. They have been around for quite some time and are one of the more credible paid survey sites out there, right up there with Swagbucks and Inbox Dollars.
Of course the main way that members can make money is by paid surveys, but they also offer members the ability to make a little extra cash just by searching the internet.
They are conducting market research, which companies pay big money for, so that is where they get the money to pay you in the first place.
How It Works
Joining My Survey is free. You will have to enter your name, email, DOB, gender, your marital and employment status and a few other things. The process only takes a couple of minutes total. You will then be able to confirm your registration with an email link they send you and you are ready to roll.
Once inside you will have to fill out some surveys about your lifestyle, finances, health, car, etc so that they can develop a profile for you. This will be used to match you up with the right surveys.
When surveys become available to you they will be listed in your dashboard at My Survey. Usually these surveys are from 5 – 20 minutes long and pay out from 10 to 500 points.
Once you  have $10 worth of points in your account you will then be able to redeem them for PayPal cash or a variety of gift cards. You can also chose to send your earnings to charity.
MySurvey Connect
MySurvey Connect is an application that monitors your behavior online. If you are invited to use it you can get paid just to go about your normal things online. It will run silently in the background.
But you won't get paid much. They tell you that you can make up to 1,300 in the first year, which isn't much of anything.
How Much Can You Make?
MySurvey is nothing special when it comes to how much you can make. But then again there is really no site out there that is very great. They all pay right around the same amounts for taking surveys. It is the industry standard to pay extremely low.
As I said, you are looking to make anywhere from 10 to 500 points per survey, however the number is usually on the lower side, like around 50 to 200. And each point equates to just less than a cent. So you are looking at making a little less than $0.50 to $2.00 per survey.
Complaints
Low Pay
Obviously the pay is very low. You can't expect to earn more than a couple of dollars per survey and often it is much less than that. As I said though, this is the norm for sites like this. Its a common complaint but it is not a good reason to go try a different paid survey site.
Getting Screened Out
This is another common complaint you will find for any paid survey site. Sometimes after you start taking a survey you will get disqualified because you aren't the type of person they are looking for. To improve your chances of not getting screened out is is important to fill out the profile surveys accurately.
Not Much Opportunity 
A personal complaint of mine is that they only offer surveys along with their MySurvey Connect as a way to earn money. Other sites offer a variety of ways such as playing games, completing offers and others.
Conclusion on MySurvey – Worth Your Time?
My Survey is legit and all but are they worth your time? I guess you are the only one who can answer that and it depends on how much you think your time is worth. While you can make money in your spare time the amount of time put in is just too much compared to the reward.
Personally I don't see any paid survey sites like this as being worth my time. But if you do want to make pocket change with a site like this I would recommend Swagbucks because they have a lot more ways to make money.
If you are looking to make a steady online income then I suggest taking a look at how I make money online. I make a living working for myself online and enjoy what I do.  You can learn more about what I do and how you can do the same here.
Comments or questions? Leave them below in the comment section and I'll get back to you ?