PlanProMatrix is promoted all over the place as being a great way to make money online…. but is it really? Since you are reading this review I'm guessing you are a bit suspicious of the whole thing and are questioning its legitimacy.
Is PlanProMatrix legit or is this a scam that you should be avoiding? Is this place the real deal? In this review I will be going over a few very important things that you NEED to know if you are considering joining this place. And by the way… I am in no way affiliated with this place and this is not a promotion so I will not be making this seem better than what it really is.
PlanProMatrix Review
Plan Pro Matrix (PPM) is a work from home opportunity that gives members access to several different ways to earn money online, which include earning as an e-loader, data entry worker, or advertiser.
The advertising part of it is what has so many people suspicious that this is a scam. The reason is because PPM has a very complex compensation plan where you can earn money by recruiting in other members, which resembles a pyramid scheme to some degree.
Many of the people that you see promoting PPM are doing so just to make money off of referrals. They likely have nothing to do with the e-loading or data entry and make money by misleading others into the business.
Overall I would suggest you stay away from PPM. It seems to be mostly geared towards being a massive and very confusing money making scheme that is almost always promoted in a deceptive way. Even the Philippine's SEC warns against joining this place.
How You Make Money
E-loading – This is when you sell pre-paid phone service and is very popular in certain countries. It is an attractive business because it can easily be run individually and doesn't require much of any start up cost. PlanProMatrix provides resources to help people start their own e-loading business which is nice.
Data Entry – PPM claims to provide data entry services for companies and governments. What do their data entry jobs consist of??? They consist of tying captchas into the computer. You will literally be looking at captcha images and typing in what you see.
Is this even a legitimate way to make money online??? Typing in captchas??? The answer is yes, which may sound surprising. There are other sites out there, like 2Captcha and MegaTypers who provide services like this too and pay people to do this. Captchas are used for human verification so they need real humans to go through and enter captchas in the first place to make sure they are good to be used.
The problem is that these data entry jobs pay EXTREMELY LOW. At PPM you will literally be making around $1 for every 1,000 captchas you type in… and that is going to take a while. The same goes for other captcha entry sites.
Advertising – You are also able to advertise your business on the platform. They offer "ad packages" which is an advertising service you can pay for to advertise your online business. However… its really dumb because the advertisements you pay for are placed inside the PlanProMatrix dashboard. Below you can see at the top of the screenshot where it says "Advertise Here"…. that is where the ads are placed…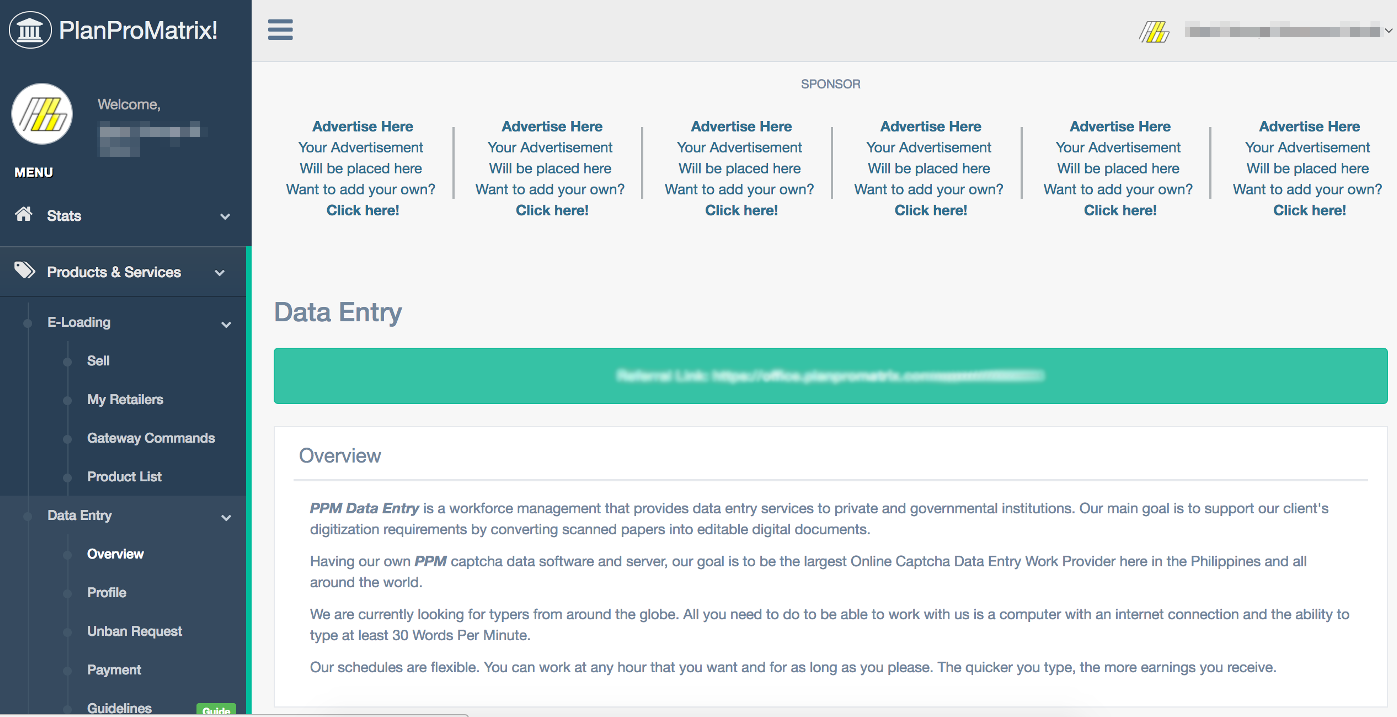 Doesn't really make too much sense does it? Your ads are going to only be visible to other PPM members. That is a horrible advertising method.
The real money is made by promoting this opportunity to other people. I'm sure we have all seen it… You are probably reading this in the first place because someone tried to recruit you in by advertising the opportunity to you. The compensation plan that comes along with recruiting others in is as follows…
Compensation Plan
There are many different components of the compensation plan and it can get a bit confusing if you have never been involved in something like this before. I will do my best to break it down for you and tell you what is important.
The components and the different ways that you can make money advertising PlanProMatrix is as follows…
2 x 1 Matrix
This is a simple 2 x 1 matrix which allows you to earn Php 300 for every 2 people you recruit into PPM.
"Pass 3" Unilevel 
This is somewhat confusing. Here you will earn money for the 2nd, 4th, 6th, 7th, 8th – infinity, person that you recruit in. You will not earn from the 1st, 3rd, and 5th person you recruit in. Why not? Well because you will pass those recruits up to the person that recruited you into PPM in the first place, aka your sponsor.
The same will happen with your recruits. They will pass their 1st, 3rd, and 5th recruit up to you.
Unilevel Indirect Referral Commission
Here you will be able ot earn Php 5 for every referral in your downline all the way to level 10. There can be unlimited number of people on each level.
Binary Commissions
A binary structure is also in place. With this structure there are 2 spots below each person and on each level the number of members doubles. So below you there are 2 positions, below that there are 4 positions, below that there are 8, then 16, 32, etc.
And just to give you a visual between the Binary and Unilevel structures, here you go…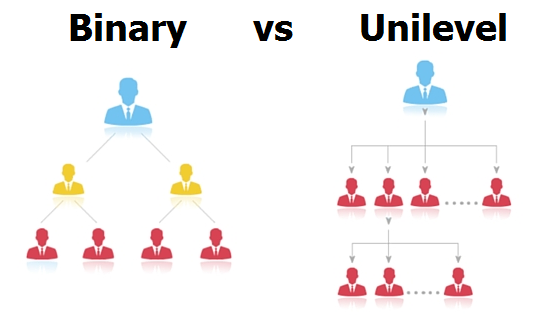 Profit Sharing
There is also a profit sharing component to the compensation plan. Basically what happens here is the company (PPM) shares some of their revenues with their members. Or at least this is how I understand it to be.
Seems Like a Very Confusing Money Making Scheme
That is because it is a very confusing money making scheme that is mostly focused on recruitment of new members. I feel like the data entry and e-loading part of PPM are just there to make it seem more legitimate while the real reason for this place's existence is the recruitment based scheme.
Why Are People Claiming That PPM Is So Great?
The answer is simple…. to make money. They are promoting PPM to earn from the compensation plan.
As I've already mentioned, I have seen many very misleading advertisements. I've seen some people claiming that the data entry work is a "reliable" way to make income. This is far from the truth. It is a horrible way to earn money online and I would never recommend it to anyone.  It is a waste of time.
And there are plenty other misleading promotions where that came from.
Conclusion on PlanProMatrix – Should You Join?
You can make money with PlanProMatrix so in that sense you could say that this opportunity is legitimate… however, it is just not that great… not nearly as great as people make it seem.
There is nothing that I see with PPM that makes me want to join in any way. It is mostly a big money making scheme and not even a very good one. I doubt anyone is making very much money even promoting this… or few people at most.
But anyway… it is your money so if you want to get involved in something like this then go for it. But personally I would avoid it… and the SEC of the Philippines basically tells people to as well.
Something you may want to check out since you are looking to make money online is how I do so. I have been making money online since 2015 and am making very good money now. You can read my "make money online guide" by clicking the button below to learn what exactly I do and what I consider to be the best way for beginners to get started is.
Please leave any comments or questions below and I will get back to you as soon as I can 🙂