Are you thinking about becoming a Premier Designs jeweler but hesitant to pursue this business opportunity? Wondering is Premier Designs a scam that is going to be a waste of your precious time?
I know there is a lot of hype and controversy surrounding this business opportunity and that is why I decided to write this review. There are a lot of questions that need answered and I intend on answering a few. I have looked into this business opportunity and while it does have some serious income potential, there are downsides to it.
Premier Designs Overview
Premier Designs is a direct sales jewelry company that is based in the great state of Texas. They sell all kinds of jewelry ranging from watches, to necklaces, earrings, bracelets, and more. I could write an entire review on the products that they sell because there have been a lot of complaints about the quality of it, but that's not what I'm going to do here.
My focus here is on the business opportunity that they offer. Because they are direct sales business anyone can join and become Premier Designs Jeweler, where they will then be able to make money selling the jewelry and also by recruiting in other jewelers. The reason that jewelers can also earn money from recruitment is because this is what you call a mlm (multi-level marketing) company where you can recruit people in beneath you.
How You Are Able to Make Money
There are several different ways that you will be able to make money here and as I said they all stem from you actually selling the jewelry and from you recruiting others into the business.
As a jeweler you will be able to make 50% profits on your retail sales. The good thing about this is that you can start out earning this much right when you join. Its not like you have to move up a bunch or ranks within the company before you start earning this amount. This makes it easier for newbies to earn money and you really don't see this often with other mlm's.
You will also be able to earn 10% commissions from the wholesale jewelry purchased from the first 3 levels of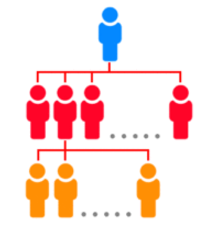 jewelers beneath you. The jewelers that you personally recruit into the business make up your level 1, the people that they recruit in make up your level 2, and the people that your level 2 recruit in make up your level 3.
This team commissions structure is uni-level, meaning that there can be an infinite number of people on all levels. You can see the diagram to the right to get an idea of what this looks like (the diagram only has 2 levels).
Its Fatal Flaw
Some people will disagree with me here but I call this a flaw.. What am I talking about?
I'm talking about the mlm structure of this business. I really do not care for mlm's and this is because they just make it a lot harder for people to make money in. They give you more potential to earn higher income amounts as you move up in the business but they make it much more difficult when you are just starting out and this is the reason that there are such insanely high failure rates in these businesses.
You see what they do is siphon money away from those at the bottom and use it to pay off those above them. When you are beneath someone they will be earning commissions off of your sales… commissions that it would be better if you could just keep them.
The pyramid-like structure of mlm's makes it so most people fail. There are always more people on the bottom struggling than at the top, which is where the real money is at.
I review mlm opportunities like this all the time and its always the same deal. In fact I just reviewed QNet & Vollara the other day and same goes for them.
Conclusion on Premier Designs – Scam?
There is nothing about Premier Designs's business opportunity that would make me call them a scam. You can make good money in this business and recruitment style mlm businesses like this are actually legal. So this is a legit biz opp. I just don't like mlm's because they are set up in a way that pretty much ensures most people will fail. And I think Premier Designs could at least do a better job at making this more know to the newcomers in the business.
Whether the products sold here are a scam is a whole other story.  There are a lot of complaints online about them, but like I said… I'm not reviewing them here.
Whether or not you want to pursue the business opportunity that Premier Designs offers is up to you. Some people have what it takes to climb to the top and make good money but the overwhelming majority do not, and statistics prove this. So just know what you are getting yourself into if you decide to more forward with this.
Something else that you might want to look into if you are looking for a work-from-home job is how I make money online. I make a living online and I enjoy what I do. Here is the program that got me started and got me to where I currently am, making $5k + per month.
==> My no. 1 recommended program here
Questions, comments, concerns? Leave them below in the comment section and I'll get back to you soon ?