Push Button System claims to be the easiest way to make money online. It claims that a push of a single button is all it takes to make thousands of dollars. But is this possibly true? Or is Push Button System a scam like it seems to be?
I have reviewed this system and I can tell you that it is definitely a scam. I'm guessing you were suspicious that this was the case and that is the reason you took your time to do a little extra research and came across my review in the first place. Well… your suspicions were right! I review scams like this all the time here on my blog, Instant Income System & Entrepreneur Jobs Club recently, and this is another one to add to the list.
Push Button System Overview
Have you ever heard the saying "if it sounds too good to be true then it probably is"? Well this saying fits perfectly here because Push Button System sounds way too good to be true.
At the start of the sales video that I watched for Push Button System there were a bunch of testimonials from people who claimed to have used the system and made thousands of dollars with the simple push of a single button. Some people were claiming that they made $20,000+ off of this system.
This magical button they speak of is compared to a jackpot that you can win at a casino. They never really tell you how it works (because its impossible) but they do tell you that it works every time.
Signs That This Is a Scam
There are several "red flags", or signs, that this is undoubtedly a scam.
#1 Jay Brown Doesn't Exist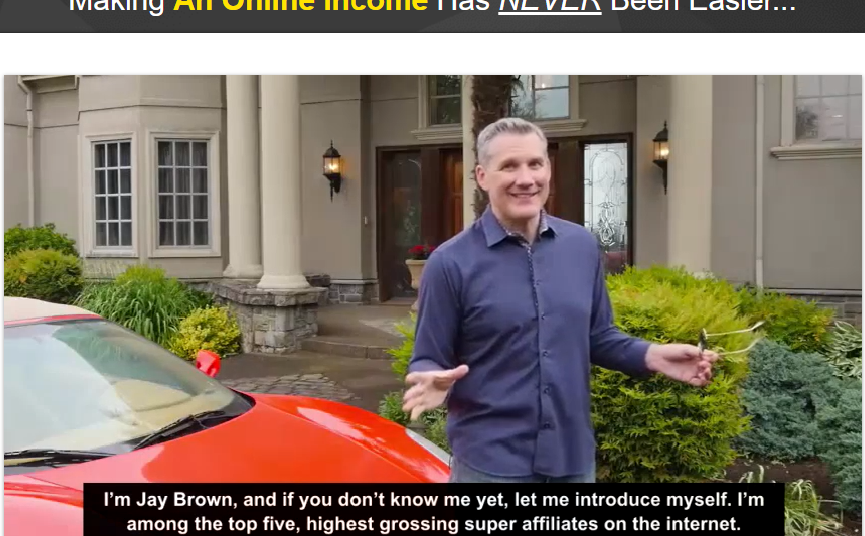 The spokesperson in the video goes by the name of Jay Brown. He claims to be one of the top 5 highest grossing super affiliates online. But this is not true at all. He is made up. The guy in the video is a paid actor and his name is not Jay Brown.
The super affiliate Jay Brown doesn't exist. I have been making money online since 2015 and make a living doing so, mainly from affiliate marketing. I am very familiar with many of the big names in this industry yet I have never heard of this guy. That is simply because he doesn't exist.
#2 They Tell You That You Won't Make Money..lol
If you read the disclaimer at the bottom of the sales page they literally tell you that you won't make money with this system. And if this isn't enough to prove its a scam then I don't know what is. 

This is how scams can get away with what they do. They can tell you all the lies they want but as long as they tell you "hey I was lying" in a disclaimer they are good to go.
#3 Old Scam Mentioned In Disclaimer
Also in the disclaimer you will see that they mention EZMoneyTeam.

This is actually a scam program that I reviewed a while back. So this scam obviously has something to do with it.
Its Never This Simple
The cold hard reality here is that it is never this simple to make money online. People often have the misconception that making money online is easy. Well I'm here to tell you that it isn't… and it sure as heck isn't as easy as pushing a button.
Making money online has its perks. I make a living online and love what I do. But I wouldn't call it "easy". Wherever there is money to be made there is competition from others as well.. and this makes it hard.
There is not simple push button solution to sweeping away your dept. Making money takes real work and this is the reality of it.
Conclusion On Push Button System – Scam For Sure
Push Button System is a scam without at doubt. If you buy into it you are just going to leave with less money than when you started. There is nothing that is this simple in life. I wish I could say that eliminating your financial worries was as easy as pushing a button but that is not the way the world works.
If you are looking for a legitimate way to make money online then I would suggest reading about my no. 1 recommended program here. I started with this program back in 2015 and attribute my success to it. I'm making over $5k/mo at the moment which is nothing spectacular but it is enough to live off of and give me the freedom of working online.
==> My No. 1 Recommended Program Here
Questions, comments, concerns? Leave them below in the comment section below and I'll get back to you soon 🙂