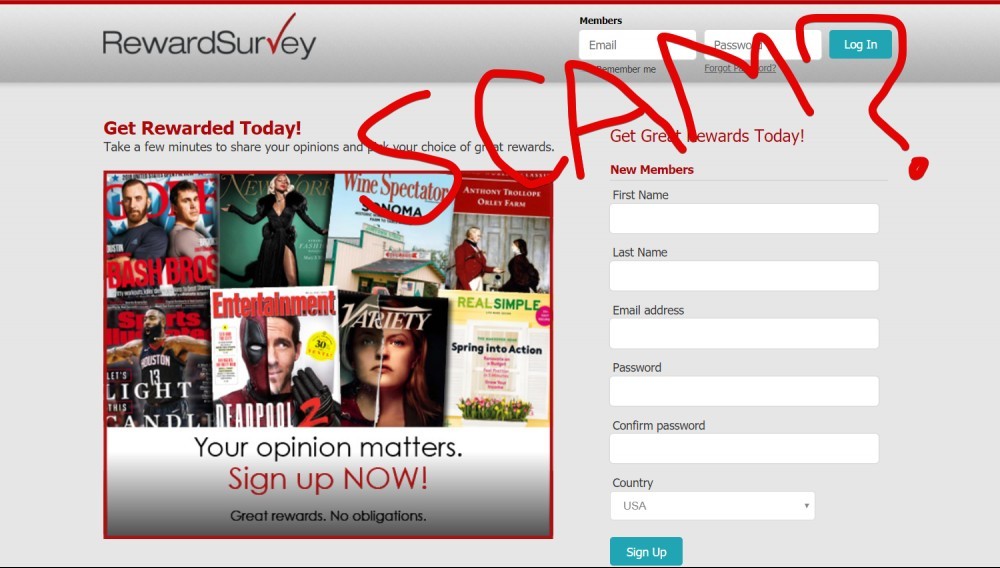 Reward Survey is supposedly some site where you can earn easy rewards by taking short surveys online. But is this place any good and is it worth your time? Or is Reward Survey a scam that you need to avoid?
I saw people asking questions about the site so I decided to check it out. I signed up for it and in this review I'll be going over how the site works, the rewards offered, complaints, and ultimately whether or not I think it is worth anyone's time.
Reward Survey Review
Upon landing on the site always expecting it to be somewhat of a normal paid survey site, but it turned out to be very different.
Overall I am not a fan at all of this site. Not only are the rewards that they offer something I'd pass on, but I am also suspicious that this place is indeed a scam, as I will go over shortly. First I want to go over the sign-up process, because I found it very strange.
Sign Up Process
After entering my name, email, and that basic stuff, I was immediately taken to a survey. The survey started out as I expected, by asking demographic type questions about my income level, education level, gender, etc. Then it took a turn…
The survey then started asking me questions about my interest in water activities, such as jet skiing, snorkeling, kayaking, etc. I was unsure of why it was asking me about water activities. Strange isn't it… for a survey to go from normal demographic questions to asking about your interest in water activities?
But anyways, I completed the survey and found the reason for the strange water activity questions. The very last question on the survey was asking me if I would like to subscribe to Sea Magazine for a year.
Right off the back I was really put off by the survey. They didn't even get me a chance to look around on the site before they were already trying to sell me a subscription to some magazine I have no interest in.
$30 In Rewards… Just Like That
After completing that initial survey they claimed that I had already earned $30 worth of rewards. How could I earn $30 taking a survey that took probably two minutes to complete? Who knows… It makes no sense to me, but that is what they were telling me and that is what was shown in my account balance.
So the next up was to claim rewards up to $30.
Rewards
My first thought when I came to the rewards page was that they sucked. Every single reward is a subscription to some magazine. That is all this place has to offer.
So I selected one of the magazines and clicked on the continue button nose at the bottom right of the page.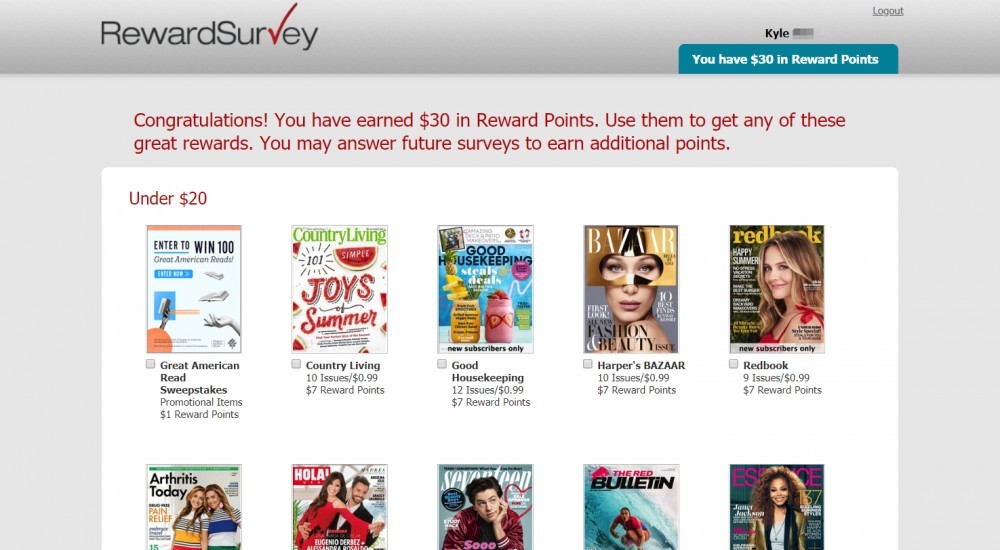 The next page that popped up told me "great news!". It said that somehow my business profile entitled me to receive some business magazines, Absolutely FREE!.
I guess this was supposed to be exciting for me, but I have no interest in the two business magazines that they were offering. So I just skip this step and continued on.
The last step was to enter my shipping information so that they could send me the magazine I just decided to get… And that's it. It is pretty much the same thing as Reward Bee, another site I reviewed here.
All this site has to offer is an initial survey which tries to sell you on a magazine, and then you redeem the money you earned from that initial survey to get a free subscription for some other magazines, which you probably do not want.
As I am sure you are well aware of, since you are reading my review here and all, this all seems a bit fishy.
Scam? I Have My Suspicions
The entire business model here just doesn't make any sense to me. How can they possibly be able to give away 12 month magazine subscriptions, which are physical copies, when all you have to do is answer some two minutes survey which really doesn't tell them much of anything?
Survey sites are in the business of market research. What they do is partner up with brands and collect consumer information to help those brands improve their products and services, as well as their marketing. Swagbucks, PaidViewpoint, they all do that…But this Reward Survey site doesn't do any of that.
So how does the site make any money? In order for it to stay in business and continue to give out these magazines it has to be making money, but I just don't see how it is.
If anyone could better explain this to me I am all ears.
Worth Your Time?
The best possible outcome for using the site is to get some free magazines. If you think that is worth your time then give it a try, but I sure as heck do not.
And when I say that is the best possible outcome, I mean the best possible outcome. It is likely that this will not be the actual outcome because I'm guessing that this site is a scam. It just does not make any sense to me.
This is probably just a data harvesting scam, where they trick you into giving them personal data, such as your email address. If you do end up signing up you are likely going to start getting a lot of spam emails from a bunch of different places. This is because they are more than likely selling your personal information. Email marketing is a big business and people do make money harvesting emails and selling large lists of them.
Luckily, I used in an email that I only used to sign up for possible scams, so I don't have to worry about any of this.
Recommendation
If you are looking for a paid survey site that you can join for free and make money online, I would recommend FusionCash or Swagbucks. They are trustworthy, legitimate sites that have been around for a while and will pay you.