Rookie Profit System by Steven Bransfield claims to be an amazing online business opportunity…. but can you really trust the hype surrounding this system? Is this place actually legit or is Rookie Profit System a scam that is going to leave you discouraged with less money than when you started out?
I decided to take some time to write this review because I know it is going to help a lot of people out. The reason is because Rookie Profit System is not what it seems to be. While you can make money with this system there are some downsides and its just not as great as they hype it up to be.
Rookie Profit System Overview
Rookie Profit System doesn't actually exist. The rookieprofitsystem.com website that promotes this system was just set up to promote another system that has been around for a while. It is basically just a funnel site that is grabbing people's attention with this "Rookie Profit System" and then funneling them into buying a program that was not mentioned at all in the sales page.
Steven Bransfield, the man behind this, is actually an affiliate of this other program and he is making money from getting people to buy into it. The big $1,250 – $10,000 commissions that he talks about making comes from getting people to buy into it.
Now there is nothing wrong with making money promoting programs… I promote programs online that actually work and I don't see anything wrong with that. The only problem that I have with this Rookie Profit System is that I feel it is somewhat misleading people that are buying into it.
The Real Program Here
The real program that rookieprofitsystem.com is funneling you into buying is called MOBE, or My Own Business Education. There are other websites out there that are similar to this like Lifestyle Lady & Copy Success, both of which I have reviewed.
MOBE is an online marketing program that provides tools and training for online business.
While you can apply what you learn and are provided with at MOBE to any online business, this program is overwhelmingly focused on getting members to go out and promoting MOBE to others. It is a "buy this program and you can make a lot of money getting others to buy this program" type of deal.
They provide you with pre-made sales pages, sales funnels, etc which are set up for you to promote MOBE.
The Real Cost
To start out you will be buying into MOBE for $49/mo, but this is just the beginning. The $49/mo is for their one 21 step program. This program is like a way to get people in the door, then they will upsell you on various other products.
This is what you call a "high ticket system", meaning that their products are extremely expensive and that you can make high commissions when you sell them to others. Their products range in the thousands of dollars range with some costing more than $20k.
The real kicker here is that you have to first buy the products if you want to be able to sell them and make money. This somewhat forces members to buy products that they don't really want to buy all for the sake of reselling them.
Is This a MLM?
MLM's get a bad rap, and rightly so, only the top few people make good money with these pyramid-like schemes. But anyway… is MOBE a mlm?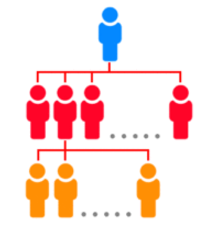 They tell you that it isn't but actually it is. It is a 2 tiered mlm, which isn't much… but nonetheless it is still a mlm.
As a MOBE affiliate you will be able to earn money by recruiting in new members and getting them to purchase MOBE products as well as by earning commissions from what those recruits sell to others.
Their compensation plan has a uni-level structure meaning that you can recruit in as many people below you as possible, and same with those that you recruit.
So MOBE is a mlm but a rather modest one. What this means is that it isn't as bad as the typical mlm where it is a real struggle for newbies and only those at the top make good money. This mlm structure does make it a bit more difficult for newbies but its just not that bad in my opinion.
Conclusion on Rookie Profit System
Rookie Profit System is pretty much a scam in my opinion. It is nothing more than a misleading sales funnel to get you to buy MOBE. MOBE on the other hand I don't consider to be a scam although I do think it is rather unethical how they push new members into massive upsells and to promote their program.
While you can make money with MOBE it is not a recommendation of mine. It is just too costly for the average person. If you are looking for a more affordable program that the average Joe can realistically make money with then I suggest taking a look at this program.
I started with this program back in 2015 and am still a member to this day. Its also notable that I make a living online now and pretty much all of my success can be attributed to what this program has taught me.
==> My No. 1 Recommended Program Here
Questions, comments, concerns? Leave them below in the comment section below and I'll get back to you soon ?