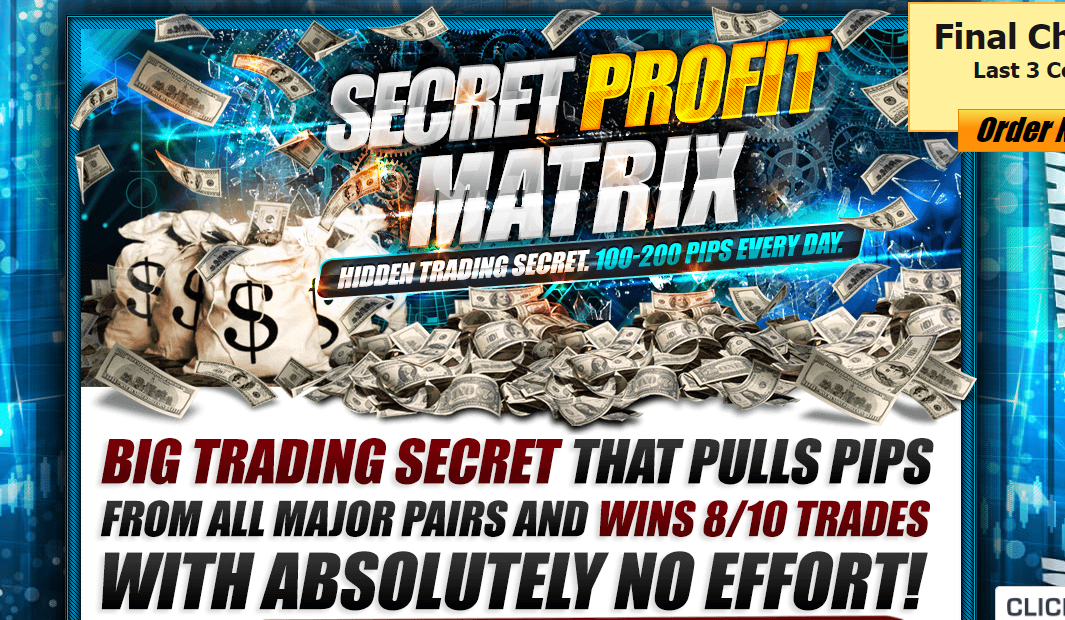 Secret Profit Matrix claims to be this amazing new software that can easily give you winning trades in the FOREX market. But is what you hear really true? After all… it seems that most of the people out there talking about it are just promoting it to make money. Now there is no problem with promoting products that you believe in that actually work. But most reviews I came across tell you the same darn thing and it seems that these people haven't even used the Secret Profit Matrix.
So if you are like I was at first and wondering… is Secret Profit Matrix a scam? Then you are in the right place. I reviewed this forex strategy and in this review I'll be going over a few things that everyone needs to know.
Disclosure: I am in no way affiliated with this product. This is a completely unbiased 3rd party review.
Secret Profit Matrix Review
Secret Profit Matrix is a Forex trading strategy that was created by a man named Karl Dittmann. This product gives you what he calls his "secret profit matrix" to making a lot of money in this market.
He claims that it is quick and profitable and it is even claimed to be able to make you +320 Pips in a day, which is pretty massive.
And of course you don't have to use your brain at all with this. This is what everyone is looking but to me it just makes this products seem more suspicious. Usually the products that sound too good to be true are scams. But anyway…. moving on..
The Product
Secret Profit Matrix contains 3 trading strategies. With each strategy there are rules that must be met, which are outlined for you. When these rules are met then a safe entry point is said to be pretty much guaranteed.
The Secret Profit Matrix comes with a detailed guide and the Secret Profit Matrix EA which plugs into your MT4 trading platform and will automatically alert you of good trades that you should place.
Of course there is no information on how this actually works. But this is expected. After all… I wouldn't expect someone to give away their trading secrets. However, it does add a little more risk to the whole thing because you don't really know much of anything about this product other than it claims to give you winning trades.
In order to really check out this products credibility I think it is important to take a look at the man behind it and see who he is.
Karl Dittmann… Is This Guy Legit?
Karl claims to be a veteran trader and trade tools developer for over 20 years. From what I can find online he has been around for quite some time and I can't find any argument against this. So I'll take him at his word.
However, there are a heck of a lot of complaints about this buy on forex forums that I came across. A lot of people are saying that his products do not work or that they sell strategies that are no secrets at all.
From what I see this guy seems to be in it mainly for the money. There are some good reviews of his products, don't get me wrong,…. but there are just too many complaints on him and this really affects his trustworthiness in my eyes.
The Reality Here
The reality when it comes to trading Forex or making money online in any way is that you cannot buy success…. You cannot just buy a product and expect it to do all the work for you and just automatically pump tons of money into your bank account.
There is always work involved if you want to be successful. There is no pushbutton system out there and people need to stop looking for these.
One thing about Secret Profit Matrix is that it does come off as too easy. They literally tell you on the sales page that it requires "absolutely no thinking" but this is never the case. If you go into this believing that you are just going to click a few buttons without thinking then you are probably going to end up very disappointed.
Conclusion on Secret Profit Matrix – Scam?
Secret Profit Matrix is not a scam but its also not the amazing product that many people are claiming it is. Most of these people are just promoting it to make money and probably haven't even used it.
I haven't used it either but from the research I have done I on Karl Dittmann, his older products, and on people who talk about this product on forums, I can say that it just isn't as great as it seems. At least they don't promote this product as being too amazing though. Its not like people are going around claiming it will win you every trade. It is promoted as being able to win you a modest 8/10 trades, which is reasonable and I think achievable.
So if you are going to buy into this know the reality.
When it comes to making money online there are only a select few number of legit opportunities that I can personally recommend. And if someone were to hold a gun to my head and ask… "what is the best program out there?"….. This is it. I have been a member since 2015 and it took me from nothing at all to making a living online.
Questions or comments? Leave them below and I'll get back to you ?