So I'm guessing that maybe you or someone you know has been contacted by a distributor of Shaklee and asked to join in…. and you are suspicious of it all because of the recruitment side of things. The logical question here happens to be… is Shaklee a pyramid scheme?
I know there are a lot of people asking that and for good reason. Because of this I decided to write this review to spread useful information about this business opportunity that many people do not realize. And as a disclaimer, I am in no way affiliated with Shaklee. This is an independent 3rd party review.
Shaklee Business Opportunity Review
Shaklee is a mlm company in the health and wellness industry that sells shakes, as you can imagine from the name, as on of their products. Among which are many other products dealing with health and wellness. For what it is worth their products do seem to be very good. They actually have science to back up their claims and in an industry that relies on a lot of hype to sell products, this is relieving.
But enough about the products. A review of them can be done another day. I want to talk about the business opportunity. Anyone can become a distributor here and make money in more than one way. The fact that you can make money by recruiting in other distributors is the "shady" side of it all and what many people are calling this a pyramid scheme for.
But is it actually a pyramid scheme? or is this a legit mlm (multi-level marketing) opportunity? I'll go over this….
Similar mlm's include: Zurvita Zeal, Total Life Changes, Life Matters…
How You Make Money as a Distributor
As a distributor you will be able to make some money selling Shaklee products yourself. You will be able to purchase the products at discounted prices and then turn around and sell them at higher prices, thus keeping the difference. They say that you will on average be able to make 36% doing this. You will also be able to get customers to sign up at Shaklee's website and earn money from the products they buy here.
There is a requirement as a distributor to acquire retail customers, meaning people that are just purchasing products from Shaklee and not participating as a distributor. However… most of the focus here is on recruitment and bringing in new distributors.
There are multiple ways you can earn through recruitment of other distributors. The fastest way is with their Gold Bonus which is when you get a bonus when you recruit someone in and get them to buy one of the Gold Paks, which distributors are pushed to buy. These are basically a pack of products and things to help distributors get their business up and going.
You will also get Personal Group Bonuses from the PGV (personal group volume) that you accumulate each month, which consists of the products you bought, the products your customers bought, and the products your recruited distributors bought. The higher your PGV is the higher percentage bonuses you will earn.
There are also what they call Infinity Bonuses where you will earn commissions on the PGV of all Business Leaders in your downline, aka recruited in beneath you.
Now you may be wondering what a Business Leader is, which makes sense. Well there are many different ranks in this company and as you move up the ranks you unlock more potential of the compensation plan. How do you move up the ranks you may ask? Well of course its all about increasing your Personal Group Volume.
Pyramid Scheme?
There is obviously a lot of focus put on recruitment of other distributors. They do it somewhat indirectly but its obvious that the best and easiest way to increase PGV, which is necessary to move up the ranks, is by recruiting in other distributors.
But does this make it a pyramid scheme?
Well… they do require distributors to maintain a PV (personal volume) which only includes the products you buy or sell. This is nice and they also require customer sales to be part of the PGV that you have. So there is emphasis put on product sales to customers as well.
As far as I see this is a legit mlm. Recruitment is a big part of the business but they do require product sales to customers to… so its not entirely based on recruitment of distributors.
The Problem Here…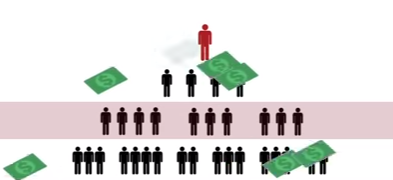 The problem here isn't whether it is legal or not (this still could be argued), but rather that it is insanely difficult to make money with.
MLM's that reward distributors for recruitment so much just make things more difficult. Their pyramid-like shape sucks money from those at the bottom and gives it to those above them. This is why the top few % usually make the majority of the money. The commissions flow up the pyramid.
This gives people a lot of potential to make money if they can climb to the top but makes things a heck of a lot harder and is the reason why mlm's have such high turnover rates.
Conclusion on Shaklee – Good Opportunity?
Shaklee is your pretty typical mlm as far as the compensation plan goes. It can be a good opportunity for some but stats prove that for most it will not be with mlm's like this.
If you got what it takes to recruit people in left and right, then this might be for you… but if you don't then this might not be a great idea. There is a heck of a lot of potential here to make good money but only few people will ever be able to realize that potential.
So if you like the Shaklee products and think you have what it takes then go for it.
If not, then something else that you might want to look into if you are looking for a work-from-home job is how I make money online. I make a living online and I enjoy what I do. Here is the program that got me started and got me to where I currently am, which I am still a member of.
==> My no. 1 recommended program here
Questions, comments, concerns? Leave them below in the comment section and I'll get back to you soon ?