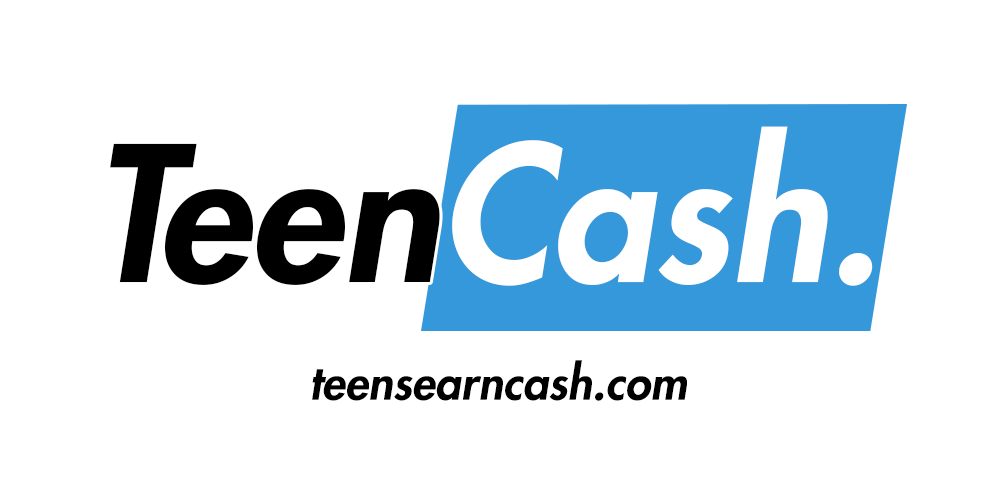 Teens Earn Cash (teensearncash.com) claims to be a site where you can make up to $500 per day, which would be awesome if true. But is it true? Or is Teens Earn Cash a scam that is just going to be a waste of your time?
I know that there are a lot of people out there looking for information on this site. This is why I decided to take a seat and write this review. I'll be going over what you really need to know, and believe me… you are going to want to hear it.
Teens Earn Cash Overview
Teens Earn Cash is a website that claims you can make easy money referring other people to join, by downloading apps, and by completing surveys. They specifically are targeting young people to this site by making the opportunity sound a hundred times better than it actually is.
While it is possible to make a bit of money with this site it is not what I would call legitimate. They mislead you a lot and its more of a scam.
How You Make Money (What They Tell You)
They tell you that you will be able to make money by referring friends, downloading apps, and takings surveys.
When you first create your account they will start pushing you to refer other people to the site. They show you your referral link immediately and tell you about how you can make $10 for every person you get to sign up.
They tell you that they get paid from "partnering networks" but honestly this is not as it seems, which I'll go over. Also, they lie to you about how they say they make money. Here is their explanation…
You can see that the sentence I underlined claims that they have been around for 9 years. This is not true at all. I did a whois search and found that this website was just created in March of 2017… not even close to 9 years.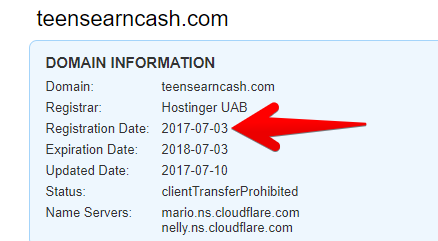 I also found that they lie about how you can make money from taking surveys. It was actually even difficult to find the surveys section. The site is hard to navigate but eventually I found it. The problem here is that there aren't any surveys to take. Instead, they just list a bunch of offers that they say you will earn money if you sign up for something….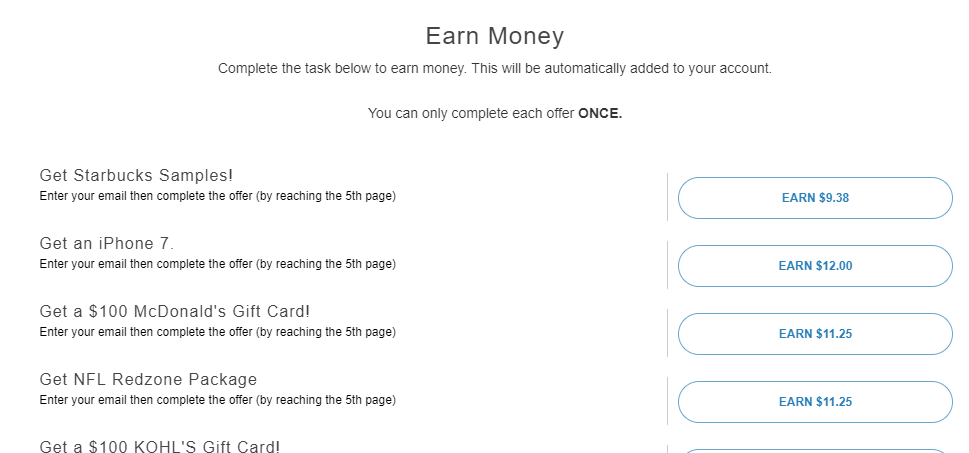 How They Really Make Money
When I was on the page I took a screenshot of above, I click on several of the offers and they all had one thing in common. They directed me to scam websites. Take a look… here are screenshots of some of the sites I was directed to…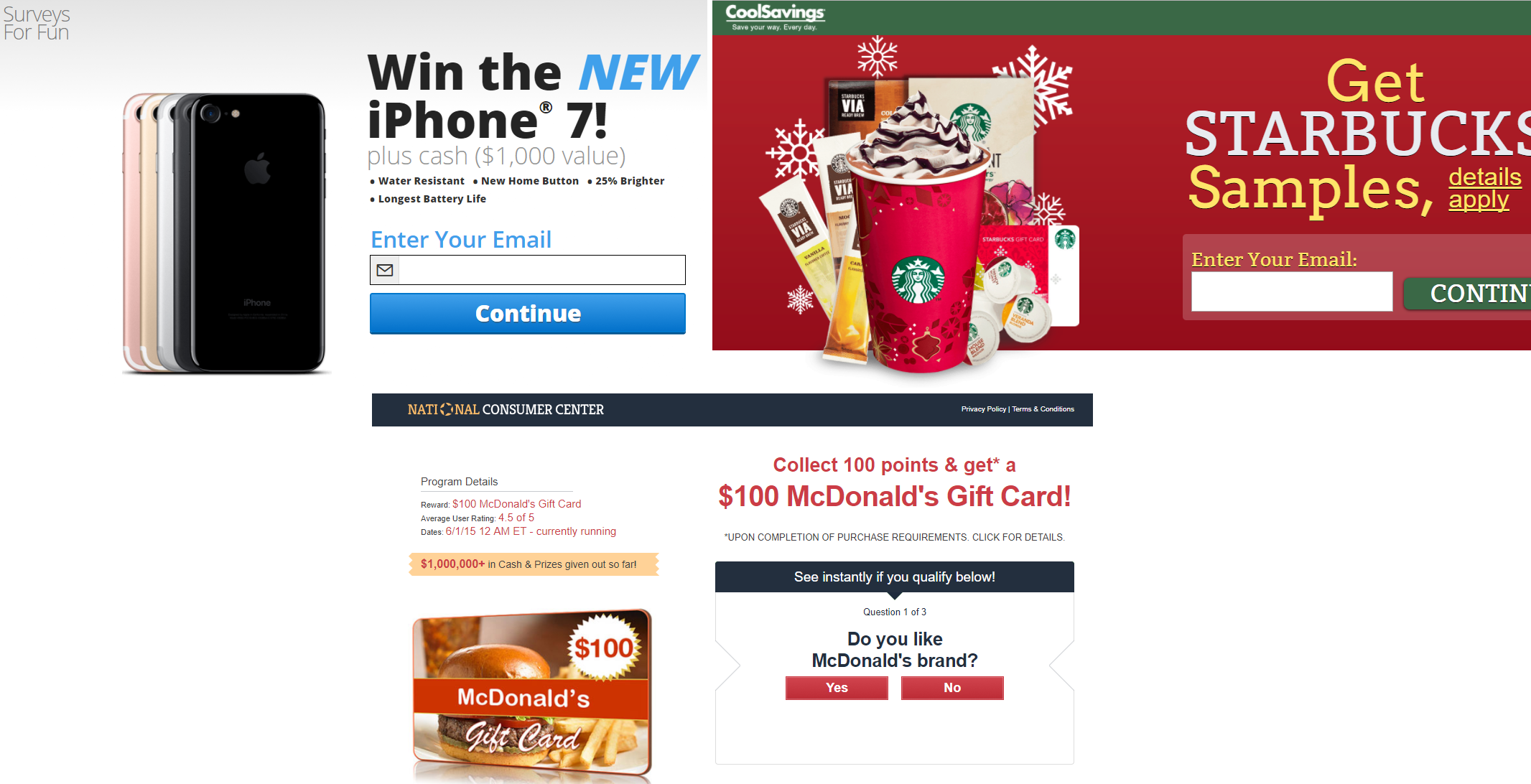 These sites are all fake as can be. They all are posing as legit sites but are not. For example, the one site has a "CoolSavings" logo and another has "National Consumer Center". They stole these logos from the real sites and pasted them on these fake sites.
How do I know? Well because the domain names of these sites has nothing to do with these. For example the site that is shown as "Cool Savings" has a domain name of choiceconsumergifts.com which has nothing to do with the real site.
By referring people to these scam sites and is how they make money. These are their "partner networks" that they tell you about.
Another Lie
Thinking about signing up to get $25 free in your account like they tell you that you will? Think again. You will get $25 in your account but you won't be able to actually get that money.
I tried to cash it out but as you can see below there is a payment threshold of $125, meaning you need to get to that amount before you can get your money.
Conclusion on Teens Earn Cash – Scam
There is no doubt that Teens Earn Cash is a scam. They mislead people into signing up by telling them that its possible to earn $500 in a day, which is ridiculous. Then they mislead people again by trying to get them to complete scam offers on fake sites. The whole thing is a scam ring. Teens Earn Cash is a scam that promotes other scams. You might be able to make some money by referring people to this site but I'm not going to stick around to find out.
There are legitimate rewards sites where you can get paid to complete surveys, download apps, and refer friends. The reward site I recommend most is SwagBucks, which has been around for years and has a solid reputation.
But honestly, there are not rewards sites where you will make much at all. They all pay very little and are hardly worth your time.
If you are looking for a legitimate way to make good money online then I would suggest checking out this program. This is the same program I got started with back in 2015 and I am still a member today…. which is a testament to how good I think it is.
I'm making a living online right now and I owe pretty much everything to what I learned here.
==> My No. 1 Recommended Program Here
Questions, comments, concerns? Leave them below in the comment section and I'll get back to you soon ?