Tempo Wireless offers what has the potential to be a very lucrative business opportunity. But is it too good to be true? Is Tempo Wireless a scam like you may be suspicious of? Or is this the amazing work from home opportunity that you have been waiting for?
I decided to write this short post on Tempo Wireless because I know there are a lot of concerns from people looking into this opportunity. I am in no way affiliated with this company so you can rest assured I'll be giving you the truth. And actually I'll be going over some things that people in this business won't tell you.
Tempo Wireless Overview
Tempo Wireless, which was formerly known as Lightyear Wireless, is a mlm company that sells wireless phone services. But I'm not here to review the products. They seem decent from what I have read and heard but I'll save this for another post.
What I want to go over today is the business opportunity that is offered. Anyone can join Tempo Wireless as an independent agent and make money selling their services. Additionally as an agent you can recruit other agents into the business and make money off of them.
How You Make Money
Ok, so as I just said, you can make money on the sales that you personally make and on sales that other people make in your downline, which comes from recruitment.
Personal Sales
You can make up to $25 for each customer sale you make. You will start out making just $13 but as you move up the ranks you will be able to earn $25.
Recruitment
There are several ways that you can earn money by recruiting in other agents. This is where the big money is at…. in recruitment. If you want to move up the ranks and become a top earner you are going to have to be constantly recruiting in new agents.
One way in which you will earn from those agents beneath you is through what is called Customer Bonus Overrides. These are commissions that get passed up to you from the sales that agents make beneath you. These could come from agents that make sales that you have personally recruited in, or agents that make sales that your recruits have recruited in (confusing I know)…. it doesn't matter. As long as they are in your downline you will get a bonus override.
You will also be able to earn what they call Residual Income down to 8 levels in your downline. The agents that you personally recruit make up your level 1, the agents that they recruit make up your level 2, and so on all the way to level 8. You will be able to earn between 1-4%  off of the sales made on these levels as shown…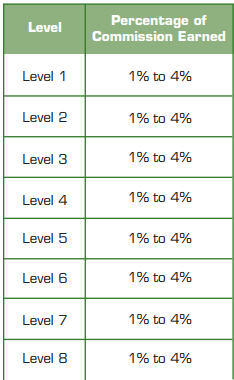 The Reality Of This Business
There are 2 harsh realities that I need to bring to your attention. The first is that mlm's are hard to make money in. Because of how this compensation plan favors recruitment and you pretty much need a big downline to make good money…. not many people make good money. This is because the pyramid-like mlm structure will always have more people at the bottom than at the top, which is where you want to be.
This reality is the same for just about every mlm. I just reviewed two other mlms the other day, doTERRA & Jerky Direct, and they are the same sad story.
The second reality here is that selling people on Tempo Wireless isn't going to be easy. I know they have the whole "refer 3 customers and get free phone service" thing going on.. and that is very enticing, but this still won't be easy. Especially because from what I have heard their service is not very good in a lot of areas and this leads to customers dropping like flies.
Conclusion On Tempo Wireless – Scam?
Tempo Wireless is not a scam by any means. Their service seems to be a decent and you can definitely make money as an agent. Some people make very good money I am sure. But the reality is that it is not easy to make money here. The compensation structure is set up in a way that has massive potential but only allows a small number of people to achieve that potential. Because in order to make good money at the top, you have to have people beneath you, many of which will be struggling.
I don't particularly care for mlm's in general but I will say that this is a decent mlm opportunity. Its not the worst I've seen.
If are going to pursue this opportunity just know the reality of it. There is a lot of potential to make a lot of money here… but it is not easy and most people fail.
Something else that you might want to look into if you are looking for a work-from-home job is how I make money online. I make a living online and I enjoy what I do. Here is the program that got me started and got me to where I currently am, making $5k + per month.
==> My no. 1 recommended program here
Questions, comments, concerns? Leave them below in the comment section and I'll get back to you soon ?