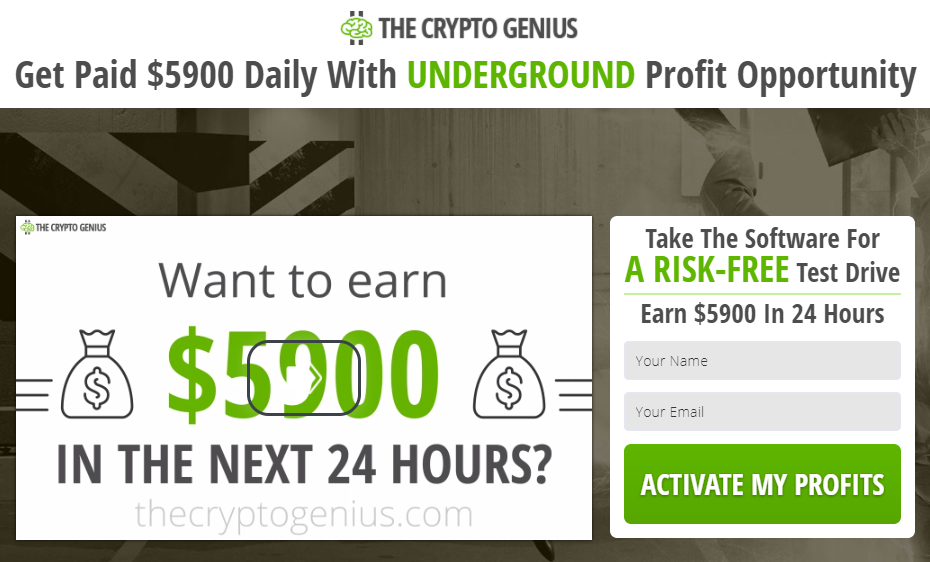 Chris Peterson claims that his Crypto Genius software can make anyone an easy $5,900 per day. He even claims that billionaires like Mark Cuban are using it to make this kind of money. But can you really believe these bold claims? Can any of what he says be backed up with proof?
In the online world there are lots of cryptocurrency trading scams circulating right now and you can never be too careful. So is The Crypto Genius a scam software like the many others? Or is this the real deal? I'll be going over what you NEED to know in this review.
The Crypto Genius Review
Ok, so The Crypto Genius is a software that was supposedly developed by a man named Chris Peterson and his team. What he claims it does is identifies the most profitable trades in the cryptocurrency market and makes them for you. He says that it is the fastest trading software out there which can make a big difference. And of course you don't have to do anything. All he says you have to do is fund your trading account with $250 and the rest is completely automated.
A system that makes $5,900 on complete autopilot????? Can it be too good to be true? The answer is yes… it is too good to be true. If you were thinking of investing your money in this you are going to want to put your wallet away and think again. This is a typical cryptocurrency trading scam and I'll prove to you exactly this.
Nothing But a Pile of Lies
This system is nothing but a bunch of lies. There is no way that any billionaires like Mark Cuban would even think about trying to use a scam system like this.
Lie #1 – Never Was on The News
Chris Peterson claims to have been on the cover of Forbes, Business Insider, etc. for his success. But none of this is true at all. In fact, this guy was never even in any of these magazines. This is just a little scam tactic to try to come across as a credible person.
you would probably trust the guy if he actually were in these magazines right? Ya… but he isn't..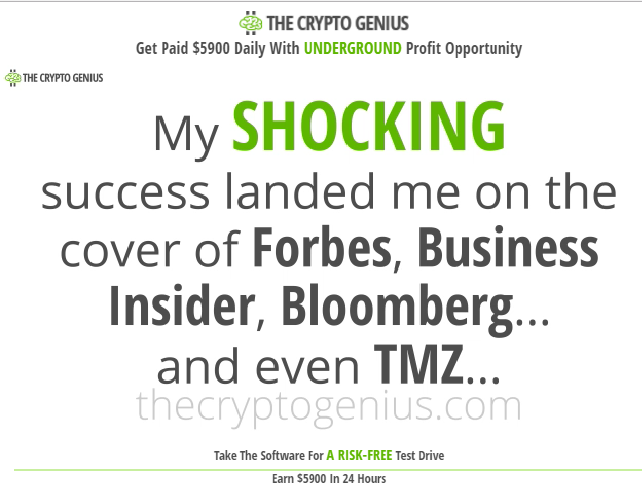 Lie #2 – Chris Peterson?
The second lie I'm going over is that this Chris Peterson isn't who you think. In fact… he probably doesn't even exist. He is more than likely a made up fictional character that is just being used to promote this scam. This is something that is very common in scams.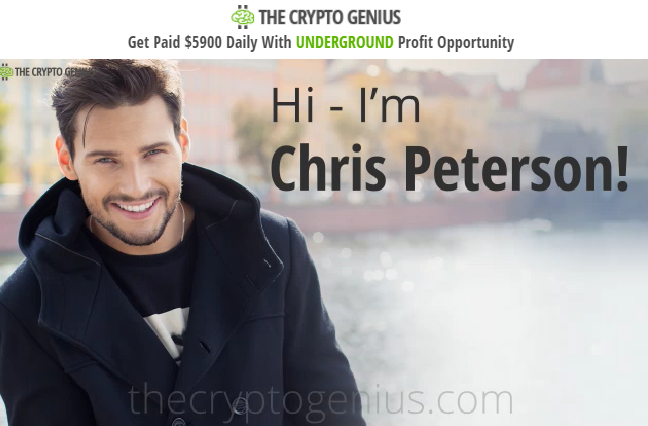 The picture that they use below is nothing more than a stock photo that anyone can purchase online and use as they wish.
Its also kind of strange that there is no information on this guy being some big name in the cryptocurrency industry. The reason is because this guy is more than likely made up.
Lie #3 – Limited Spots Available
It seems that just about every scam out there will tell you that there are only a limited number of spots left and that you have to buy in now. This is just a lie to try to get people to buy in right away without taking the time to research and come across reviews like mine.
They tell you that there are only a couple spots left but this isn't true at all.
Tons of More Lies 
I could probably go on and on to around #10 or so but I'll save you the time.
That last lie that I will leave you with is one that I found rather funny. In the sales video Chris Peterson said that he had dated a Russian model named Viktoria Slanko…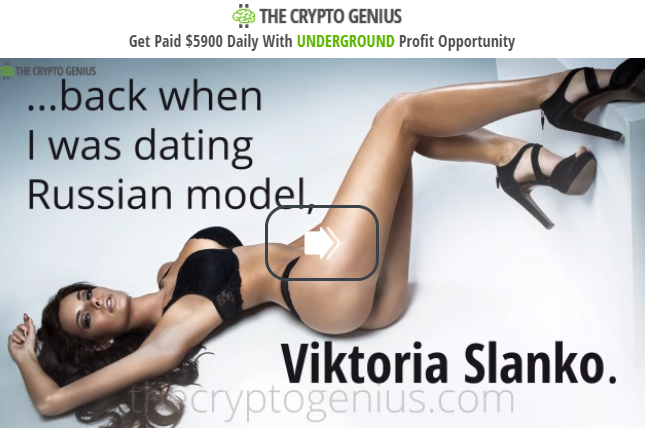 I researched here and couldn't find any famous model by this name.
Literally everything about this is a scam.
Conclusion & What I Recommend
The Crypto Genius is a pretty obvious scam. I haven't actually invested any money in this but I think that anyone should be able to see this now. It lures people in with the hopes of easy money and leaves them with less than when they started.
I review cryptocurrency trading scams like this all the time. They are very common right now and you have to be careful not to fall victim to them. Some others to be aware of include CryptoRobo, The Bitcoin Challenge, and Crypto VIP Club.
In the online world there are way more scam programs than legitimate ones so it can be difficult filtering out the scams and finding the right opportunities. One program that I will always recommend if you are looking to make money online is this program. I've been a members since 2015 and make a living working online now.
This program has nothing to do with trading cryptocurrencies but I see that most people looking to do this are just looking for a way to make money online, which this program teaches.
Questions or comments? Leave them below and I'll get back to you soon ?