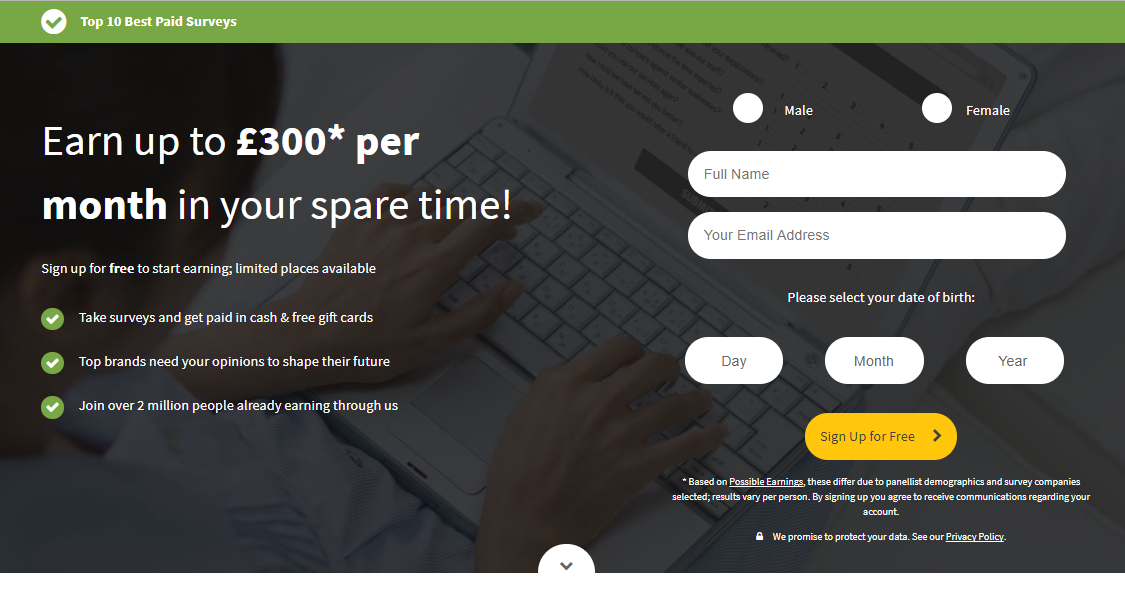 Top 10 Best Paid Surveys is one of many paid survey sites online where you can earn some extra cash in your spare time. But is this site any good and it it worth your time? Or is Top 10 Best Paid Surveys a scam that is just going to leave you frustrated and discouraged at the end of the day?
In this review I'll be going over all you need to know about this site before you decide to join or not. I'll be going over how you make money, how much you can expect to make, some complaints and more.
Top 10 Best Paid Surveys Review
Top 10 Best Paid Surveys is a UK based paid survey site owned and operated by C2O Media Ltd. They aren't actually a market research company that gets paid for collecting market research. They are different than most survey sites that fall into this category and I'll explain why.
They are like Survey Compare & Survey Sheep if you have ever heard of them. If you have not you will see what I mean in a second.
They tell you that you will be able to earn up to £300 a month but you would have to be one heck of a serious survey taker to be able to earn this amount. For the vast majority of people out there this will be way out of reach.
How it Works
Remember how I just said that Top 10 Best Paid Surveys is different from most paid survey site? Well that is because they don't actually have surveys… they are just a middle man that refers people to other paid survey sites.
When you first join you will be asked to select survey sites that you also want to join, as you can see below…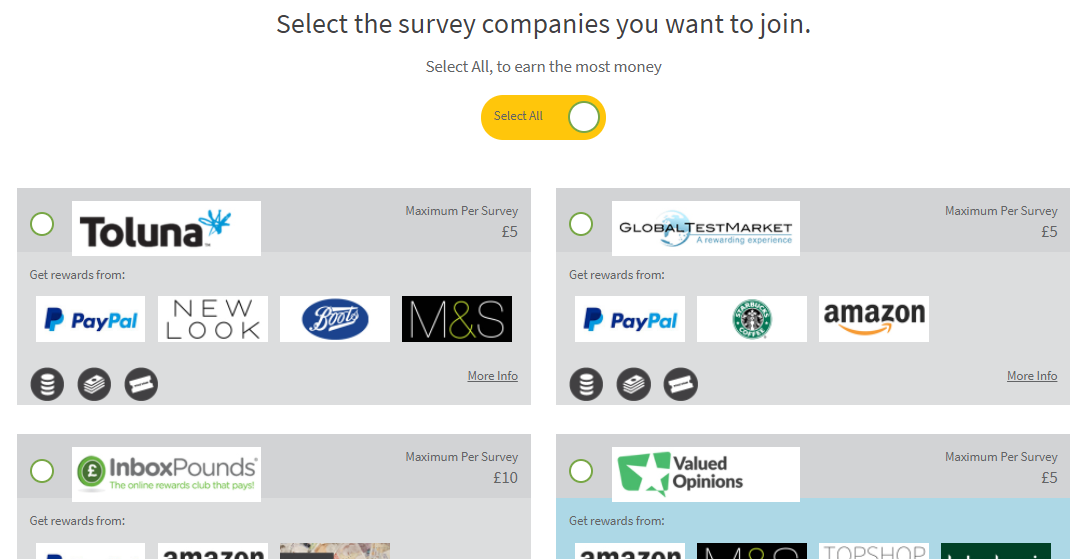 These sites that they are referring you to are where you will actually make the money taking surveys.
And these sites are nothing out of the ordinary. Toluna, Global Test Market, Inbox Pounds (UK version of Inbox Dollars).. they are all your typical survey sites.
Generally I would say that you can expect the surveys to take anywhere from 5-25 minutes and pay $0.50 to $3 per survey. Of course some will pay higher and some will pay less, but based on what I have seen this is what you can expect.
As far as what the surveys will be about… you can expect just about anything. You might take a survey on games, cosmetics, politics, TV, travel and all sorts of topics.
How This Site Makes Money
This site is what I would call a survey affiliate site. You see anyone can join survey sites and get paid when they refer others to become members and take surveys. This is what Top 10 Best Paid Surveys is doing. They are getting people to sign up to them and then just promoting a bunch of other sites so that they get paid.
You might be wondering… well then what exactly is the point of me joining this site in the first place?? I'll go over my answer to this.
Whats the Point of Joining?
Top 10 Best Paid Surveys tells you that they present you with the best paying survey sites there are but I find this hard to believe. The sites they present you with are nothing out of the ordinary and are well known.
There really is not point in joining. You can just go join the sites on your own. Go straight to the source and avoid this middleman site. The only reason I can see for joining this site is if you want to get emails from this place filling up your inbox (joke).
Can You Really Make £300 per month?
Honestly I can't see anyone making this much. You would pretty much have to go at this like it is nearly a full time job or something to make this kind of money. Like I said, the survey sites here are nothing special. And unfortunatley the norm for survey sites has become to pay extremely little. So I really don't see anyone making this kind of money.
Although it is possible if you are really serious about taking surveys, I would not count on making anywhere close to this amount.
Conclusion on Top 10 Best Paid Surveys – Scam?
This place is definitely not a scam first of all. Although I don't particularly care for what they are doing because I don't see any value in it, they are still referring people to legitimate paid survey sites that you can make money with. So they simply are not a scam.
But like I said, I wouldn't bother with them. Why not just go straight to the actual survey sites to sign up. My recommendation would be SwagBucks if you are interested.
Honestly though I really don't see much of a point in participating in online paid surveys at all. They just pay too little these days and it seems to be getting worse.
If you are looking for a way to make money online in your spare time then check out this program. This is the same program I got started with back in 2015 and I am still a member today…. which is a testament to how good I think it is.
I make a living online and I owe pretty much everything to what I learned here.
==> My No. 1 Recommended Program Here
Questions, comments, concerns? Leave them below in the comment section and I'll get back to you soon ?