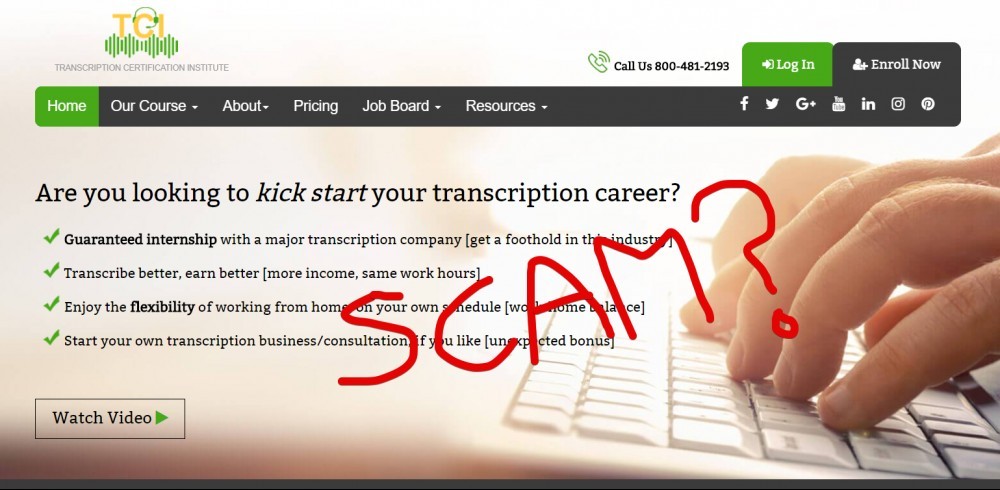 Transcription Certification Institute, or TCI for short, offers a certification transcription course that can supposedly help give you that boost to go out there and get a nice paying work at home transcription job. But is this course worth your time and the money? Or is Transcription Certification Institute a scam that is just going to leave you feeling discouraged at the end of the day?
In this review I'll be going over what the company is all about, talking about the course offered, the internship that they provide, the overall cost, whether or not a course like this is even necessary, what other people who have taken the course say about it, and more.
Transcription Certification Institute Review
Transcription Certification Institute started back in 2008 and is based out of Irvine California. They started out completely different from what they are today and have evolved into this "Institute" where people looking get started in transcription can go to receive training and become certified.
The point of taking a certification course like this is to have the edge on your competition. There are hundreds of different transcription companies out there that you can work for, some are more for complete beginners and some pay better but require more in order to be hired on. You could potentially get hired by a company like Transcribe Me or Quicktate with zero experience whatsoever, but the goal here is to get a boost right out of the gate… To go for better paying opportunities initially.
The Course
The course is fairly lengthy and covers a wide range of topics. They suggest that you complete the course and no less than 21 days, although it could be completed faster if you were to put in the time. The speed at which you completed depends on the time you put in… You can do this at your own pace.
The equipment needed for the job, transcription tools, making your resume… These will be covered. And of course the transcribing itself is a big topic. You will learn about using Microsoft Word, grammar, punctuation, spelling and privacy guidelines among other things.
Ya… You could find all this information for free by using Google and watching videos on YouTube, but a course like this packs all the information in bundles that up for you in what is supposed to be an easy to follow layout (complaints on this, I'll talk more about it later).
Throughout the course you will be given tests to make sure you are understanding everything and are able to perform the work. If you complete the course with an 80 or higher than you past and you get the digital certification of completion. This certification can then be attached to your resume.
Internship
After successfully completing the course you also have the opportunity to do an internship. This is not a requirement and you do not have to complete the internship in order to get the certification. You get the certification first and then you do the internship if you choose to.
TCI is partnered with different transcription companies and has agreements with them to give successful students internships. If you choose to do one of these you will have to work for free for up to five hours of recorded audio. Up to five hours… That's it. Overall it is a pretty darn short internship but it also could potentially look really good on your resume.
In the agreement that TCI has with these companies, they are required to provide a letter of completion and act as a reference for the interns on future job applications.
An internship like this definitely is not something that is required but it sure could be a help and could give you that extra edge. It is one thing to take a course on transcription but it is another thing to actually go out in the field and do the work. Completing an internship like this is an easy way to get some real world experience.
The Cost
The cost of taking the course is a "low fee of $399″… Or at least that is what they tell you. Now whether or not you consider this price to be low is your own opinion… I know many people consider this to be pretty darn high.
One of the good things is that they do have a refund policy, however as far as I know there is no way to get a full refund. What they do is offer a 50% refund if you ask for one in writing before the 4th lesson.
Is a Certification Really Necessary?
Don't feel like paying $399 and wondering if this certification courses even necessary?
Well the truth is that a course like this is not necessary. It is just one of the routes that you can take, but you don't have to take it.
From what I have seen there are many different transcription companies out there that just want to see work experience as a transcriptionist. They don't require any sort of certification, they just want applicants to have some experience so that they know you know what you're doing.
I mentioned earlier, there are transcription companies out there, QuickTate being one of them, that you could consider very "entry-level". They aren't very nice paying but they do offer an easy way to get your foot in the door Inc. get that experience under your belt so that you can later go out and get a transcription job that pays better but requires experience.
What Other People Are Saying
Surprisingly there really isn't all that much information out there online from other people who have tried this course. I don't know why this is… Maybe this course just isn't all that popular I guess.
But anyways… After doing something around I was able to find some complaints about the course that are worth mentioning. I have read about it being difficult to navigate, as in not providing a very smooth-flowing guide. I have read about the transcription software they give you having all sorts of problems. I've heard that the feedback you're given on the transcription projects throughout the course is pretty vague and really doesn't help you out, and a few other things.
Overall the course seems to be good but there definitely seems to be room for improvement.
What I Like Best About This Course
What I like best about what TCI is doing probably is how can they help you transition from a student to an actual paid transcriptionist. What I am talking about here is the internship.
Although not required, as I've mentioned, this is a great way to transition into the actual field. Not only will it give you real world experience that will make it easier for you to get accepted for transcription jobs, but from what I have heard many of the transcription companies that people intern for will actually offer them a position when their internship is completed. This is not something that is guaranteed but it does happen.
Another Alternative
There is another great transcriptionist a training course out there called Transcribe Anywhere. It is less "businessy" and more personal. It was created by a full-time transcriptionist who has been at it for years and is very successful.
The Transcribe Anywhere course is more lengthy and provides a lot more training than does the TCI course. Overall I would say that the course is better but the downside is that there is no internship offered after completion. The upside however, is that in the course there is a lot of training on actually going out there and getting a transcription job, so an internship isn't as necessary either.
==> You Can Check Out This Course Here
Questions or comments? Just leave them below and I'll get back to you soon. I hope you enjoyed my review and found it at least somewhat helpful 🙂
PS: Since you are looking for a work from home opportunity that is flexible, you also might want to take a look at how I went from $0 to over $6,000 per month working online.