Welcome to my review of Visalus. In this review I'll be going over what this company is all about, the products sold, but most importantly… The recruitment based compensation plan that has many members running around trying to get other people to join in. This is what has everyone questioning the legitimacy of this business and asking is Visalus a pyramid scheme?… Which I will be addressing.
In just to make this crystal clear, I am in no way affiliated with this company so I will not be sugar-coating this review. I'm going to tell you all the good and bad sides of this business.… But of course mostly the bad.
Visalus Review
Visalus is a network marketing company that sells health products, similar to Shaklee, Total Life Changes, and It Works!.
They are most well-known for their Body By Vi weight loss challenge products. With their 90 day challenge they give you guidance, nutrition, and support to help achieve weight loss goals. And of course they have prizes for people to win which serve as motivation. How it works is you set a goal in then submit the results after 90 days for a chance to win. I like what they're doing with this and it also gives them good business because people get excited and go all in for 90 days.
But besides the 90 day challenge kits that they sell, which include a range of different items such as meal replacement powders, nutritional bars, appetite suppressants, etc., they also sell energy drinks, anti-aging and essential oil supplements, and others. Overall their products seem to be pretty good quality. No one seems to be really complaining much about them but of course that is not the point of this review.
The point of this review is to focus on the compensation plan. Visalus does not sell their products and stores. They have a little army of promoters that are running around selling their products. And what these providers are also doing is recruiting and other promoters because they are able to earn money by doing this as well. So pretty much there are two main ways to make money with Visalus. You can sell their products directly to other people or you can recruit in other promoters beneath you and earn commissions from their work.
The Compensation Plan
Like I said, there are two main ways that you can earn with Visalus, however there are many ways in their compensation plan that fall into these two categories. These include the following…
Personal Customer Commissions
Personal customer commissions come when you personally sell Visalus products to other people. The percentage you earning commissions will vary depending on the amount of business you do but you will be able to make up to 30%.
This is the only way to earn money from selling to customers. The rest of the ways that you are able to earn are based on recruiting other promoters into the business.
Fast Start Bonus
The fast start bonus is a bonus that you can earn when you recruit in another promoter. The bonus will be paid based on the business package that the new promoter ends up purchasing. You will be able to earn up to $185 with this bonus for each new promoter you recruit in.
Team Commissions
And then there are the Team Commissions, which you could probably say are the main part of the whole compensation plan. With the team commissions you are able to earn 5% on all sales beneath you down to eight levels.
So what this means is that you will be able to earn 5% of the sales that are made by the people you recruit in (level 1), 5% of the sales that are made by the people that they recruit in (level 2), 5% of the sales that are made by the people that the level 2 promoters recruit in (level 3), and so on all the way down to level 8.
This is a uni-level structure which means that there can be unlimited number of people on each level. Just to kind of give you a visual picture of what this looks like, here is a diagram…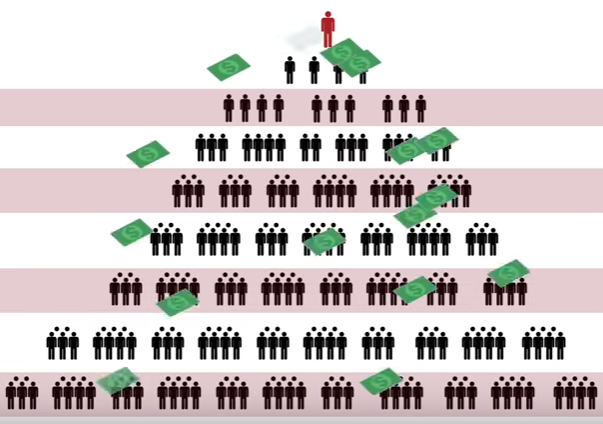 Leadership Depth Bonus
The Leadership Depth Bonus allows you to earn up to 4% team commissions on unlimited levels. However this only comes into the picture once you reach the rank of Ambassador.
And besides all of these ways to earn there also team development bonuses, luxury car bonuses, and a few other things, but this is the gist of it.
The Ranks – You Have To Move Up To Earn Good Money
There are 15 different ranks total and earning good money with this business is all about moving up the ranks.
So how do you move up the ranks? Well… It's pretty much all about recruiting in new promoters. The requirements to move up the ranks are based on the number of promoters you have recruited and beneath you and the amount of sales that your entire team and makes. So while the amount of products you personally sell can affect your rank, the easiest way to move up the ranks is to recruit others in.
Pyramid Scheme?
Although Visalus does have a pyramid-like structure, it is not a pyramid scheme. Why not? Well because this company does sell legitimate products and they do sell to normal customers. There are many people that buy these products and do not get in on the business opportunity.… They buy just for the products themselves. This is pretty much what separates a pyramid scheme from a legitimate MLM (multi-level marketing) business.
So yes, this business model does focus on recruitment a lot, however it's just not a pyramid scheme… Simple as that… Well at least not in a legal sense.
Big Downside To This Business
Not a pyramid scheme but this doesn't mean it's a great business opportunity either. Many people fail with MLM business opportunities like this for good reason. The reason is because they are difficult to make money with.
Why are they difficult to make money with?
Well because of the pyramid -like structure. While this structure does provide an opportunity to make a lot of money, it makes it more difficult for people to make money near the bottom of the pyramid. The money that the people at the bottom could be making from their sales gets sucked away and funneled up to the people above them.
So pretty much it all comes down to recruitment and whose downline is bigger. If you're good at recruiting and can build up a big downline so that you can earn lots of commissions from those beneath you, then you can earn a lot, but if not then you will not.
I review MLM opportunities like this all the time and what I always find is that the earnings of members that participate in them is always very uneven, meaning that only a very small amount of people earn a lot of money, whereas the large majority do not. This is expected since with a pyramid -like structure the majority of people were at the bottom.
Final Thoughts
Visalus is not a pyramid scheme but it is not a great opportunity for everyone either. Some people excel with MLM businesses like this but there is not enough room for everyone to excel. They will always be more people at the bottom than at the top so you have to be pretty good to be successful with this type of thing. If you want to be successful you have to be able to recruit others in easily.
If you think you'll be good at this thing go for it, Visalus' products seem good and you can feel good about promoting them. But personally I will not be getting involved in this sort of opportunity. I don't particularly care for MLM businesses because of the difficulty nor am I very good at making a strong sales pitch.
If you are like me then one thing I would suggest would be to take a look at how I make money online. I make a living working online and you can read my "make money online guide" below where I go over what exactly I do, how it all works, and what I consider to be the best way for beginners to get started is.
And of course leave any comments, questions, or concerns that you may have below and I will get back to you as soon as I can 🙂