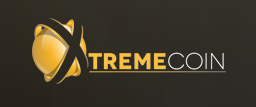 Xtreme Coin claims to be a HYIP (high yield investment program) that will give massive payouts on Bitcoin investments. But is this really true? Can you actually trust this place? Or is Xtreme Coin a scam like the many other similar bitcoin investment scams out there?
I decided to write this short review on this place because I know there are a lot of people out there that are suspicious of it and wondering whether or not they should invest. Honestly… I would absolutely not invest in this site and in this review you will understand why I say this.
Xtreme Coin Overview
Xtreme Coin is an investment program where you can invest a certain amount of Bitcoin and receive a fixed payout. This program claims to be a Bitcoin tripler… which is unheard of. I have heard of bitcoin doublers before but this place claims to triple your investment.
You an also earn commissions by getting other people to join and invest money. The amount of commissions you will make depends on what investment package that they buy.
The Packages Offered
There are 8 different investment packages that you can buy. Each one is claimed to triple your investment. So if you invest 0.05 BTC in the Saphire plan you will get a 0.15 BTC return, which is 3x as much.
Saphire – 0.05 BTC
Pearl – 0.1 BTC
Ruby – 0.25 BTC
Emerald – 0.5 BTC
Diamond – 1 BTC
Blue Diamond – 4 BTC
Xtreme Diamond – 10 BTC
Executive Club – 15 BTC per year
How You Make Money
Ok, so you are going to make money (supposedly) by investing in the bitcoin packages above. However, you can also make money by recruiting other people to invest in this program.
I wasn't able to find much of any information about the commission structure here unfortunately. I think I would have to actually invest in order to find out, which I am not willing to do.
The Problem Here
The main problem I have with this place is that there is no information on who is behind this or anything about the company really.
I have seen plenty of other bitcoin investment scams that have all too many similar characteristics to this program and this is what worries me.
A legitimate investment company should tell you a little about them. They should tell you the people behind it, when they started, where they are located, etc. This place tells you none of this. You have absolutely no idea who is behind it. For all you know its a 16 year old that has some good computer skills.
What I Think This Place Is
Due to the fact that there is a fixed payout based on how much you invest, and how they push you to recruit in others to invest in this opportunity… it seems to me that this is a pyramid scheme. It seems that there might not be any money coming from actual bitcoin investment and that the money is probably just being transferred from the hands of new investors over to investors that have been there already.
The reason that I believe it is more than likely a pyramid scheme is because I have seen plenty of pyramid schemes just like this one over the recent years. There is no proof that the money you make is coming from anything else other than new investors putting money into this.
Conclusion On Xtreme Coin – Scam?
This definitely appears to be a scam but I cannot completely conclude it to be such without investing my own money and trying it out for myself. But… I'm not willing to do that.
I would say invest at your own risk. As I said, I have seen other investment programs that are nearly identical to this one that turned out to be complete scams.
The bottom line here is that you don't know whether or not you should trust this place because they give you nothing to go off of. They give you no information about them and who they are so you don't know if this is the real deal or not. And because they don't give any information I would say that they aren't, because any legitimate investment company is going to tell you all about them, their accomplishments, qualifications, and why you should choose them.
This place gives you no good reason to trust them. A better Bitcoin investment site is USI Tech. I am still a little suspicious of this site as well but people claim to be making money with it.
Also, since you are interested in making money online by investing Bitcoin you might be interested in taking a look at this program. It has nothing to do with Bitcoin but it is my no. 1 recommended program for making money online. This program is where I got a start back in 2015 and I attribute pretty much all of my success to it. I'm still using it today and that should tell you how good it is.
==> My No. 1 Recommended Program Here
Questions, comments, concerns? Leave them below in the comment section and I'll get back to you soon ?