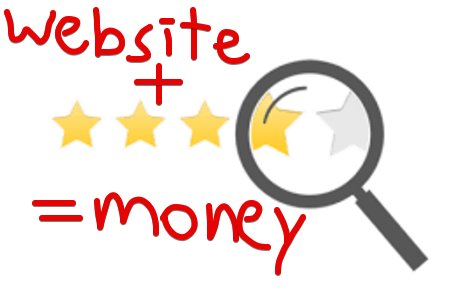 For everyone out there that is looking to make money with a review site this is for you. I started my own review site back in 2015 and have been making money ever since. It started out slow but I have been able to increase my earnings and currently make a living online.
In this short post I'm going to be explaining exactly how I do it. There really are no secrets or anything like that. It does take real work to be successful at this and there is no shortcut. But if you are up for the work then the payoff can be great.
What You are Going to Need
In order to do what I do and earn money writing reviews on your own website you are going to need a few things. And don't go out and buy these right away. I'll go over what you need right now but I'll go over my specific recommendations at the end.
Computer & internet (obviously)
A domain
Website hosting
Keyword research tool
And that's it really. You don't need any fancy software or special skills or anything like that. Back when I started in 2015 I know absolutely nothing and now I make a living doing this.
How It Works
So what I do to actually make money is promote products. I review different products, programs, whatever, and if I like them I promote them, if I don't like them then I promote a better alternative.
This is called affiliate marketing. All the big companies, Amazon, Walmart, Apple, etc have affiliate programs that are free to join and you can earn money promoting their products. However, its not like I get paid for merely promoting them… I only get paid when someone clicks my affiliate link and actually buys the product.
Some Examples for You
I have several sites that I write reviews on and make money promoting products like this. One of which is this one you are on right now (kyles-blog.com). On this site I mostly review "make money programs" and work-at-home jobs. I'll review everything from cashback programs, to rewards sites, to get rich quick schemes, pyramid schemes and more.
One example I'll give you is for a rewards site called SwagBucks which is pretty popular. On this site you can make money by taking surveys, playing games, and other things. You barely make anything but its an easy way to earn extra pocket change. I promote this site because it is legitimate and earn money from people signing up to the site through me.
Another example I'll give you is from a site I have that promotes "solar powered pool equipment". I review all sorts of pool equipment and if what I review is good then I promote it and if its bad then I direct the readers to buy an alternative product…. either way I'm making a commission.
I took a screenshot below that shows a review for a Pool Ionizer. When people read my review and click my affiliate link they are directed to Amazon to buy the product.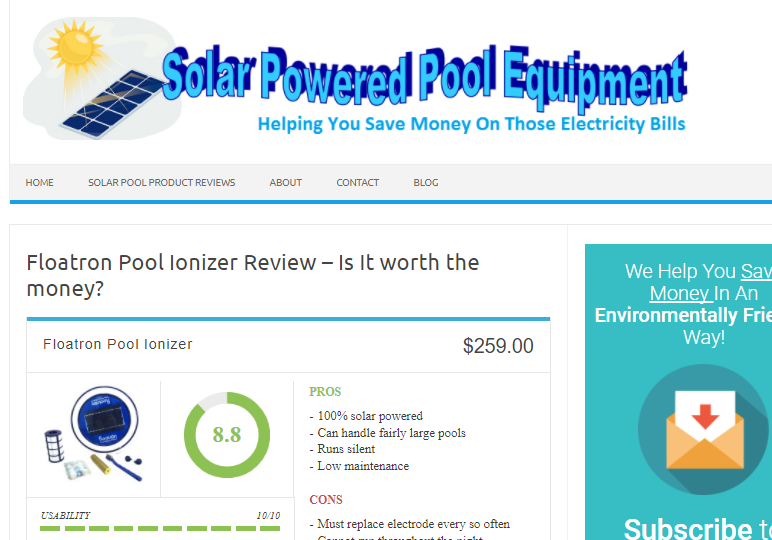 The point I'm trying to get across here is that you can do this with anything. You can promote and make money off of all sorts of products online.
The Hard Part
Getting traffic to your website is the hardest part of it. Without any traffic no one is going to read your reviews and no one is going to click your links, thus earning you a commission.
There are a lot of ways to get traffic but what I do, and what I recommend, is called SEO, or search engine optimization. Basically what this means is that you work to get your site ranked in Google so that people searching for reviews online find your site and read your review.
This traffic generation method is completely free and it is unlimited, which is what makes it so great. It is also very effective when writing reviews because many people do their research on Google, Yahoo, Bing, etc before buying products.
Recap – Putting It All Together
Sometimes I'm not very good at explaining things so I'll break it all down and put it all in order.
You write reviews
You get your reviews ranked in Google
People looking to buy the product read your review
You either promote the product or promote a better alternative
Your readers click your affiliate link
They are directed to the seller's site (amazon.com, walmart.com, etc)
They buy the product
You earn a commission
Its a pretty awesome business model that I find is particularly great for beginners. Just think about it… you don't need your own product because you just promote products that are proven sellers. You don't need to worry about customer service and all of those hassles. You only need to worry about promoting products… that's it.
On top of that this requires extremely little startup cost.
Getting Started
There are a lot of ways you can go about getting started with writing reviews and making money affiliate marketing but what I recommend is a program called Wealthy Affiliate. Wealthy Affiliate is an affiliate marketing training program that gives you all the training you need to create a successful review site and it gives you all the tools you need to do it as well.
This place is also very good because they have a free membership for people starting out that gives you access to free training as well as  2 free websites + hosting. This is what I started out with back in the day and I recommend it 100% because I know it works.
By the way, I'm still a member of Wealthy Affiliate to this day. That should show you how good I think this place is.
Anyways, I highly suggest that you read my full review of Wealthy Affiliate here so you can learn more about this place.
==> Wealthy Affiliate review here
There is no better way to get started affiliate marketing out there… at least that I know of.
Questions, comments, concerns? Leave them below and I'll get back to you soon 🙂