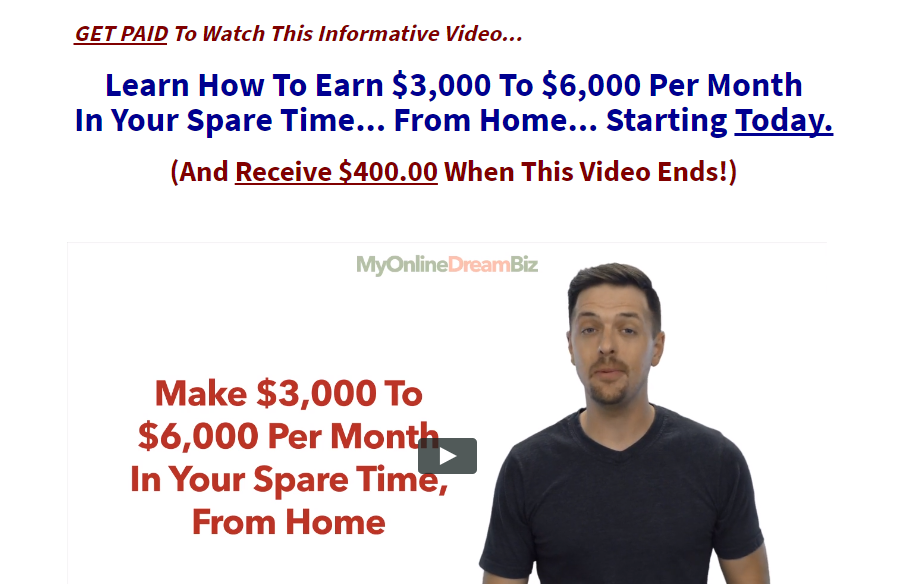 My Online Dream Biz by Jason Moore is an online money making program that claims to be the "easiest way in the world to make $3,000 to $6,000 per month in your spare time, from home". This is a direct quote from the promo video that I watched. But is this really true or is My Online Dream Biz a scam that is just going to drain your bank account and be a waste of time.
I decided to review this program because I know many others are going to be suspicious of it and will look for more information. And jump straight to the point here and tell you that this is a scam. While you can potentially make some money with this program it is nothing like they say.
My Online Dream Biz Overview
My Online Dream Biz is a program that was created by a man named "Jason Moore". He claims to make around $7,000 per day and only work around 45 minutes each day. And of course this program is the same exact system that he uses to make this money… and you can start earning money immediately.
The sales pitch I heard had all the makings of a scam: Copy & paste simple.. check. Make money on autopilot.. check. Start earning immediately.. check. No startup money required.. check.
Oh and of course there is the "free money if you watch the video" thing that actually isn't free money at all.
This program is full of extremely misleading information and for this reason it is a scam. I will go over all of this in more detail, but first here is what you get with the program…
What You Get
I didn't actually buy the program (you will see why in a minute), but here is what he tells you that you will get with this program…
Access to the member site
Training videos
5 income stream training courses
Monthly video updates
Lifetime membership
Other than that he doesn't tell you much. You have no idea what you are really buying into without actually buying the program first…. which you won't want to do.
Lies & Misleading Information
$400 Just for Watching
He gets you to watch the video and makes it seem like he is going to give you $400, but this isn't how it works. How it works is like this: The program costs $499 and he is giving you a $400 discount..
So you don't actually get any money. And believe me, this program was never $499. This is just a marketing stunt.
No Startup Capital Required
This is just a flat out lie. The program itself costs $99. That isn't a small price
Immediately Start Earning
You cannot start earning immediately. Any program that tells you this is full of nonsense. Everything takes real work and real time. This is a realization I have come to after working online for the past couple years.
Something Strange
So on the checkout page for this program they actually provide a support phone number in case you want to call the. I called this number and was expecting to get no answer. To my surprise a woman answered the phone.
She was actually very nice but couldn't go into much detail about the program at all because she didn't know much.
One thing that I noticed is that she answered the phone as "Online Training Center" or something like that. I'm guessing there are a number of scams running out of this place and she is just getting paid to be the secretary in a way.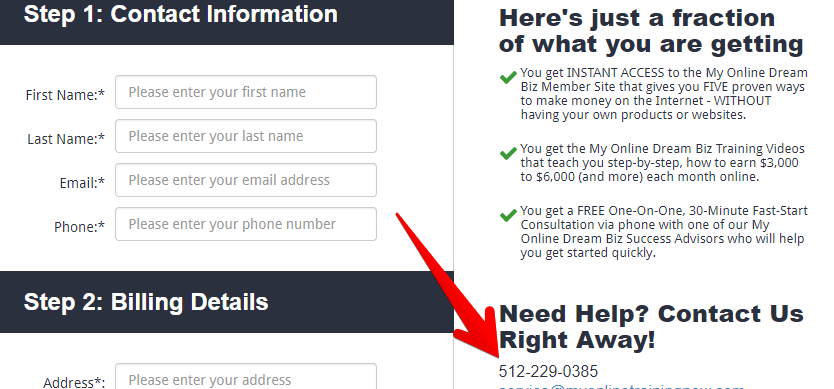 Conclusion on My Online Dream Biz – Scam for Sure
While it was nice that the support number actually worked there is still no doubt this is a scam. It is full of lies and misleading information. Although I didn't buy into the program and test it out, I'm willing to bet that the training provided is horrible, outdated, and re-hashed.
This scam actually reminds me very much of other scams like Your Home Biz & Extreme Home Paycheck, which I reviewed not all that long ago.
What it all comes down to is that there is no "secret", "autopilot", "copy & paste" system that is just going to dump thousands of dollars into your bank account. These are all called scams. Making money online takes real work, real time, and dedication.
If you are looking for a more legitimate program that the average Joe can realistically make money with then I suggest taking a look at this program.
I started with this program back in 2015 and am still a member to this day. Its also notable that I make a living online now and pretty much all of my success can be attributed to what this program has taught me.
==> My No. 1 Recommended Program Here
Questions, comments, concerns? Leave them below in the comment section below and I'll get back to you soon ?