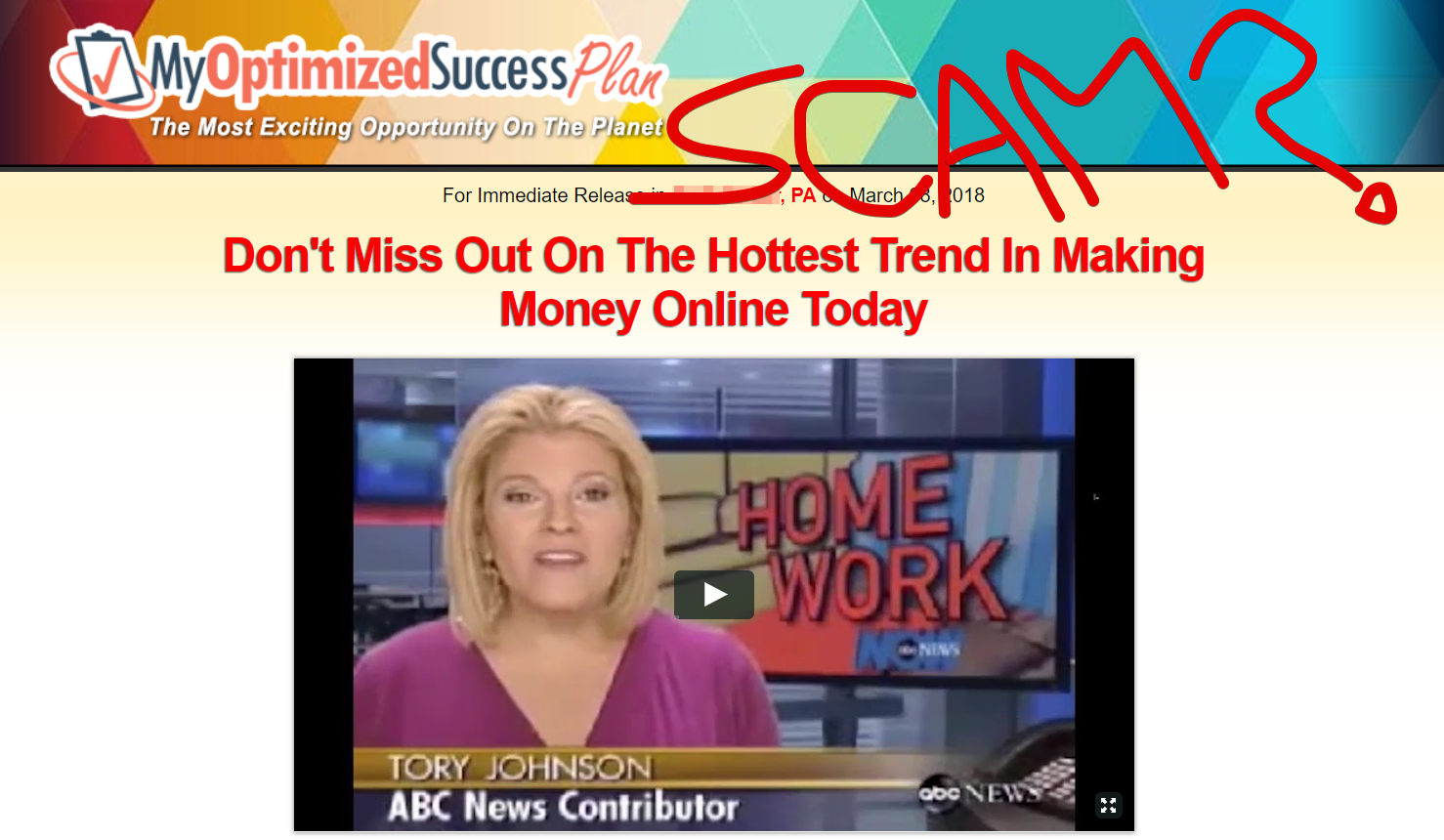 My Optimized Success Plan claims to be "the most exciting opportunity on the planet" but I don't see why anyone would get excited to get scammed…. because that's what this is…. a big old scam.
The video presentation for this system is incredibly misleading. The spokesperson makes it sound like the greatest thing ever. I mean who wouldn't want to rake in money on autopilot like this? The problem is that this is not true. In this review I'll be going over how things really are.
My Optimized Success Plan Review
The video presentation starts off with a bunch of news clips about work from home jobs that have absolutely nothing to do with this system. They are just there to try to get you excited and hyped up so that you are more likely to buy into this mess.
The guy talking in the video (who goes by the name of Jordan Daniels) claims that some members of the system are making $10,000 to $20,000 and more per month with these "millionaire websites" that he is giving out.
But as you will see…. what you are told is very misleading. And as a word of warning… anytime you see a opportunity that calls itself  the "most powerful profit-cranking, wallet-bursting, automatic system ever created" you should be very suspicious of whats to come.
A Few Things to Know
Fake News
At one point in the video presentation the spokesperson tells you that this system has been featured on all the major news stations, including CNN, Fox News, etc…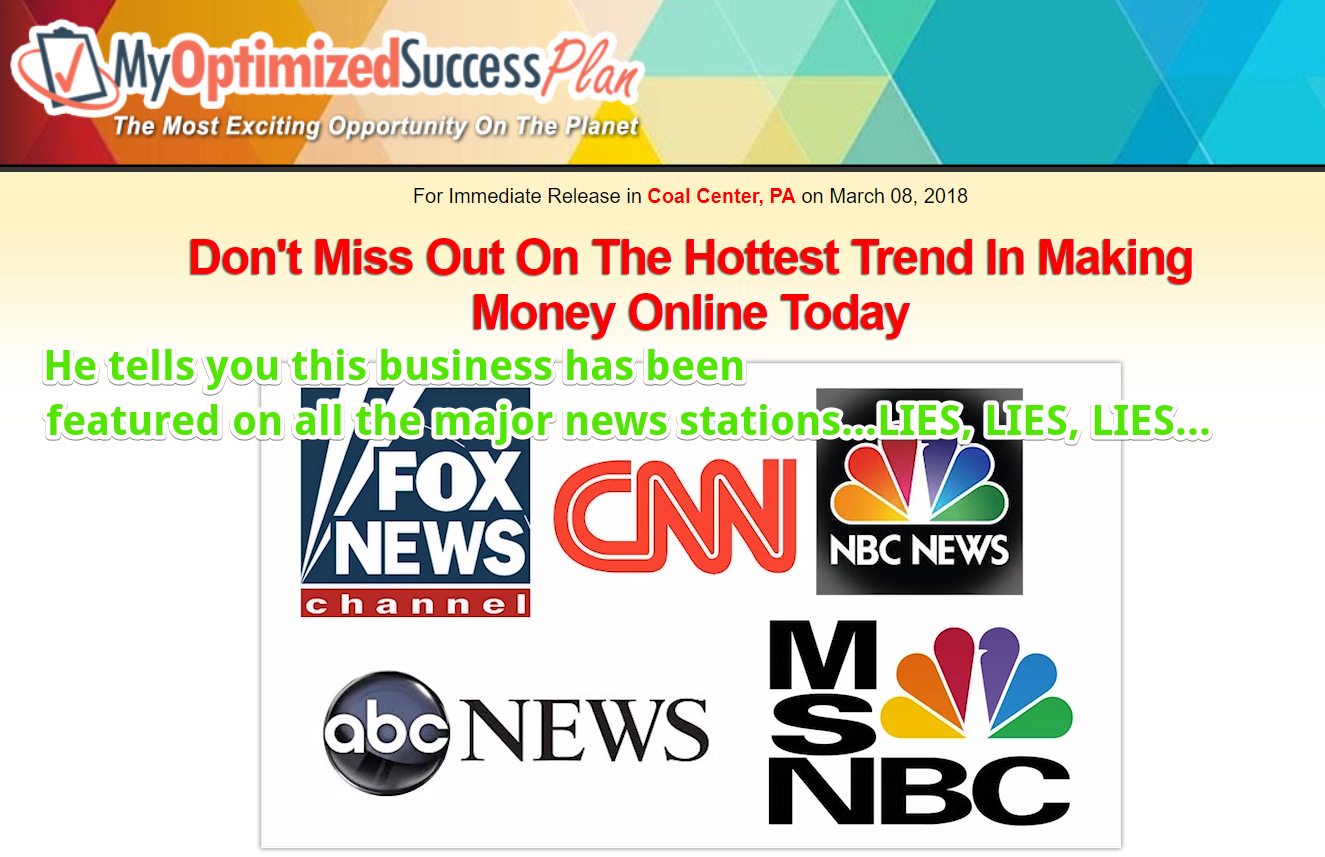 However, this is just a lie to try to get people to think that the opportunity at hand is more credible than it really is. People are usually more trusting of things if it has been on the news.
But of course this has not. You can easily go to any of these news websites and search for this system. You will not find anything related. This is a blatant lie.
Re-Hashed Old Site
This My Optimized Success Plan website is actually a re-hash of the Online Success Plan site that I reviewed a while back. They are the same darn things just with different names.
The reason for this? Well you can draw your own conclusions but I see it as a marketing stunt to be able to continue marketing the same thing that already gained a bad stigma under the previous name.

What This System Really Is
My Optimized Success Plan is nothing more than a fake website to funnel people into buying another program called MOBE. There is no program called My Optimized Success Plan. Its just a funnel site.
MOBE is a digital marketing training program that provides tools and training to make money online. They provide training, done-for-you sales pages, an autoresponder, and a lot of good professional resources at your disposal.
HOWEVER, MOBE is one of those programs that people buy into to make money online and then they make money online by getting others to buy in. Its a viscous cycle, usually filled with lies and deception.
The done-for-you aspects of the MOBE program and much of the training is focused on getting members to go out and promote MOBE to other people. And that is exactly what this "Jordan Daniels" character is doing with this My Optimized Success Plan website. This person is promoting MOBE in a very unrealistic, misleading, and overall deceitful way…. which seems to be how many MOBE affiliates promote the program.
There are a lot of other extremely misleading sales funnel sites out there promoting MOBE that I have reviewed. Some include Home Based Wealth System, My Online Empires, and Desktop Commission System.
The Cost
MOBE is what you call a high ticket program. It has several different tiers of membership. They start out low and get insanely expensive. They have tiers that cost $10,000 to $20,000 and even $30,000 for the highest tier of membership. And guess what? These memberships are what members are reselling to others and earning commissions off of.
You can earn massive commissions getting people to buy in but the catch is that you also must buy in. MOBE uses a "licensing rights" business model that requires you to first purchase the membership before you can resell it to others. This is how they keep the money cycle moving…. you buy in, spend a bunch of money in order to make money, then you get others to buy in and try to upsell them on the more expensive tiers.
Conclusion on My Optimized Success Plan & MOBE
Ok, so My Optimized Success Plan is just a sales funnel to get people to buy into MOBE. The person behind this website is a members of MOBE and is suckering others to buy in. Yes, "suckering" because of the misleading tactics he is using to promote this.
If you buy into MOBE you will likely be pushed down the same type of path. You will be pushed to make money promoting the system and getting others to buy in.
My Optimized Success Plan is definitely a misleading scam in my opinion. We might have different definitions of what makes a scam a scam, but in my opinion anything that suckers people to buy in by knowingly providing extremely misleading information like this is a scam.
MOBE on the other hand I wouldn't call a scam but I would call it "shady" and I would be careful if I were you. Digital Altitude, which is extremely similar to MOBE just got shut down by the government not too long ago.
Oh ya, by the way… that $500 that they promise is a load of BS. There is a catch to this and there is no way you will get that money. MOBE tells you that they have never had to pay anyone the $500, which they guarantee if you don't make money. The truth is that they always find a way to not pay the people. Its very misleading and is just there to entice people to join because they think they will at the very least make $500 when this isn't going to happen with this policy.
But anyways… join if you want to. I'm certainly not going to though.
I would also suggest taking a look at how I make money online, you might be interested. It has nothing to do with high ticket programs like this. You can read more here where I explain everything.
Also, leave any questions or comments below. I'll get back to you soon 🙂