MyChargeBack.com is a service I've seen advertised a lot recently online so I decided to check them out. What they do is help scam victims get their money back in the form of chargebacks. In particular they work with cases of binary options trading scams, forex trading scams and things of this nature. But is MyChargeBack.com a scam itself? This is something that I have seen some people asking about that I will address.
There are a lot of people promoting MyChargeBack.com and making money doing so. I am not promoting it and will be giving an unbiased review of what I think about it all. In this review I'll be going over what exactly they provide, what the process is like, the cost, customer reviews, whether or not they are a scam and more.
MyChargeBack.com Review
MyChargeBack.com is a fund recovery service that is based in New York, US. They specialize in recovering funds from people who have been involved in scams and do so by getting chargebacks.
This service is relatively new, having been started in 2016, but might be worth using if you have been scammed. There are plenty of automated trading scams out there that promise large amounts of money on autopilot that never deliver. Usually they will lure people in by telling them that they can easily make thousands of dollars per day on autopilot and that the trading software is based on some "secret" new algorithm or something along these lines. I review scams like this all the time. Scams like the Semantic Investment App, Free Ad Cash System, Bitcoin Focus Group, Profit Wizard Pro, and many more.
What Is a Chargeback?
A chargeback is a cancellation and refund of a past payment. It is where you get your money back for either an unauthorized payment of a payment for goods/services that were not as they were supposed to be.
Visa/Mastercard allow users to dispute charges on their card. This chargeback process is for consumer protection and helps people get their money back from scams/frauds.
It is possible to file a request for a chargeback with your bank but this can be very difficult to win. It depends on the nature of charge that you want back. While some chargebacks should be relatively easy to win others can be much more difficult and more complicated, which is why some people would want to hire places like MyChargeBack.com to get their chargeback to go through for them.
Who MyChargeBack.com Is For
MyChargeBack.com is mainly for people who have been scammed online. In particular they handle binary options trading scams as well as forex trading scams and Diamond investment scams. So if you have been victimized by a scam that falls into one of these categories then this service might be worth looking into.
These cases are on the more difficult side because you paid for a system (usually an automated trading system) and you did receive it. However, it didn't work as advertised. Since you did receive something rather than nothing at all its harder to win. You then have to be able to prove that what you did receive was a scam.
Also, its important to know that they can only get you chargebacks if you paid for the product/service with a credit/debit card. If you paid with cryptocurrency like Bitcoin, which is becoming a more popular method of payment with scams out there, there is no way for you to get your money back. There is no chargeback process that you can go through.
What They Do
Well of course they attempt to get you your money back but how do they do this?
Basically what happens is you will have to provide them with all the information you can. You will not just get to sit back and do nothing. They will put together a case to argue that you really were a scam victim and you will be the one that has to give them screenshots, documents, emails, and anything that related to the scam.
They will do the work of putting it all together in the best way possible to get that chargeback that you want.
The Cost
The amount they will end up charging is a fee based on the amount of money that they can potentially recover, which is the amount of money that you lost.
Their lowest priced service is $72 and is a self directed service. Basically what this means is that you pretty much do all the work but use their platform which helps put all the information together to build a case. This is for people who have lost less than $5,000. from a scam.
If you lost more than $5,000 from a scam then you can get VIP treatment. They don't give you any upfront cost with this because this service is tailored to each individual case.
Real Reviews from Customers
Upon scouring the internet looking for real reviews my efforts have come up short big time. It seems that the majority of the reviews out there are fake.
One thing that I find comical is that there are many sites out there that promote MyChargeBack as well as binary options/forex automated trading scams. They sucker people into buying scam systems and make money doing so. Then they turn around and make money helping scam victims get their lost funds back. Its crazy.
I've found other reviews on sites like bbb.org, where they have an A- rating, but these seem fake to me. The reviews just don't seem genuine. They seem more like something you would see in a promotion for MyChargeBack. And since I know that this is something that does happen on sites like this where anyone can write reviews, I'm hesitant to believe they are legitimate.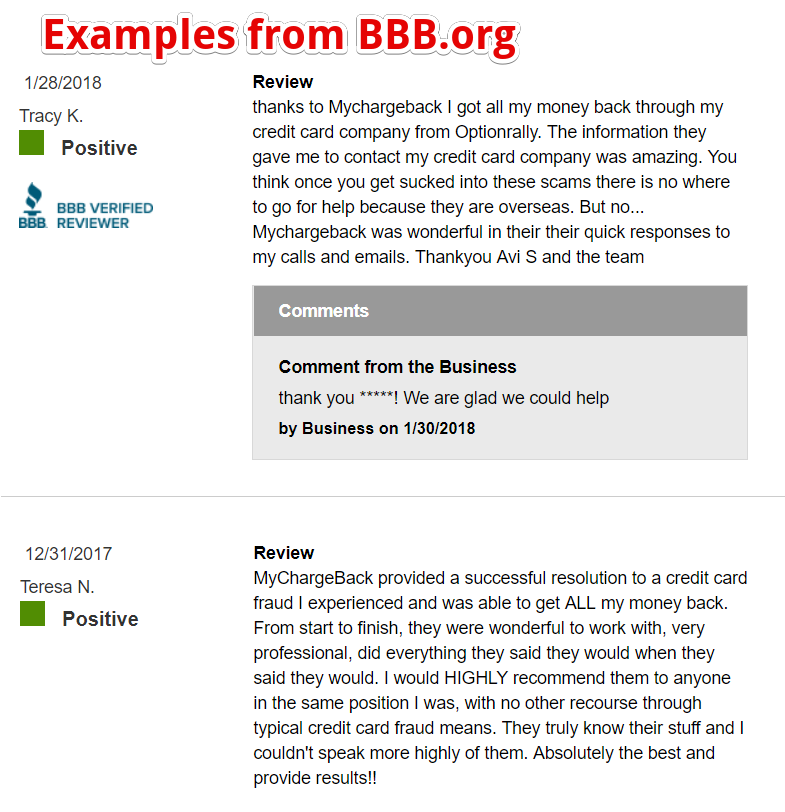 Do these sound real or fake to you? There are others on there but these are 2 good examples that really sound like they are fake reviews put there to help promote the company, probably by people who work for MyChargeBack or have been paid to do so.
Conclusion on MyChargeBack.com – Should You Use Their Services?
All in all I think MyChargeBack.com is something worth trying if you have lost a lot of money. They do not seem to be a scam, although I have never actually tried their services. I know there are known scam site that are promoting MyChargeBack.com but this is because they have an affiliate program where you can get paid to do so. There is nothing wrong with promoting MyChargeBack, the problem is how these scam sites promote scam trading softwares in the first place.
But anyway… use the MyChargeBack services if you wish to and I wish you the best. Hopefully you can get your money back.
Leave any comments or questions below and I'll get back to you soon 🙂