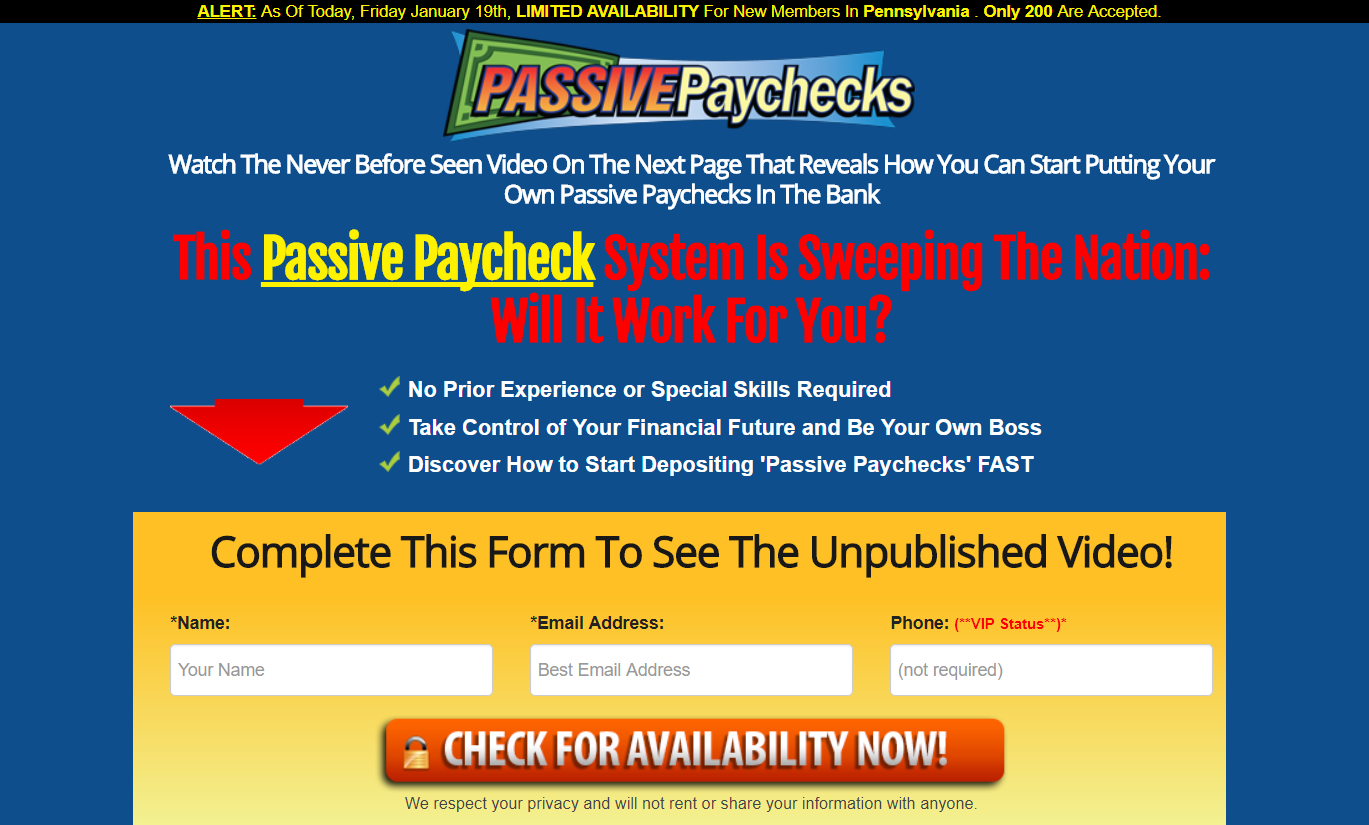 If you are wondering is Passive Paychecks system a scam (aka Passive Paychex) then keep reading. I came across this system being promoted online the other day and knew I had to take a look into it. It has all the common scam characteristics which make me very suspicious.
The bottom line is that what is said in the sales video that I watched is very misleading and more than likely a bunch of BS. In this review I'll be going over a few things that everyone should know about this place.
Passive Paychecks System Review
Let me first say that there is no need for you to rush. This system claims to have a limit of 200 members to make you buy into it as fast as possible but this number is nothing more than a commonly used scam tactic to get people to buy in without doing proper research.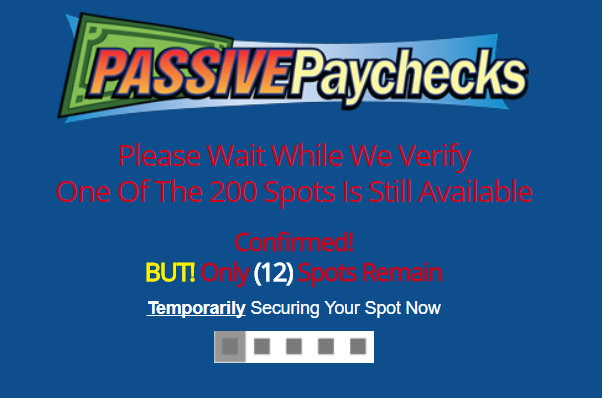 This website has been around for a while and if you would leave and come back in a week, it would be telling you the same thing.
But anyways… on to the review…
In the promotional video for this system the spokesperson claims that the secret to creating unlimited wealth has been kept out of reach of the general public. He claims that they purposely don't teach you it in school because they want to keep you with little money and power.
He claims that this Passive Paychecks system is the secret they have been keeping from you and that it can make you as much money as you want and as often as you want. He even goes on to say that Richard Branson, Bill Gates, & Oprah use Passive Paycheck System tactics.
Pretty much everything in the sales video points to this being a scam. He claims you can make super easy money very fast, that it is pretty much completely automated, that billionaires are using this system but offers no proof, and so on. It reminds me of Desktop Commission System & Internet Income Online, which are 2 recent scams I reviewed.
Also, the way he says it works is very vague and he really doesn't give much information to go off of.
How It Makes You Money
He really doesn't say much of anything here. There are 3 steps to the process that he tells you about which include…
Need an automated system in place that makes money for you
Need a product to sell – need to get people to buy products from you instead of from Amazon, Walmart, etc
 Need an educational platform with training that shows you what to do
This system claims to provide all of this. And it sounds good and all. I mean, of course you can make money selling products online. And of course the system is very much automated due to the very nature of online business.
But how are you selling products? What is the method used? Are you going to be dropshipping, affiliate marketing, etc? How are you going to get people to buy the products? Are you going to be using paid ads to drive traffic, SEO, social media marketing????
He leaves this system as vague as possible so that people have no idea what they are getting into. I've been making money online since 2015 and have made money in more way than one, and I have so many questions about this that he does not go over.
This is yet another very common characteristic of a scam. They leave you knowing nothing so that you buy into it, and its not until after you buy in that you realize it wasn't worth the money.
Something That Makes No Sense…
Near the end of the video, the spokesman shows a video of "James P" who claims to have earned a commission of $20,050 with this system…… are you kidding me???? If he earned a commission of $20,050 that means that he somehow sold a product online that was priced at well over $20,050.
What the heck is this guy selling? Airplanes? Sports cars? This just doesn't make any sense.
Caught In a Lie
Remember how at the beginning I said that the who "only 200 spots available" thing was a lie? Well look at this…
When I clicked on the button after the sales video to purchase the system it told me that there are only 63 spots left. The problem is that at the very beginning it told me there were only 12 spots left. So how does the amount of spots increase like this?
Conclusion on Passive Paychecks System – Scam
This system has all the tell-tale signs of a good old fashion internet scam. The entire sales video
is a bunch of fluff that really tells you nothing about the system. The spokesperson in the video, who supposedly created this system never even tells you his name which I find pretty strange.
There is just nothing that adds up here and although I never purchased this system I am 99% sure its a scam.
If you want to buy into it then go right ahead but I sure as heck am not.
Update: This system is also going by "Passive Paychex" now as well…

If you are looking to make money online with an honest and legitimate program then what I would recommend is this program. I've been a member since 2015 and make good money with it. You can read my review about it Here.
And be sure to leave any comments or questions you may have below this post. I'll get back to you with any questions 🙂