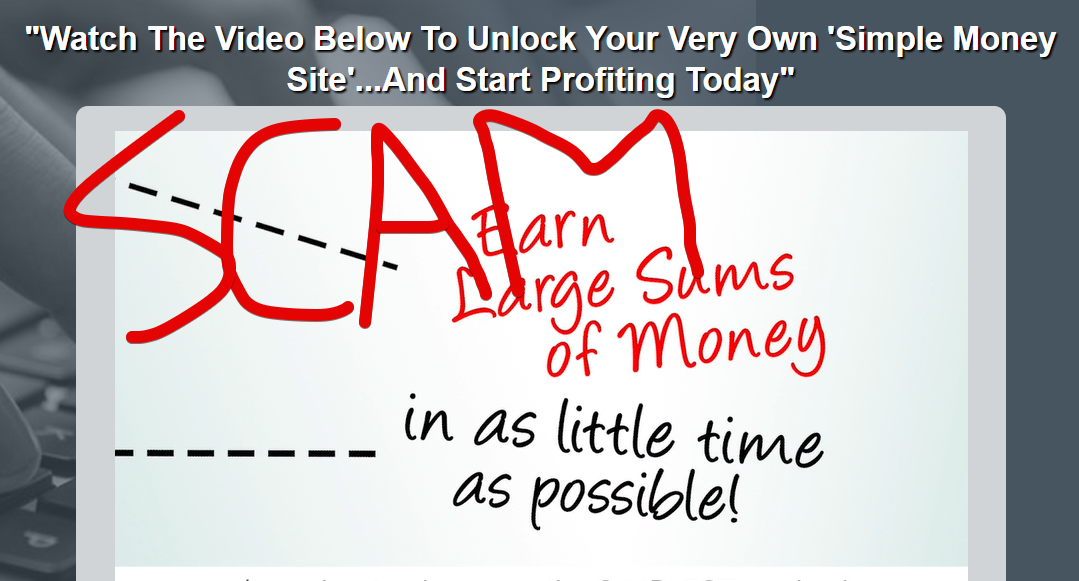 Simple Money Sites is said to be "one of the most profitable wealth building opportunities in history" and that you "can earn large sums of money in as little time as possible" with it. But what I'm going to show you in this review is that this is all a lie.
The truth is that you cannot trust this place at all. This Simple Money Sites scam program is something you will regret getting into. I'm guessing you were already suspicious that this was the case since you are reading my review right now, and I'll show you that this really is the case… that it is filled with lies and misleading information that is meant to sucker people to buy in.
Simple Money Sites Program Review
The Simple Money Sites program is supposedly created around some method that was created in 1996, which is a hidden gem of some sort.
Pretty much it is your typical type of get rich quick scheme, like Copy My Email System & Free Ad Cash System for example.. They talk about all the money you can make, thousands of dollars per day, how simple it is and how you can set up these Simple Money Sites in just a few hours, how you will be making money on autopilot, etc.
They also tell you that you can get started for free but then go and try to sell the program to you for $97 at the end… which is pretty funny.
How It Works
This is one of the most over-hyped, misleading sales presentations I ever have seen. When explaining how the system works, the spokesperson compares it to an ATM machine where every time you put in $5 it spits out $100, $500, $1,000 or more per day.
He claims that you can set this up to happen automatically on your Simple Money Site.
And this is all he tells you. Other than this you don't know anything. All you know is that somehow your Simple Money Site will be comparable to an ATM machine that spits out free money basically.
Awesome! Where do I sign up and enter my credit card information???
Just kidding.. this is a pure scam and the fact that they don't tell you what you are really getting into is a major red flag. You have to buy in to actually find out what you are buying…. not the way that legitimate programs are set up.
Fake Testimonials
At one point in the presentation video they claim that this guy named "Ross Stone" is making a killing with these Simple Money Sites. He tells you that he is making $500 – $1,000 per day and that it is so simple to do so.
The problem is that this guy is just a paid actor and has never actually used this method. I recognized this right away because I have seen him before. He is an actor from Fiver that anyone can hire to make fake testimonial type videos so I've seen him in other scams I've reviewed in the past.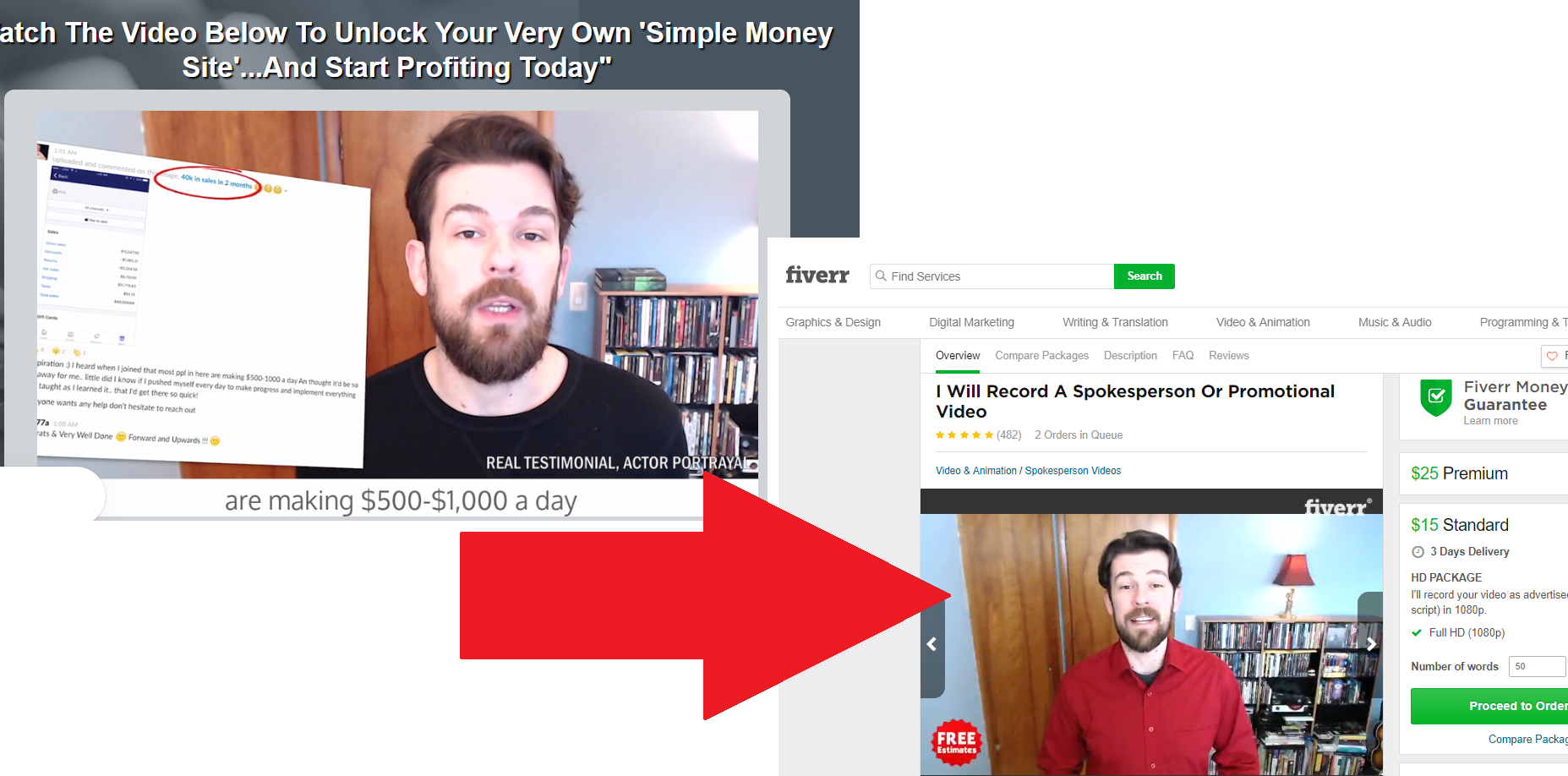 The reviews that are below the sales video are also as fake as can be. I ran a reverse Google image search on them and as you can see they are nothing more than stock photos, which anyone can buy and use online. These are not real results…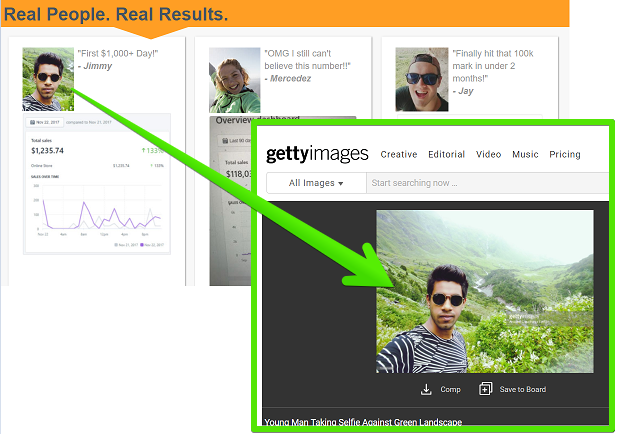 What You Get When You Buy In
If you buy into this for $97 they tell you that you get the tools and technology needed to easily set up your Simple Money Site along with a 24/7 autopilot salesperson that will drive traffic to your site and show you how to automate it.
The step by step roadmap training is something that you can supposedly get through in just a couple of hours and then you can go back through it again and again to set up multiple sites.
What You Really Get
You do get what they say… just its not as good as they say. Basically you will be getting copies of their system with pre-made websites. That's it…. its the same thing that everyone gets so don't feel special. And the 24/7 salesperson that they speak of is more of a salesperson to get you to buy more into this. There are upsells and the upfront cost of $97 is just the beginning.
Just Can't Trust Anything About This Site
Wouldn't you say that they really hype up this program and that they do imply that you will make large sums of money very easily with it? I mean, they might not guarantee that you will make it rich but they do lead you to believe that you will… right?
Well take a look at what they tell you in the earnings disclaimer…

They tell you that "no income claims are made, implied or guaranteed" yet that is all they did the entire sales video.
This earnings disclaimer is how they protect themselves from legal troubles. They can tell all the misleading information they want to in the sales video, as long as they have a disclosure like this… hidden away at the bottom of the page.
Conclusion on Simple Money Sites – Avoid
There is no reason I see to buy into this at all. You just cannot trust it in any way and you really don't know what you are getting into since they keep everything so vague. Its likely that you will buy in, get a free pre-made website, some training and tools, but get nothing of good value.
If you want to gamble with $97 and hope that something good comes out of it then by all means, it is your money and you can do with it what you want to. But this is not something I would suggest doing and I certainly am not going to be buying in.
It just doesn't make sense to buy into this when there are known legitimate programs out there for making money online. Take Wealthy Affiliate for example. This is where I got started back in 2015 and I make a living online now. They are proven to work and provide a lot of value for what you pay. They also don't lie to you and try to sucker people to buy in.
I would suggest taking a look at my Wealthy Affiliate review here if interested. Its a program that I can vouch for because I know it works from experience.
And as always, leave any comments or questions below and I'll get back to you as soon as I can 🙂