Skylom is an online lottery site that will give you a chance to win some money by watching short videos. Sounds a bit on the strange side right? Well if you are wondering is Skylom a scam I can assure you that they are not.
In this review I'll be going over what exactly Skylom is and how they operate…. and I'll go over how you can get started with them if you do want to enter for chances to win some money, which I assume you probably do.
Skylom Review
At Skylom they make money by getting people to watch videos. As far as I know they are basically a form of an advertising platform and are getting paid to do this. There is not much information on the site that says how it all works but I'm assuming that Youtubers are paying this place to get people to watch their videos.
There are 2 other sites that I have reviewed in the past, Snuckls & Baymack, that also provide the same service and also have lotteries that reward their members. I'm guessing that Skylom, Snuckls, & Baymack are all run by the same place because on the Skylom website they have links to both the other sites…. and just judging by the overall layout and design of the other sites they are extremely similar.
How It Works
If you were to go to Skylom.com you will see this… They give away a certain amount of money (in this case $1,000) every so often to a lucky member. These giveaways happen constantly, usually every 5-10 minutes or around there.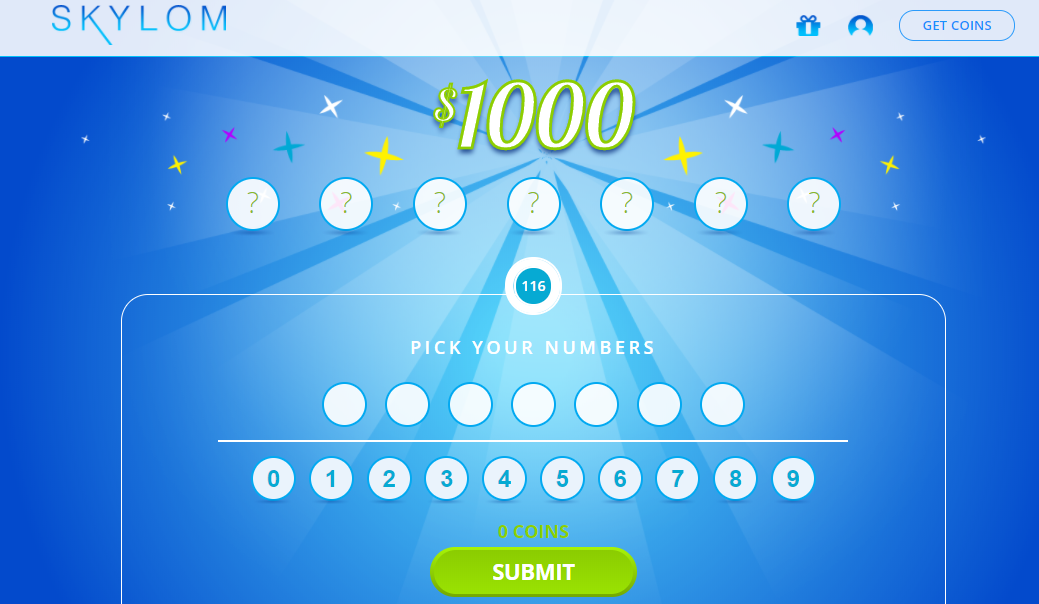 But if you were to pick your numbers and click submit you would find out that you have to register first and registration is by invite only. You are able to enter your email address to get and invite but there are many people waiting in line here and you likely will never receive and invite that way.
What you are going to have to do is click on someone's referral link. I'm not going to provide my own but you can Google "Skylom" and easily find other people sharing their link.
Earning Coins
After you join you still won't be able to enter the lotto just yet. You need to earn coins in order to enter your numbers. I think this might depend on how high the lottery is at but when I was on the site last I needed 5 coins to enter.
To get the coins you will see a menu button that says "Get Coins" and this will take you to watch videos. You will have to sit and watch youtube videos for around a minute or so and then you will have to tell what category the video falls into after the time has passed.
You will find all sorts of videos here… music videos, videos on fashion, etc. For some reason I was getting a bunch of videos that were in different languages which was a bit strange.
After watching a video and answering the question correctly you will earn 1 coin.
The Lottery
Once you have enough coins simply enter some numbers and hope that you win. The chances of you completely winning are slim to none… so don't count on that. However… you don't have to get every single number right to win some money.
If you get all 7 numbers right you win 99% of the Jackpot, if you get 6 numbers right you win 0.35%, and so on as you can see here… And in the case of multiple winners then the pot is divided.
Getting Paid
After you win your money it goes into your account and you have a couple options for cashing it out. You can either choose to cash out via Paypal or with a bank wire transfer. If you choose Paypal you can cash out as little as $0.02 at a time, which I don't really see the point of. But if you choose to do a wire transfer then you are going to need at least $99 in your account before you can do this.
Complaints
Invite Only
Of course one complaint I have is that it is invite only. Its kind of annoying having to find someones referral link just to join. However, its also nice in a way because it forces people to sign up through existing members and they get rewarded for it.
Video Categories Confusing
Sometimes the video categories that you have to choose from after watching a video in order to get credit for it can be confusing. For example, I watched a Spanish music video and chose the category of Music but ended up getting the question wrong. Apparently they wanted me to say that it was Pop, which was another choice.
Chances of Winning Are Very Low
The chances of you winning the jackpot are next to nothing. The computer supposedly chooses a number at random and getting the same 7 digit number is highly unlikely. And if you only match 6 digits or less the amount that you win decreases drastically.
Conclusion on Skylom – Good Opportunity or Not?
Skylom isn't a scam or anything like that. This site along with the 2 similar sites that I mentioned in the beginning are all legit and do provide a legitimate service. They earn money from people paying to get more views for their Youtube videos and then Skylom gives people like you and I a chance to win some money as incentive to watch their videos in the first place.
Its definitely not the best way to make money online by any means, and honestly I wouldn't expect to earn much of anything… however you can earn money. And if you like to watch random videos for a very small chance of winning then you might like this.
A program that I would recommend far above this for making money online in your spare time is this one. I've been a member since 2015 and have earned a lot with it…. like a heck of a lot more than you could ever earn with Skylom.
==> You can check out my recommended program here
If you have any questions be sure to leave them below…