Welcome to my Sun Dolphin Bali 10 SS Kayak review!
In this review I intend to give you a better understanding about this particular kayak so that you know whether or not if its what you are looking for. There are plenty of different kayak variations out there and its important to get what fits your situation. Here I will be going over pretty much all you need to know about this kayak, including what its best for, features, complaints, price and more.
---
Overview of  the Sun Dolphin Bali 10 SS
[one_half_first]
Pros
Low price
Durable
Lots of storage space
Easy to get in/out
[/one_half_first][one_half_last]
Cons
Tracking isn't that great
Stability issues
[/one_half_last]
The Sun Dolphin Bali 10 foot SS Kayak is a pretty good choice for beginners just looking to have some fun but for experienced yak enthusiasts it might leave a little bit more to be desired due to its lack of control and balance, which I will go moreover in the complaints section of this review.
This 10 foot kayak comes in an array of different colors such as pink, lime, red, blue, tangerine, etc., and is very appealing to the eye. With a very comfortable sit-on seat and plenty of room for storage, this kayak is best suited for people looking to do light paddling on calm waters. It is decent on lakes, ponds, and slow flowing river but is not well-suited for mild currents or stronger.
So if you're looking to do some light paddling and floating out on a lake then go for it. But if you are looking for something to maneuver about as you read the currents of a river then this is not for you.
The weight limit on this thing is said to be 395 pounds so this isn't going to be an issue for many people. I have also read reviews of people going over this weight limit without a problem.
The price is also pretty darn good for what you get. This kayak has some downsides no doubt but is well constructed (made of Fortiflex high-density polyethylene) and you shouldn't have any problem with it lasting. Overall it's a great entry-level kayak for people who aren't all too serious.
---
Features
Sit-In Seat – As you can see in the picture this kayak is a sit-on model, meaning that you just plop yourself down right on top of the kayak without extending your legs down inside. This allows for easy on/off but at the same time decreases the stability of the kayak because you're sitting higher up, which is one of the reasons it is best suited for calm waters. You will also see that the back of the seat rests against the plastic frame. This is nice because it adds stability and comfort. There is no seat cushion on the bottom but you can easily bring something with you to sit on and besides it's probably more comfortable than you would think.
Adjustable Foot Braces – You are able to adjust the foot braces back-and-forth according to how long your legs are. This is important because you are going to want to apply pressure to sort of lock yourself in place as your paddling.
Waterproof Container – If you're sitting in the kayak you will notice right and from your groin area that there is a small compartment with a lid. This is a waterproof compartment that is great for storing devices such as phones, wallets, and other things that you don't want to get wet. It is also in a great location right there in front of you within reaching distance.
Some of the bigger smart phones, such as the iPhone 6, might not be would've fit in here just to let you know.
Cup Holder – The cupholder might not seem like that big of a deal but it can really come in handy when you're flooding out in the baking hot sun. Again this is right there in front of you within reaching distance making it very convenient.
Bungee Storage – There is plenty of room for storage so if you're planning to travel to a campsite that is only accessible by water then no problem, strap your tent and sleeping bag to the front or back and off you go.
Portable Accessory Carrier (PAC) – This just gives you even more storage room if you really need it. In a nutshell, this thing is a compartment on the rear of the kayak that you can pop out and tow behind it while using the space where it was located for storage of something else. A picture is worth a thousand words and this might sound a bit confusing so here you go: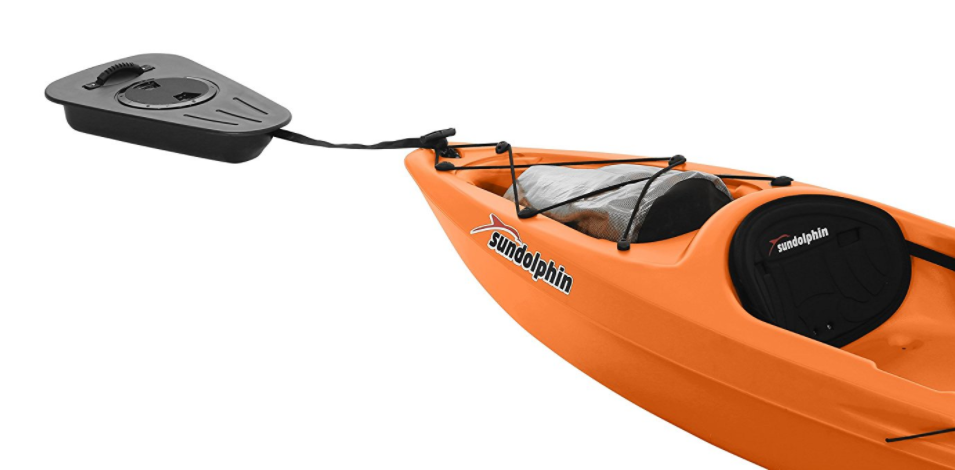 ---
Top Complaints
When reviewing a product like this I always make sure to read over as many customer reviews as possible, which I'm sure you do to judging by the fact you're reading my review right now. After sifting through literally hundreds of reviews these are some of the top ones that I've seen repeated multiple times:
Difficulty Steering – If you have been reading reviews I'm sure you have seen this too. This kayak doesn't track well, meaning it isn't all that great when it comes to steering. This is common with sit-on kayaks because they lay more flat on the water than sit-in kayaks. When you are just getting moving paddling left and right the kayak will likely turn back-and-forth with each paddle motion until you get up to speed. And if you get moving then stop paddling it isn't uncommon for kayaks such as this one to "fishtail" where the back-end might start to come around instead of staying in a straight line.
Of course this is something that you can get use to and better at controlling but sit-on kayaks such as this will never be as good for steering as sit-in kayaks. It is only 10 feet but also which limits "track-ability". The longer the kayak the easier it is to keep going in a straight line.
Stability Issues – This is also not the most stable kayak in the world. Because you are sitting relatively high up on the water you have to be more careful with your movements. For taller people this is even going to be more of a problem, but if you are on the shorter side it shouldn't be such a big deal.
I have read a couple people's reviews claiming that they can hardly turn around to access luggage they brought with them in the back of the kayak because it is so unstable. Now of course I have no idea how tall these people are or anything but I'm willing to bet that the people making claims such as this are rather tall.
---
Conclusion – Is It Worth The Price?
This all depends on what you are looking for. It is a great entry-level kayak for people looking to cruise around on open lakes and calm rivers but not great for people looking for super easy paddling or to go out in rapids.
There are definitely complaints about this kayak that are worth considering (that I just went over) but it's not like there are any real serious concerns as far as I see. Most of the complaints that I read through are expected. They come with the territory of sit-on kayaks. Sure there are good sit-on kayaks in there are not so good ones, but with pretty much any out there you are going to be sacrificing a little bit of steering capability and stability.
For the price that the Sun Dolphin Bali 10 foot SS is sold at I think it's a pretty good deal honestly. It's far from the greatest kayak out there but for the price it's a darn good one and a great choice for beginners looking to have some fun but not spend too much money.
How much does it cost? Well I'm not going to list the price here because as soon as I listed it will probably change a bit and I don't want to have to keep updating this post, but you can check the price below.
---
If you have any questions comments or concerns you can leave them below and I'll get back to you when time permits. Also if you have your own review of the Sun Dolphin Bali 10 foot SS kayak that you would like to share you can leave it below as well to help other readers out. I hope you enjoyed my review and I also hope you have a great time kayaking no matter what kayak you decide to purchase in the end.