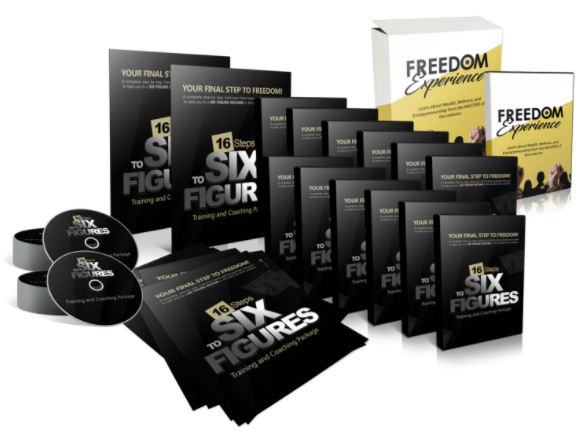 Since you are reading this I'm guessing you are a little skeptical about this program. 16 Steps to Six Figures does sound too good to be true. It claims to be able to generate you massive amounts of commissions, thousands of dollars per sale, all from some new formula called the T3FP formula.
Well I'm here to bring all the hype surrounding this program back down to earth. While you can make money with it…. its not the magical program that it sounds like. Much of the information you hear in the sales videos for this program along with what you read is very misleading and some of it is a lie. In this 16 Steps to Six Figures review I'll be going over what everyone should know about this place.
And just to give you an example of some of this misleading or false hype…this program has never been featured on the news even though they tell you it has. Many of the sales pages that I've seen for this programs tell you that it has been featured in Newsweek, USA Today, The Wall Street Journal, or wherever.. You likely saw something like this on the sales page…
This is not true at all. You can go to any of these websites and search for this program and you will find nothing having anything to do with it.
This is a red-flag in my book. Its nothing more than a lie that is designed to make this place seem more credible and trustworthy…. which failed miserably.
16 Steps to Six Figures Review
The 16 Steps to Six Figures is a course that is part of the bigger LDI (Lifestyle Design Internation) program created by Jeff Lerner. This course provides training, tools, and done-for-you resources to make money in the online marketing world.
Like I said, you can make money by following along with this course but its not as magical as it sounds.
So What Is This T3FP Formula… The Secret to Success?
The T3FP (TFFFP) formula is no secret at all. Its meant to sound awesome and confusing at the same time to make you think that it is some newly founded formula that is just going to start cranking in money… but its nothing new at all.
In the sales videos Jeff does a lot of talk about how this new formula that he developed is going to do everything for you. It will close the sales for you and make you money.
Sounds awesome right? Well I'll go over what you are really looking at here.
How The System Works
If you are familiar with programs like Aspire or MOBE then you pretty much know what this 16 Steps to 6 Figures program is all about.
Basically its a program that you buy into to make money online and then it teaches you to make money online by getting other people to buy in. You will get training, tools, done-for-you sales pages, lead pages, etc… all so that you can go out and promote the 16 Steps to Six Figures program to others.
This system does provide a lot to you. You will get the training on traffic generation, the lead pages to capture leads, the follow up emails to send out to people to get sales, the products to sell, and so on.
There is a lot that is given to you and done for you, this is true. But contrary to what you have probably heard, you will have to put in work. This is not completely done for you as many will lead you to believe.
There is training that is provided and of course you will have to implement that training if you want to be successful. Why would there be training in the first place if this was completely done-for-you right?
A High Ticket Program
Ok, so you will be making money by selling this same system to other people. And the person that got you to sign up will be making money from getting you to buy in.
And you know how they say that you can make $1000's of dollars in commissions per sale? Well this is because you are selling extremely expensive products that are upsells of the 16 Steps to 6 Figures program. The $49 that you pay at the beginning is just the beginning of things. They have products that cost upwards of $10,000 as upsells that you will be pushing on people.
And just as people you bring into the system will be getting upsold making you money, you yourself will also be getting upsold. The catch is that if you want to make money selling the upsells you have to buy them first. So you are first going to have to spend the thousands of dollars just for a chance to make these big commissions.
Conclusion on 16 Steps to Six Figures – Good Opportunity?
I'm not going to tell you whether or not to buy into 16 Steps to Six Figures but I will say that I will not be. I don't really care for these programs that promote making money online and then just have their members make money online by promoting their program and insanely expensive upsells.
Also its not realistic for many people to buy into this because you are going to need to spend a lot in order to make a lot, which isn't even guaranteed. If you are on a budget then this just isn't the way to go.
If you are looking for a more legitimate and affordable program to make money with then I suggest taking a look at this program. I joined back in 2015 and am still a member to this day. Its also notable that I make a living online now and pretty much all of my success can be attributed to what this program has taught me.
==> My No. 1 Recommended Program Here
Questions, comments, concerns? Leave them below in the comment section below and I'll get back to you soon ?