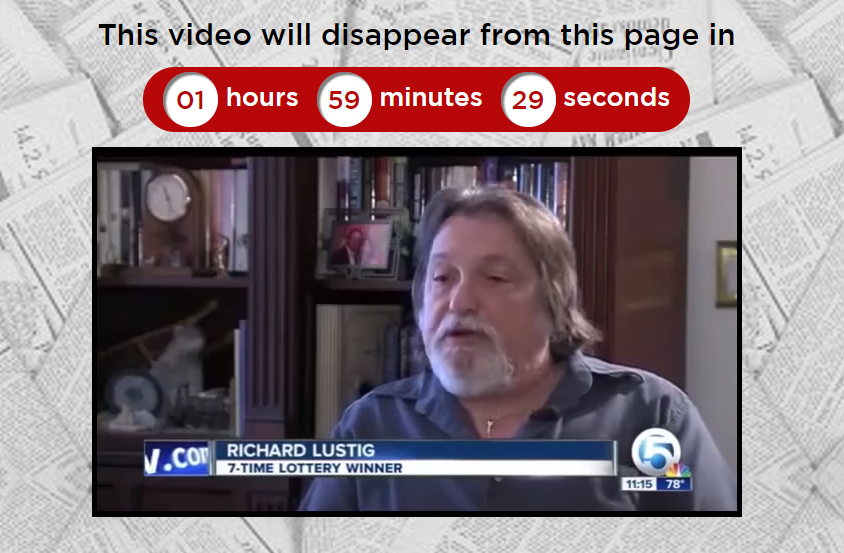 Richard Lustig claims that his Lottery Winner University can increase your chances of winning the lottery… but is this true? I have come across other programs that make similar claims but do not deliver as promised, so is this the real deal? Or is Lottery Winner University a scam that is just going to be a waste of your money?
This program and the story of Richard Lustig was intriguing to me so I decided to take a look into this program and see if its really as great as he claims. In this review I'll be going over whether or not it will actually works, which is of course what everyone wants to know.
Overview of Lottery Winner University
Lottery Winner University is a program that was created by by Richard Lustig, who is known as one of the best lottery players of all time. He has won 7 grand prizes since he started in the 1980's and is very proud of it.
The program is based upon a method he created which is claimed to increase your chances of winning.
Update: Richard has released another newer system called Lotto Annihilator. 
My First Impression
The Lottery Winner University by Richard Lustig is really hyped up. There are probably different promo videos out there for this place but the one I watched seemed like a Billy Mays ad on TV. Richard was really hyping up this program and going on and on about all the money some of his students have made.
On top of all the hype this program doesn't come across as very trustworthy based on some other sales tactics I came across on the sales page. One of which is how they tell you that the sales video is going to disappear in a matter of hours, making you think that if you don't jump on this opportunity now you will never get it again.
This is not true at all. You could come back to this video in hours, days, even weeks and it would still be there.
It is sales tactics like this… these tricky sneaky tactics that are used to sucker people in that really make me uneasy about this program.
What You Get With This Program
You will get what Richard has spent 20 years developing…. a legal winning lottery method. This method does not guarantee that you will win by any means. It is just a method that he has come up with through trial and error over the years that is designed to increase your chances of winning.
How Much Does It Cost?
The cost of this program is $49/mo. It is a recurring payment that you will have to pay every month that you are a member. On top of this initial charge there are upsells that will be pushed on you once inside.
The platform it is sold on is ClickBank. For those that don't know ClickBank is a digital product marketplace and it is trustworthy. They have a 60 day money-back return policy that you can trust so if you don't like what you buy you are in luck.
Will This Program Actually Increase Your Chances of Winning?
The answer is no… it won't.
There is a great article on Business Insider that explains all of this. One reporter for this media outlet investigated the methods he sells. The reporter had a statistics professor look at what Richard claims increase your chances and the the professor shot down the claims.
The methods promoted in this Lottery Winner University don't make any sense. The bottom line is that you cannot cheat the lottery. Maybe some of the smaller lotteries you can… I don't know. But as for the big lotteries out there that are completely random.. there is no way to cheat them.
Does It Make Sense To Buy It?
According to a University statistics professor, who seems much more trustworthy than Richard, no it doesn't make any sense to buy this program.
The bottom line is that there is not way to cheat the lottery when it is random. It just makes no sense.
Conclusion on Lottery Winner University – Scam or Not?
I don't know if I'd consider this to be a scam because it seems that Richard really believes in it. However, I'm going to side with the statistics professor on this one and agree that this isn't going to help you win the lottery. It just doesn't make any sense to me.
If you have your own experience with this program I would love to hear your thoughts on it. You can just leave them below in the comment section. Also if you have have any questions or comments leave them down there as well.
Also, before you leave, since you are obviously interested in making money I would suggest taking a look at how I make money online. It can be done anytime, any place. I make a living online and enjoy it. You can read about it via the link below. I'll explain what I do, how it works and how others can get started doing the same.