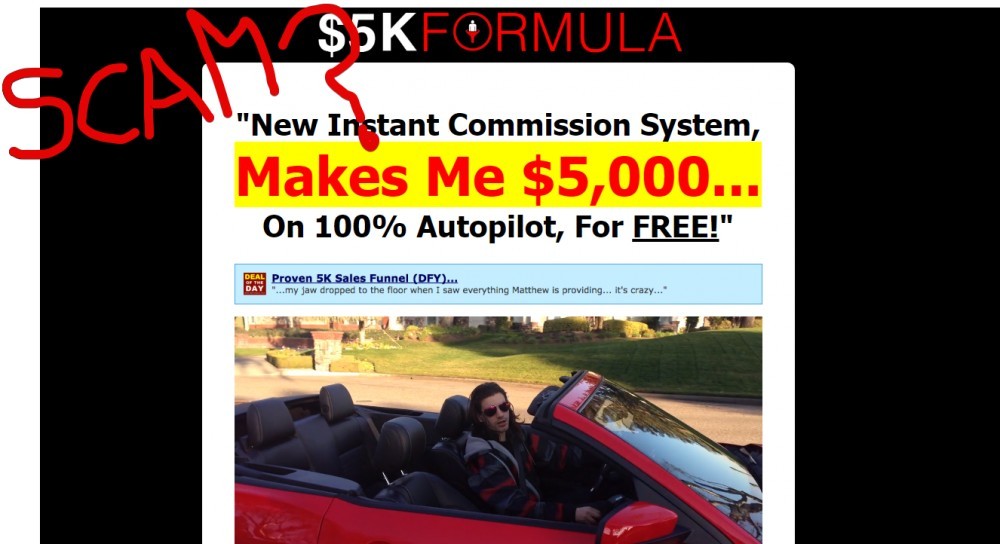 The 5K Formula is a system that was created by Matthew Neer that supposedly can make you $5000 on autopilot… For free. But can it really? I hear about systems like this all the time that are supposed to do amazing things, such as make you quick and easy money, but it seems that many more times than not they turn out to be complete busts. Is this the real deal or is the 5K Formula a scam that you should just avoid?
In this review I'll be going over some important things that you should know about this system. No, it is not nearly as amazing as it is said to be and I'll explain why I am saying this. Can you make money? Yes, you can… But there are some definite downsides to it.
5K Formula System Review
The system was created by Matthew Neer and he tells you that he makes $5000 on autopilot what that… For free, as I already mentioned. He doesn't tell you what timeframe he makes this money in, but he does show you some screenshots to show him making thousands of dollars per day… Which I'm guessing is supposedly coming in from this one system.
The system is said to be "done for you" and he refers to it as a digital ATM. What you are told is that all you have to do is set up the system and it then runs on autopilot for months. Sounds incredible doesn't it? But then again, doesn't that sound a bit too good to be true? It does to me… especially with knowing that Matthew often puts out products that are over-hyped and not nearly as good as he claims, such as Viral Cash App and Viral Money Method.
I'm guessing that you probably do think that this system sounds too good to be true. You are reading my review right now for additional information so you're probably skeptical of the whole thing, as you should be. Whenever things sound too good to be true they usually are… At least that is what I have learned from my experience in the online world and having reviewed hundreds of scams.
But anyways… Matthew says that he is letting people in on his system because it is mutually beneficial. He says that when you make money he also makes money and this leads to him really trying to help everyone make money because he gets a kickback.
How It Works
How it works is you get a copy of the system. It is one of the systems that you buy into looking to make money online and then you make money online by getting other people to buy into the same exact system.
The system consists of a sales funnel that is a series of up-sells and down-sells. You will make 100% commissions from the front end product, which is 5K Formula, and then you will make 50% commissions from all of the up-sells and down-sells afterward.
As you can see below, there are 8 different up-sells/down-sells after the initial product, all of which vary in price. It is the final up-cell that is going to be the biggest earner. This one is for $495…
You Are Sending People Into The Same Funnel You Just Got Sucked Into
The same funnel that you just got sucked into is what you are going to be sending other people into. Do you remember the sales page you landed on for 5K Formula? You know… The one where Matthew drives to the bank to take out $5000 in an attempt to prove that the system really works.
You will send them to the beginning of the sales funnel and then the rest is taking care of for you. They are then sent through the series of up-sells/down-sells that I just went over above. So if they buy and you will get 100% of that initial sale. At the time of me writing this review the price is $19.97, however I have seen this sold for around $9 in the past, so the price varies. And then of course after the initial sale you will get 50% of the other sales.
What you have to realize is that the same thing is happening to you and everyone else. When you buy into the system you are also sent through a series of up-sells/down-sells… The same thing I just went over above. Just as you are promoting the system in trying to make money off of other people, someone promoted it to you and sent you to the sales page.
Way More Difficult Than It Seems
Okay… So the sales funnel is in place, the products are in place… All you have to do is drive traffic to the offer. Sounds pretty easy doesn't it?
It sounds easy but the fact of the matter is things are never as easy as they sound, at least not in many cases.
How are you going to drive traffic to this offer? He tells you that you are provided with different traffic sources in basically all you have to do is select what you want and that is that. One of the traffic sources your commands is a paid traffic form that requires a monthly subscription. You are also provided with classified ad postings so that you can make use of free advertising methods as well.
He gives you access to premade squeeze pages, banner ads, emails, and some other resources. This definitely makes it easier on you one promoting the system, but it is still going to be a much more difficult task than he leads you to believe.
If you have experience with online marketing or have a means to drive massive amounts of traffic, such as a large social media following or a popular website, then this is something you would no doubt make money with. But for most people looking into this, who are more than likely beginners, you will find out very fast that things are harder than they seem.
Not a Very Reliable Business Model
The system makes it very easy for you. You are provided with hosting and everything. This is great and all… But it makes you pretty much totally reliant on the system itself. The problem here is that if the system disappears, so does your income… And I see systems like this, and go all the time.
The easy way is and always the best way, and in this case it definitely is not the best way. You do not actually learn anything. You are just given the funnel system and provided with pre-made ads to run basically. I mean sure, you will learn a little bit about online marketing which you will be able to apply to other business ventures, but you really aren't learning much at all.
And as I said, I see systems like this, and go all the time. It is a risky business to get involved with because you never know when these types of systems are going to vanish from the face of the earth. In fact, on the sales page a even gives you an "urgent warning" and says that "this page could vanish without notice".
Now this is just a sneaky little marketing tactic that is designed to get people to buy into the system as fast as possible. It is a form of false scarcity that makes you believe you better buy in right now before this offer is gone. But what if there is some truth to this warning? In my opinion there is.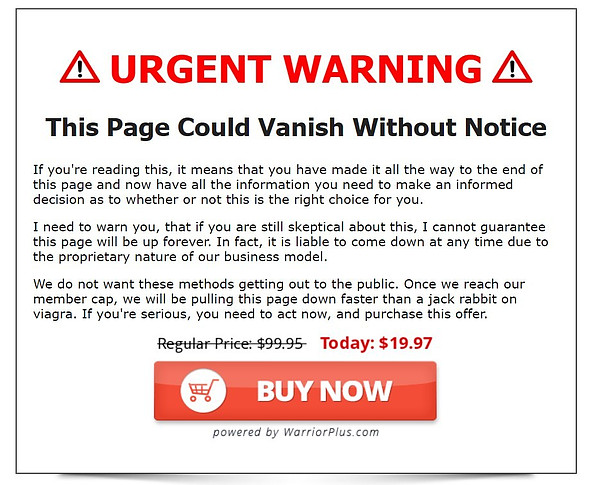 Final Thoughts – Thumbs Down
Overall this is not a system that I recommend. Not only do I not really care for "done for you" systems like this because they don't actually teach you much and provide little value, but I can also guarantee you that a system like this is going to be much more difficult to sell than it may seem. It may seem like a piece of cake but the reality is going to be much different. Just think about it… You are reading my review right now because you are hesitant to buy into it and suspicious of the whole thing. A lot of people are going to be suspicious of a system like this because it sounds way too good to be true.
Also, something that I didn't mention is that there is training that is apparently locked within the system and you actually have to make a certain number of sales before you can unlock this more advanced training.
Anyways… I hope you enjoyed my review and found it helpful. If you have your own review for 5K Formula I would love to hear it. What you think about it? Leave your comments below.
Recommendation for Beginners
If you are a beginner looking to make money online then I would suggest taking a look at this program. This is where I got started back in 2015 when I first started looking for ways to make money online. And I'm now making a living working online, which goes to show that it does work. The nice thing is that this program teaches you how to actually create your own sustainable online business rather than be totally reliant on some "done for you" system like 5K Formula. But anyways… You can click the button below to learn more;