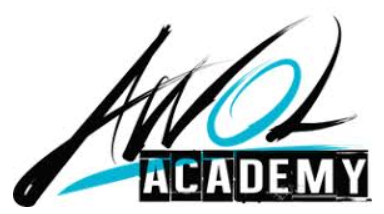 Ok, so in this short post I've compiled a bunch of AWOL Academy complaints. In my review of this program I've been getting a lot of people commenting and complaining about various things so I decided to scavenger the internet and put together a bunch of complaints from various sources from members of this program who bought in with high hopes but became disappointed and discouraged.
If you are looking into AWOL Academy and thinking about possibly buying into it then you are going to want to read these over first.
But before I get into all of this I want to give a brief overview of what AWOL Academy is for those that may be confused or misinformed.
AWOL Academy Overview
AWOL Academy is a training program that teaches people how to build their own online businesses and make money via affiliate marketing. Affiliate marketing is when you promote products online for different companies and earn commissions when you make sales. This is a proven business model that is great for beginners and actually works. However, just because the business model works doesn't mean that every training program out there is going to get you on the right path.
In affiliate marketing you can literally promote just about any product you want and make money with it. For example you could promote anything from baby strollers to dog toys. However… the main focus of AWOL Academy is on promoting AWOL Academy itself.
AWOL Academy has various levels of membership products ranging from $99 up to over $10,000 and when you promote these products by getting others to join, you earn commissions. These products get very expensive which is why AWOL Academy is considered a high-ticket program.
So while you could potentially use the training and tools provided at AWOL to promote products in any area of interest, the focus and what they really push you to do is promote AWOL. Basically its one of those programs that people buy into to make money online and then they make money online by getting others to buy in, similar to Aspire, 16 Steps to Six Figures, Jeff's 6 Figure Business System, MOBE and others.
I'm not going to give a speech on morality and whether or not I think this is wrong, but it is what it is. The people that are promoting AWOL claiming they are making tons of money are more than likely promoting AWOL and making money this way.
The training seems to be good, the tools provided are good, there is a lot of "good" that is provided but a lot of people buy in without knowing what they are getting themselves into. Its mostly about selling AWOL memberships and if you buy in at the lowest $99 price your "coach" will try to upsell you on the higher priced ones… which is what you will be pushed to do once you start referring other members in.
But anyways…. let me get on to the complaints from other members who have tired out AWOL. Enjoy…
AWOL Academy Complaints
Misleading Sales Pitch
Most of the complaints that you will find on AWOL Academy come from people who were mislead before buying in. Many of the people promoting this program are doing so to make money of course. And when you have a system that works like this there are always going to be some people that promote it in rather sneaky/tricky ways just to get people to buy in.
On top of this the sales pitch by Keala Kanae, one of the creators, is also somewhat overly salesy and misleading.
Some of the comment's I've found on this matter come from open review sites like repdigger.com and bbb.org…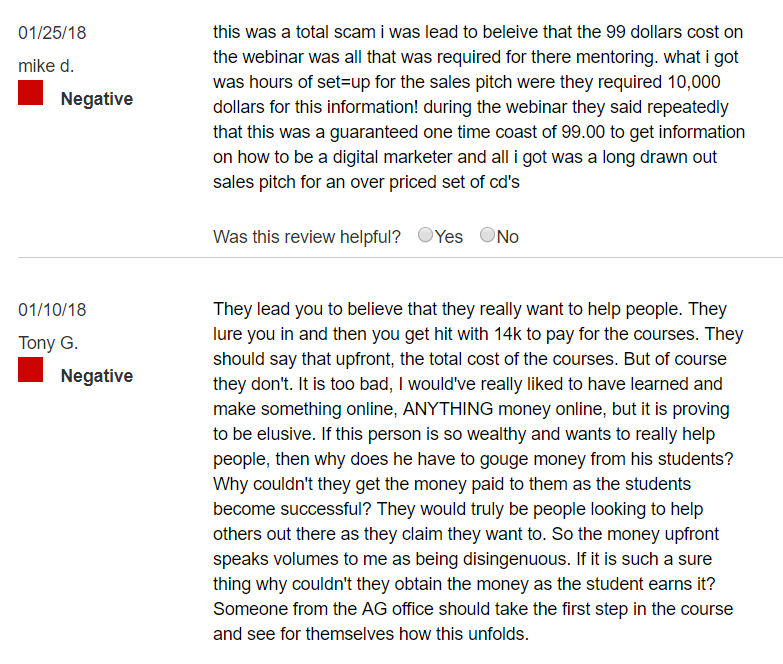 Upsells Galore
And going along with the misleading sales tactics that are all too often used to promote AWOL Academy, there are a lot of people complaining about the upsells, mostly because they feel forced into buying them if they want to succeed.
As you can see with the first complaint that I took a screenshot of below, the "coach" that they give you inside is basically like a an upsell guy, as I mentioned in the beginning…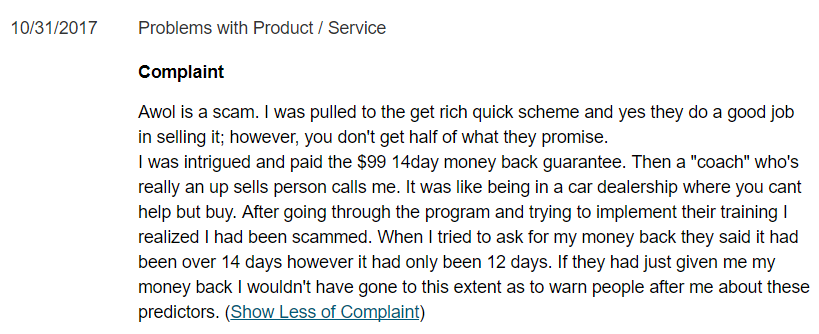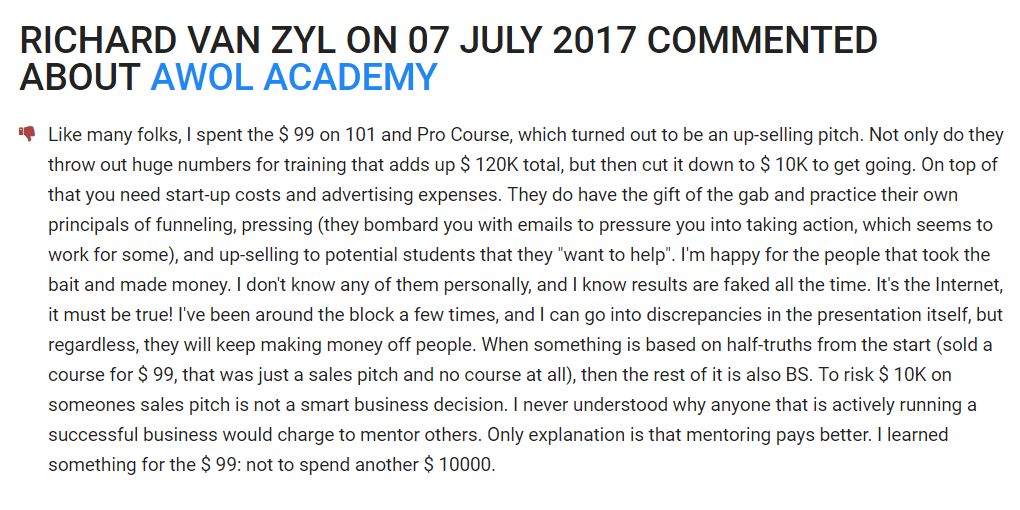 And here's a complaint I found about all of this on another site where people can independently review different things called SiteJabber…
Refund Problems
As you can probably imagine there are plenty of refund problems. In the online marketing business this is a common occurrence. This program was carefully designed to get as may buyers as possible so of course they aren't going to want to refund money.
They do have a 14 day moneyback guaranteed and I think an even longer guarantee for some of higher-ticket products, but they seem to make it pretty darn hard to get this guarantee to go into effect.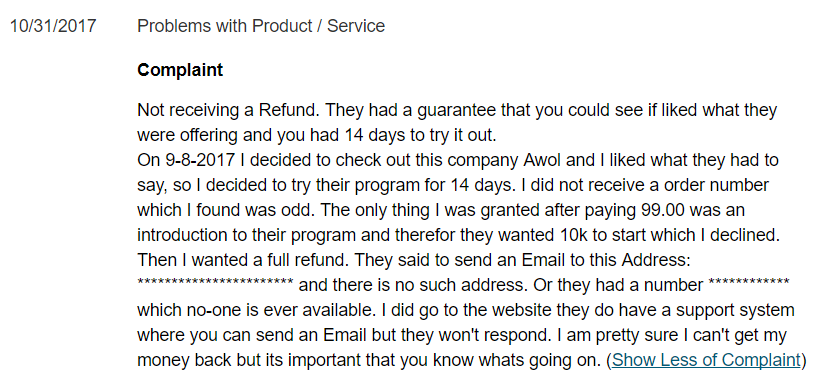 The Big Problem Here
The main problem here with all of this is that people don't know what they are getting themselves into… and its not their fault. Its the fault of the people using misleading sales tactics to promote this programs and its the fault of the creators of AWOL Academy themselves for not giving the cold hard truth about it all.
If people knew beforehand that they would have to purchase more expensive products for any good chance of actually making money then I would have no problem with this. But people don't know this.
The truth is this: If you buy the lowest priced $99 Pro Academy you more than likely are going to make little to no money with it…. unless you already have experience in this. You are either going to have to buy into the upsells or find training elsewhere. There is no way around it.
Making money online is not a walk in the park. I know in the webinar Keala Kanae goes around showing off his mansion and all the money he makes. He makes things seem easy but I can guarantee that it took him a heck of a lot more than a $99 training course and a couple weeks of time to get to that level. And besides, you don't want to be on his level. He is pretty much ripping people off.
AWOL Academy vs Other Options
I know it may seem like I'm trying to rip on AWOL Academy, and maybe I am a little, but my main focus here is getting out the truth. There are a lot of complaints on this program and for good reason. The reason is because people feel ripped off, mostly because of the misleading information being used to promote AWOL as I've been saying.
But AWOL Academy itself isn't as bad as this post might make it seem. They do provide good training, tools, and of course you can make a heck of a lot of money selling AWOL Academy products to other people. That said, if you do decide to join and promote AWOL, as you are pushed to do, please don't mislead people to get them to join.
Another Option
Wealthy Affiliate is another option that I would suggest looking into if you are (or were) interested in AWOL Academy. You can read my review of Wealthy Affiliate here.
Wealthy Affiliate teaches the same business model as AWOL, which is affiliate marketing. However, they have no upsells and are much much MUCH more affordable. They won't throw any crazy sales pitches at you and overall I would call them more legitimate for sure.
Also, I would say the step by step training at Wealthy Affiliate is more complete and the community of other online business men/women that you get access to communicate with is something that is a pretty big deal. I actually started making money back in 2015 here and am still am member.
Review of Wealthy Affiliate Here
In the comment section below you can leave your complaint if you have any. Also leave any comments or questions down there and I'll get back to you 🙂