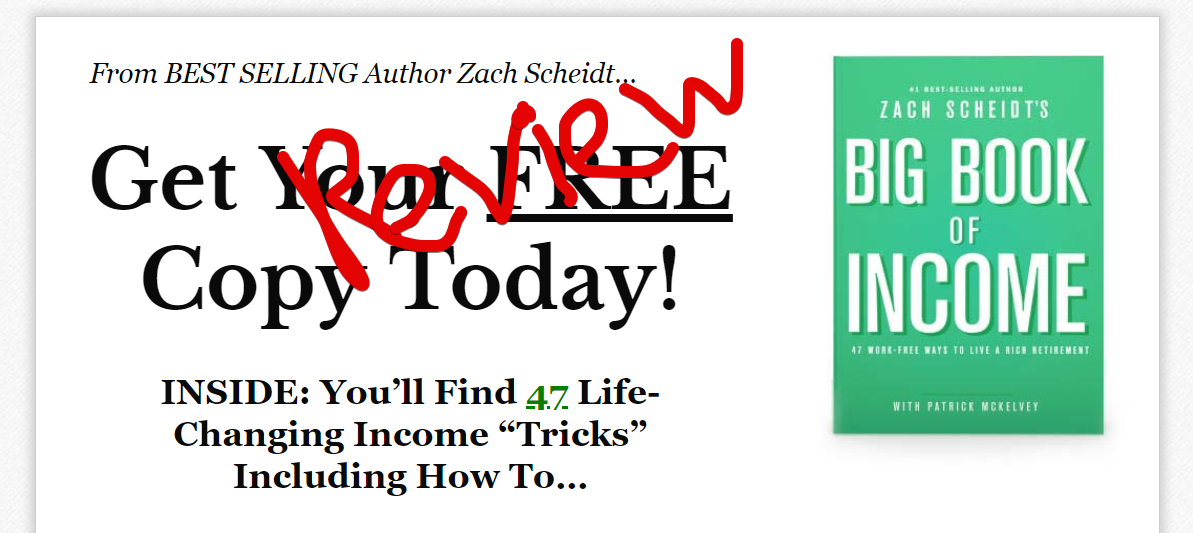 The Big Book of Income is an investment manual written by a guy name Zach Scheidt. This big book he claims to give you the secrets to earning extra income in easy and effective ways. But is this really true? Is all the hype surrounding this product and the over-the-top sales pitch that you probably heard backed up by an amazing product that works as he says it does? Or is this just another hollow sales pitch for a product that is less than what it claims to be?
Well… In this review I'm going to be giving you my take on it. I am not promoting this product nor am I affiliated with the publisher of it in any way, so I'll just be giving my honest opinion on what I think about it as well as taking into consideration what others think about it as well.
Big Book of Income Review
The Big Book of Income is a book written by Zach Scheidt that supposedly gives you 47 income "secrets" that will help you earn easy money. This book is more focused on older generations, particularly those looking to retire, or who have already retired and are looking for extra income.
But don't fall for the sales pitch that the marketers behind this book throw at you. The sales pitch is very misleading and basically has you thinking that you are really hitting the jackpot. I mean the book is free and all you have to do is pay $4.95 for shipping… It wouldn't go for this offer?
After all it is advertised as a way to "Squeeze as much as an extra $6,840 per year out of your Social Security benefits". And also supposedly provides you with information on "How to legally beat the IRS and claim half of a year's salary from the Federal Government when you retire"
Sounds incredible right? It even claims to teach you "How To Make $35 An Hour Walking On The Beach". Now seriously… Who wouldn't want this book. Of course I want to earn $35 per hour walking on the beach. It would ever even wanted job if you can earn this kind of money in paradise?
Well unfortunately as I said, the sales pitch is way over the top for this product. It is very misleading and way over-hyped. While this Big Book of Income does seem to provide some good investment information, it is not the miracle book that it may seem to be.
A Look at The Author… Is He Qualified To Write Such a Book?
Zach Scheidt is the author of this book, as mentioned. But is this guy even qualified to provide you information for making sound investments?
I looked into him and from my perspective he does seem to be qualified. He has been a financial newsletter editor for Agora Financial for a while now and before that he worked as a market analyst and managed a multimillion dollar hedge fund. You are welcome to look into him for yourself, but from my opinion he seems to be very experienced and have a lot of good information to advise people with.
While doing research on him, I also saw that he has a few e-books available on Amazon which had pretty decent reviews.
Beware… This Book May Cost You!
Okay, so the book is free right?… And all you have to do is pay for shipping right? Well this is true, but there is more to the story.
When you choose to grab your free copy of this book and pay to have them ship it to you, you are not only signing up for getting the book. You also get bonuses along with it… In they could cost you.
Below is a screenshot that I took on the sales page of everything you get when you sign up for this book. What I really want you to focus on here is the very last checkmark… The 30 day trial to Zach Scheidt's monthly income newsletter called "Lifetime Income Report"…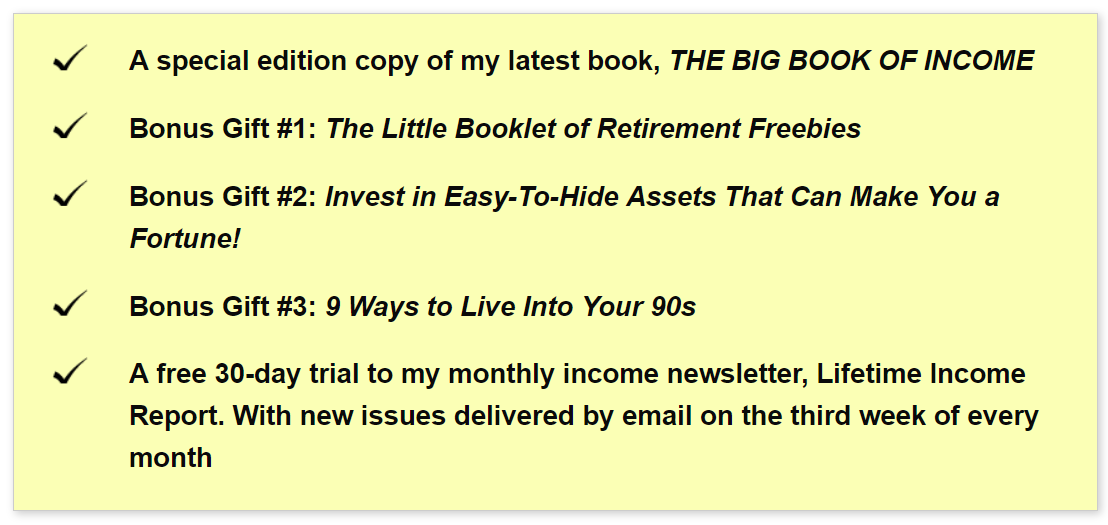 You see what you may not have caught is that you will be signed up for this newsletter. It's an easy thing to mess because I think only one time in the sales page do they tell you that a subscription for this newsletter does cost you. In the section above they call it a free 30 day trial but don't mention anything about the price after those 30 days. As you can see below from another screenshot I took, they will bill you $99 for a one-year subscription after the 30 day trial is over.

Let me reiterate this. You automatically get signed up for this free trial offer for the "Lifetime Income Report" newsletter and if you do not cancel within 30 days you will be charged $99.
What Other People Are Saying
I wasn't really able to find anything in the way of reviews for Big Book of Income. I found a few other reviews that basically warn people about what they are really getting into, as I'm doing in this review, but no real customer reviews about the Big Book of Income.
However, since Big Book of Income is basically just part of a sales funnel to get you to buy into the Lifetime Income Report newsletter, I will tell you that there are a fair number of reviews out there on the newsletter. I actually already did my own review of Lifetime Income Report that you can read, but I'll give you a basic overview of what people are saying.
For the most part there are a lot of complaints from the misleading marketing tactics used, which led people to buy in without really knowing what they were getting into. The newsletter focuses on stock market investing with the goal of investing in companies that will yield high dividends.
There are some good reviews that I read over but no one claims it to be a miracle investment manual like it basically claims to be. The investment advice is good and I'll leave it at that. Most of the many complaints just had to do with the misleading sales pitch and then there were some from people claiming they were overcharged, had a hard time canceling their subscription and what not.
Agora Financial, which is the company that publishes this newsletter, is well known for pulling stunts like this. I have reviewed a number of their publishings including "Freedom Checks", Lifetime Income Report of course, and True Momentum. They all have some of the most ridiculous and misleading sales pitches I've ever heard in my life and its no wonder people give this Agora Financial company bad ratings.
If you look at Agora Financial on the Better Business Bureau's website you will see that they are not accredited but have high number of negative reviews and complaints…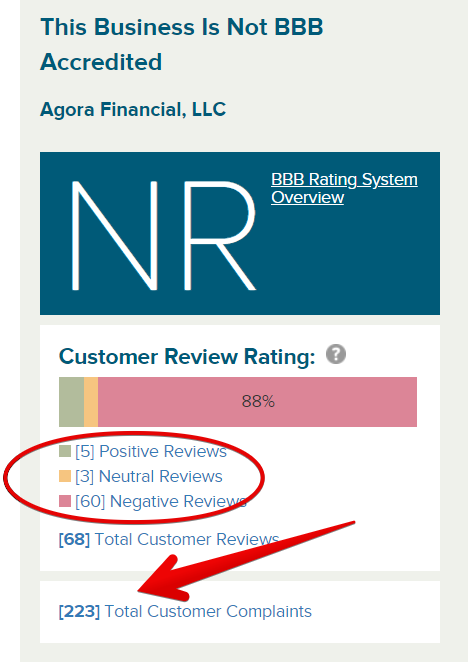 Conclusion on The Big Book of Income – Should You Get It?
Ok… so let me summarize everything here: The Big Book of Income is a free book that costs $4.95 to order because you have to pay for shipping. When you pay for it you will automatically get subscribed to Lifetime Income Report for a 30 day free trial, which you will automatically be charged $99 for after the 30 days unless you cancel. Basically the Big Book of Income is just the bait at the end of a hook trying to reel you in, which doesn't mean that its not any good by the way.
So if you do pay for the Big Book of Income to ship to you make sure you know what you are getting into.
Leave any comments or questions you might have below and I'll get back to you soon 🙂 I hope you enjoyed.