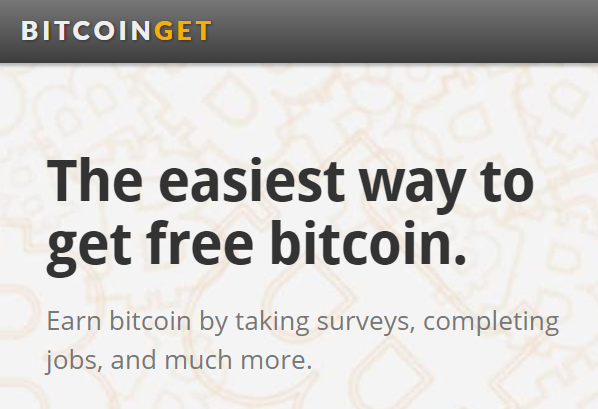 BitcoinGet claims to pay bitcoins for completing surveys, offers, simple jobs and more. But can you really trust this place and the claims they make? Or should you avoid it like the plague?
In this BitcoinGet review I'll be going over a few things that you should know. I did a little investigating on this place and I'll be going over how it works, how much you can make and more.
BitcoinGet Review
If you are familiar with paid survey sites like Swagbucks, PaidViewPoint, etc, then you already know what BitcoinGet is all about. Its pretty much your average paid survey site just instead of paying members with gift cards or through PayPal, they pay in bitcoins. So all you need to do is give them your bitcoin wallet address and getting paid is simple.
They offer 5 different ways that you can earn bitcoin, all of which are simple and I'll go over them below…
The 5 Ways to Earn Bitcoin
Take Surveys
They host surveys that are provided by Peanut labs and Tap Surveys, which are two well known market research companies that provide surveys for a lot of different surveys sites.
You can earn up to 300 "bits" per survey. I'll go over what a bit is later.
Complete Jobs
You can also complete short simple jobs provided by CrowdFlower. These include simple things like transcribing audio, doing a big of research on a certain topic to find something out, verify ingredients in food items, and all sorts of things.
From what I have seen you usually get paid around 0.40 – 5 bits per job that you complete.
 Complete Offers
There are offers provided by Ascend Media and Persona.ly that you can complete for bitcoin. These usually include signing up for some sort of free trial, newsletter or something like that. Some examples include signing up for a free trial of Hulu, Gamefly, signing up to get your credit checked, etc.
The amount you get paid here varies a lot because the offers vary a lot. You can get paid anywhere from 1 – 400+ bits.
Shop & Earn
You can also earn cashback from shopping at places like Walmart, Macy's, Overstock, Expedia, and more. BitcoinGet is partnered with CoinRebates that pays to do this. The amount you earn is based on a small percentage of your purchase. There are lots of legit cashback places like Ibotta, Extrabux, and TopCashBack if you are more interested in this.
I guess since you are earning bitcoin instead of cash you should call it bitcoinback shopping instead though.
Refer People
The last way for you to earn bitcoin is by referring other people to join this site. You will be able to earn 10% of what they earn. So if you are able to refer mass amounts of people here this could be beneficial.
How Much Can You Make?
At the time I'm writing this 1,000 bits = .001 bitcoin. And this isn't that much at all right now. But as the price of bitcoin continues to go up this will obviously grow more in more in value. So you might think that you will be able to make more money taking surveys, completing offers, etc in the future as the price goes up.
But don't count on this. Believe me… they will adjust the amount you get paid so that you will never be making much. That is just the way paid survey sites like this work. They can't afford to pay you much and if you do the math you almost always are making much less than minimum wage taking the time to make money on these sites.
Why Use BitcoinGet Instead of Other Paid Survey Sites?
The only good reason I see to use this site instead of the more popular paid survey sites like Swagbucks and Inbox Dollars is because they pay in bitcoin of course. And with bitcoin on the rise the little amount that they do pay you could be worth a lot more one day.
Other than this there isn't much of a point of using this site because sites like Swagbucks are much bigger and offer more ways to earn, more surveys, and pretty much more of everything.
Conclusion on BitcoinGet – Good Opportunity?
Overall I like what BitcoinGet brings to the table. Although you won't make much at all when you are actually completing the tasks, taking surveys, etc… that little bit will grow in value as bitcoin grows. So for this reason it is one of the better paid survey sites out there in my opinion.
However, its definitely not going to make you rich. So be realistic with the potential this has.
If you are looking for a better opportunity to make money online on your own schedule then I highly suggest checking out this program. Not only can you make money on your own time with this but you can make a lot. I actually make a living online with it.
==> Program I'm Talking About Here
Questions, concerns? Leave them below in the comment section and I'll get back to you soon ?