BitcoinReward claims to be an easy way to earn bitcoin online… but of course we have all heard claims like this before and they often turn out to be untrue. But is this place legit….. or is BitcoinReward a scam that is just going to be a waste of your time?
If you are suspicious of this place then you are going to want to read the rest of my review. I'll be going over a few things that everyone should know beforehand.
BitcoinReward Review
BitcoinReward (BitcoinReward.net) is a rewards site that pays in bitcoin instead of PayPal or with gift cards like most sites of this kind due. People want bitcoin nowadays and this is what makes this site different, which I like. Other than the fact that they pay this way they are very similar to your rewards sites like Swagbucks. You can earn bitcoin by completing surveys, watching videos, playing games, and referring other people to join.
Like any other site of this kind, I'm guessing the purpose of BitcoinReward is to do market research and collect data which can then be sold to companies for improving products/services, etc.
The reason I say I'm guessing this is the case is because I don't know for sure because they don't tell you anything about them. There is no About Us page or anything like that on the site.
How It Works
To sign up all you have to do is enter your bitcoin wallet address. Of course this is so that you can get paid. You can enter an email if you choose but this is optional.
Note: If you do not have a bitcoin wallet I suggest signing up for CoinBase, they provide a safe online wallet and I trust them.
After entering your bitcoin wallet address you will have access to the site and the ability to make some bitcoin.
The surveys they offered me weren't actually from BitcoinRewards, they were from SaySo Rewards. Basically whats going on here is that BitcoinRewards hosts SaySo Reward's surveys on their site…. as you can see below…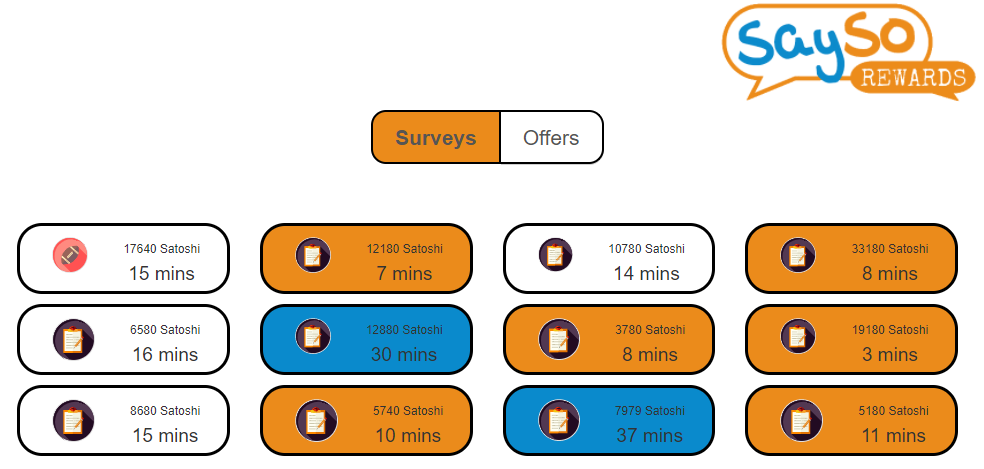 They also host offers that SaySo Rewards provides and here you can take a look at some of the ones that are available to me right now. All of them want me to sign up for something and will pay me for doing so…

How Much Can You Make?
They tell you that you will be able to earn 0.0025 bitcoin per offer that you complete, whether its a survey you complete, an "offer", or whatever.
From the screeshots I took above you can see that the surveys take 5-20 minutes generally and pay generally around 5,000 – 15,000 Satoshi. There is one survey above that pays 33k Satoshi but this is not the norm. And when it comes to the offers they pay around the same amount.
So of course the question you need to ask is how the heck much is a Satoshi worth. Well 1 Bitcoin = 100,000,000 Satoshi. So if you have an offer that pays 15,000 Satoshi you are making 0.00015 bitcoin.
They claim to pay as much as 0.0025 bitcoin per offer but I have seen nothing that even comes close to this amount. I don't know what they are talking about here.
Referring Friends
You will also be able to earn commissions off of what people you refer to sign up here earn. You will earn 50% of their earnings for life, which as I just went over probably won't be much of anything.
They will provide you with your own referral link that you can use to get people to sign up.
Complaints
Low Pay
The amount you will make compared to the time you put into it doesn't seem right. This happens to be the norm for paid survey sites like this and this is expected. You will earn bitcoin but once you do the math you will find that the monetary value you are receiving isn't much.
Slow Pay
There are a number of complaints on it taking forever to get paid. On the website they state that it can take up to 3 weeks and they say that this is because they are protecting against fraud. I think this is a ridiculously long time to wait but I guess they have to do what they have to do.
Conclusion on BitcoinReward – Scam?
I don't see BitcoinReward as a scam. There are people claiming they are but most seem to be "prematurely" complaining because they aren't getting paid fast enough, when as I said, they say it can take up to 3 weeks.
Overall this site is pretty basic and there is not much too it. It is a small operation compared to sites like SwagBucks and Inbox Dollars that offer tons of surveys and offers. But the upside is that it pays in bitcoins!
I would say sign up if you wish to but just don't think that you will make much. With any site like this you are looking at making extremely low money for the time put in.
If you are looking for a better opportunity to make money online on your own schedule then I highly suggest checking out this program. Not only can you make money on your own time with this but you can make a lot. I actually make a living online with it.
==> Program I'm Talking About Here
Questions, concerns? Leave them below in the comment section and I'll get back to you soon ?