Bonus Bitcoin claims to be a free bitcoin faucet where there is 5,000 Satoshi's given away every 15 minutes. But is this really true? It sounds a bit like it might be a too good to be true so I took a deeper look into it all to see how this place operates. Is Bonus Bitcoin a scam…. is it legit… is it worth your time?? These are all questions I'll be answering in this review.
With the new-gained popularity of cryptocurrencies there are a lot of scams out there that need to be avoided. This is one of the reasons I'm very suspicious of anything that even slightly seems too good to be true. Earning free bitcoin doesn't exactly  make sense. They have to be making money from somewhere and I'll be going over how it all works.
Bonus Bitcoin Review
Bonus Bitcoin (found at bitcoinbonus.co) is a site that gives away free bitcoin as I said. They call the site a "bitcoin faucet". When I first came across the site I thought for sure it was just another crypto scam like the many out there, including recent scams like Bitcoin Bonanaza & BTCMiner.
After reviewing the site and and seeing how it all works I've found out that it is actually legitimate but its probably not worth your time. You literally will make next to nothing with this site and you will see why.
How Bonus Bitcoin Works
When I'm determining if an opportunity is legitimate or not I always look at the money trail and ask myself if it makes any sense. Ok I get that they pay you in bitcoin but where do they get the money to do so in the first place? If something doesn't make sense then its more than likely a scam.
With Bonus Bitcoin they make their money via advertisments. In order to use their site you have to make sure your adblockers are off. When I first landed on the site I have mine on and wasn't seeing any ads so things seemed strange. Then I turned it off and sure enough there were ads everywhere…
So they get paid by the advertisers and then they give back some of that money through their free bitcoin faucet. Everything makes sense here.
They also have a referral program where you can earn 50% of what your referrals earn. This is to help drive more traffic to the site because of course the more traffic they get the more they make in ad revenue.
But can you make much?
How Much Can You Make?
The amount that you can make per claim will vary depending on how much Bonus Bitcoin is making in ad revenue. But all in all its not much at all.
As you can see here I made 23 satoshi's from a single claim…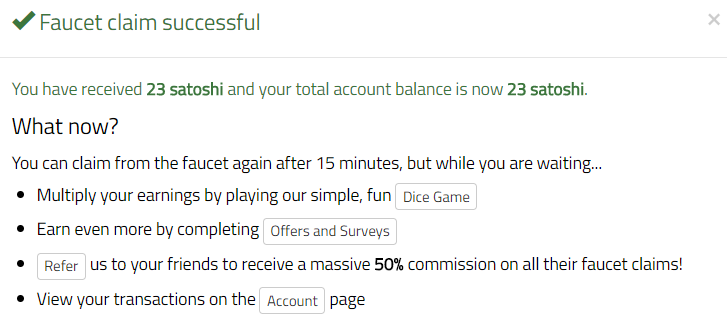 After each claim you have to wait 15 minutes to be able to make another.
The amount of bitcoin given out will depend on the market value of bitcoin. In the example above my 23 satoshi's equal about $0.002 right now. This is probably different when you are reading this but no matter how many satoshi's you end up making their value will be right around what it is here… which is much less than a cent.
How to Make a Claim
Making a claim and earning free bitcoin is very simple. There is one of those things you have to check to confirm you are not a robot and then you just click a button to claim it. That is it.
After that your bitcoin will be deposited into your CoinPot balance.
After you get up to a 10,000 satoshi balance you will be able to cash out and send your bitcoin to a wallet of your choice where you can then do with it as you please.
Conclusion on BonusBitcoin.co – Is It Worth Your Time?
Whether or not this place is worth your time is ultimately a question that you need to answer on your own. Personally I do not think this is worth my time and I won't be spending any more time claiming small amounts of bitcoin. There are just better things I can be doing.
With each time you claim your bitcoin and earn it free from the faucet you are earning less than 1 cent. I really don't know how anyone can think that this is worth their time. I think its ridiculous and just a very poor choice of time spent.
But anyways… do what you want to do.
On another note, I would suggest checking out my guide on how I make money online. In this guide I go over how I've been making money online since 2015 and how others can too. I think you might be interested in it. You can go through it Here.
Be sure to leave any comments and questions below and I'll get back to you soon 🙂