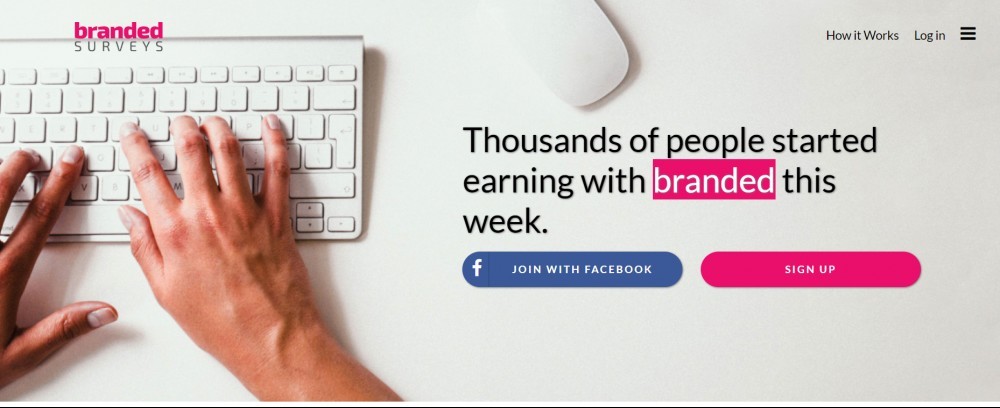 Branded Surveys is one of many paid survey sites out there that will pay you to share your opinion via short online surveys. It sounds good in theory, but is this place really worth your time? Or is Branded Surveys a scam in one way or another that is just going to leave you frustrated and disappointed?
There are plenty of survey sites like this on the web so by no means are you limited in options. It's not like this is one of the few opportunities like this that exists. But anyway… In this review I will be going over how the site works, how much money you can realistically make per survey, complaints and more. After reading this you will have a better understanding of what this place is all about and whether or not it is worth your time.
Branded Surveys Review
Branded Surveys is one of the newer paid survey sites out there. However, it is actually just a rebranded version of MintVine, which is a survey site I have reviewed in the past. Much of the site is the same, but there are differences, some of which members are complaining about and saying has led the survey site down hill.
The site is free to join and is available in the US, UK and Canada.
If you are unfamiliar with how paid survey sites work then I'll give you a brief overview: So market research is a big deal nowadays. Big companies are willing to pay big money for quality market research so that they know what consumers are thinking. They want the opinions of consumers so that they can better market their products and services. So what survey sites like Branded Surveys do is go out and collect people's opinions via these paid surveys. And of course they pay you a little bit as incentive to complete the surveys in the first place.
SurveySay, MySurvey, Opinion Outpost, Swagbucks, Univox… they all do this.
How It All Works
Of course the first thing you will have to do is sign up, which is free to do. After that you are going to have to fill out your profile. This will include you entering information about your employment status, income level, education level, hobbies, and so on. It is very important that you fill out your profile as accurately as possible because this demographic information will be used to match you up with surveys that are a good fit for you.
After filling out your profile you will start to get survey offers available for you to complete. Completing surveys are pretty simple and straightforward. You simply answer the questions that are provided. A tip will survey will take you around 10 to 15 minutes to complete. After completing your surveys there is somewhat of a twist. At Branded Surveys you are not rewarded with points right away. Instead the points are held as "pending" and await the approval of the market research clients.
In addition to taking surveys you will also have access to a daily poll which only takes a couple seconds to complete. You will be able to take the daily poll on a daily basis, but no more than that.
How Well Do the Surveys Pay?
You will be able to earn up to 300 points for taking a survey, as they say, but this is not all that likely. Many surveys will pay a lot less than this and then there are also many surveys you will end up getting disqualified from.
If you do end up getting a nice 300 point survey then you can pocket three dollars. Every 100 points is equal to one dollar so a survey like this can be worth your time, but like I said… You can't count on these.
And as far as the daily poll goes, you will earn very few points with this. When you start out you will earn around five points for completing the poll, and there is some room to earn more by moving up the different ranks (Bronze, Silver, and Gold Badge Holder), but you still won't earn much of anything.
This opportunity is best looked at as a way to earn a small amount of money on the side. It is certainly not a place you will be making anything significant at, which is the case for pretty much every typical paid survey website out there.
Rewards
One positive thing I can say about this survey site is that they offer good rewards. You have plenty of choices to choose from when it comes to redeeming your points. If you are looking for cash that you can spend anywhere then you can choose PayPal and Dwolla, or choose between a bunch of different gift cards.
There is a 1000 point minimum before you can cash out.
Complaints
After scouring the Internet for common complaints from members of Branded Surveys, here are some of the top ones that you should be aware of. Many of them I found on the popular survey review site, Survey Police, where anyone can go to leave complaints or reviews.
Disqualification
This is a complaint that you will find with every single paid survey website out there. There is no way around it… You are going to get disqualified from some surveys. This just happens and comes with the territory. Some of the surveys that they match you up with and send to you, which they think you are fully qualified for, you will find you are not.
The good thing is that you do get a handful of points when you are disqualified, although not much, but the bad thing is that you will sometimes complete an entire survey before finding out that you are disqualified. So this can be a massive waste of time.
As a tip you should always complete the additional demographic questions after being disqualified if you are asked. These will help better fill out your profile so that there is less chance of this happening again.
"Over Quota" 
Sometimes you will begin to take a survey only to find that you cannot complete it due to it being "over quota". This is yet another complaint that you will find for many survey sites out there. It can be very frustrating and lead to you wasting your time.
Takes Forever to Get Paid
I have read more than one complaint from people claiming that it takes forever to get paid, sometimes up to around two weeks. Now I can see this being excusable if they were sending checks in the mail, but they aren't. This is one thing we need to work on but if you aren't in need of your money right away then shouldn't be all too big of a deal.
Problems Cashing Out
Apparently a lot of people are having troubles cashing out. when you cash out they send you an email link that you need to click to confirm. Many people aren't getting this link and this problem has been going on for months. I've read that the support team says they are aware of the issue and are in the process of fixing it but this should be a very easy fix…. it should take a day not months.
This is something that is concerning and it seems like it may be a little roundabout trick so that they don't have to pay out as much as they should.
Horrible Support
The support is nothing short of being absolutely horrible. This is one complaint that is very clear to me after reading through many reviews. If you do unfortunately
Final Thoughts – Scam?
No Branded Surveys is not a scam. They are a legitimate paid survey website and you really can make money taking these short free paid surveys online, HOWEVER… For many people out there this is going to be more or less a waste of time. Sure… You can completely surveys as you choose, on your own schedule, but is the payoff really worth it?
From what I see and have read it appears that this site is going downhill. There are a lot of members that have been around for a while who are now leaving and going elsewhere. It seems to be a common opinion that the re-brand from MintVine isn't going to well.
But anyways…I don't really recommend paid survey websites altogether, but if you are all gung ho on joining one of these websites I would recommend Swagbucks over top of this on. Swagbucks has better ratings from users, provides more ways to earn money, and so on. In my opinion they are a better paid survey website, but still don't expect to earn much.
One thing that you may want to look into since you are looking to earn some extra money in your free time is how I make money online. You can click the button below to see what exactly I do, how it all works, and how beginners can get started doing the same. I've been doing this since 2015 and make a heck of a lot more money than I ever could at any paid survey site.
Also, if you are a member of Branded Surveys and have a review you would like to leave then you can do so down the comments section below. I'm sure other readers would appreciate your opinion as well. I would also like to ask anyone with comments or questions to leave them down there and I'll get back to you as soon as I can 🙂