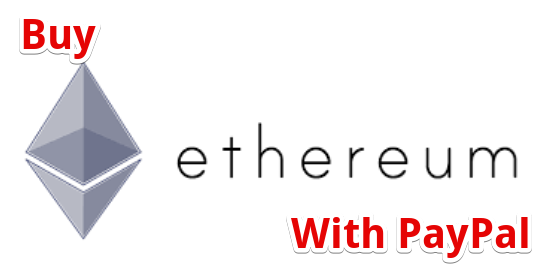 If you are looking to buy Ethereum with PayPal directly then unfortunately you are out of luck at the moment. There is no direct way to do this as of now. I do expect to see one in the future however.
Although you cannot buy it directly with PayPal there are some ways to do this… you just have to jump through a few hoops to make it happen.
A Possible Path to Take
You will have to go a more indirect route to make this work. One thing you could do is  buy bitcoins with PayPal on an exchange like LocalBitcoins.com. This is a P2P (peer to peer) site where anyone can sell bitcoins for any form of currency that they want. You can find people on their that are willing to sell bitcoins for PayPal any day.
And in case you are wondering… it is safe and the platform that LocalBitcoins.com provides can be trusted. I have used this place more than once.
After you have your bitcoins it is then easy to exchange these for Ethereum. There are several good cryptocurrency exchanges out there. I would personally recommend using Poloniex. This is what I have used in the past and I have never had any problem with them.
So just to summarize everything here. First you will have to buy bitcoins and then you will have to exchange those bitcoins for ethereum.
The Problem
The problem is that this is not a good way to get ethereum and it is much more expensive than other ways. The reason for this is because no one wants to deal with PayPal. There are too many issues such as chargebacks and other things and no one selling cryptocurrency wants to deal with these hassles.
Even the people that are willing to sell bitcoin for PayPal transfers are not worth it in my opinion. I have looked into this extensively and you will not find a seller that is willing to sell near market value. You will have to pay ridiculous costs.
So the questions is….  Why not buy ethereum with a credit or debit card?
A Better Way to Go About It
If at all possible I would just buy ethereum with a credit/debit card. That is what I do and I get it at marketprice which is nice. And of course I don't have to go through the hassle of buying bitcoin first.
The site I use is CoinBase. They sell bitcoin, ethereum, and litecoin. The nice thing about this place is that you buy directly from them. You can kind-of think of them as a bank. They have a stockpile of cryptocurrency and sell it at marketprice as well as buy it. So you could also sell back to them if you wanted to.
They make their money by charging small transaction fees, but honestly it is nothing. Their standard transaction fee is 1.49%. This is well worth the feeling of security and how fast you get whatever it is that you buy.
They sell to you instantly. So once you make your transaction you can refresh your screen and the ethereum will be in your account. It will be in your virtual wallet at CoinBase and then you are free to do with it whatever you want. I always suggest transferring it to a hardware wallet but the choice is yours.
CoinBase also gives you the ability to hook up your bank account but I'm assuming since you were looking for a way to use PayPal that you aren't going to want to do this.
Buying Ethereum With PayPal in the Future
Using PayPal to buy Ethereum will likely never be a good choice. As I said earlier, sellers just don't want to deal with the hassles that it creates. Paypal is known for being a great choice for buyers but a horrible choice for sellers.
I wouldn't count on it every being a good way to get some ethereum in the future. Just use your debit or credit card and you will be fine. And if you don't have one then get one.
Questions, comments? Leave them below and I'll get back to you soon 🙂